By keeping an open mind, specialists can learn from veterinary practice generalists. Here are eight pearls gleaned from some of my referring veterinarians.
Plumpness penalty
Dr. Lynn recently explained that she charges more to perform abdominal surgery on an overweight or obese pet than she does for the same procedure on a lean patient. Her reasoning most commonly applies to ovariohysterectomies. "It makes sense because surgery will be tougher, it will take longer, and it is riskier," she explains. In addition, it is quite possible that you will need more suture material.
Subtle title
As the saying goes, "It's not what you say, it's how you say it." A colleague gave it a new twist when she wanted to organize a conference for her clients. In spite of a large sign under the clinic name that said "Free seminar on hip dysplasia," few pet owners responded. Then she had a revelation. Few clients will happily admit that their dogs have hip dysplasia, even subconsciously. Once she realized that, she changed her title. The street sign soon said "Free seminar on hip health," and reservations poured in!
Infusion precision
Did you know that infusion pumps should be tested yearly? The goal is to ensure that they are delivering the correct rate and volume. No more, no less. In addition, technicians check the occlusion pressure and the battery, and make sure the pump can detect air in the line. This ensures that pumps do not over-deliver or under-promise.
Greyhound distinction
As we were discussing the preanesthetic blood work of a greyhound, a colleague reminded me that this breed classically has higher creatinine levels than others.
If you consider the high end of normal creatinine to be 1 mg/dl, then a greyhound with a creatinine of 1.6 is deemed to have normal kidneys. The difference is thought to be related to the large muscle masses of sight hounds.
In addition, greyhounds tend to have higher red blood cell counts (7.5 to 9, compared to 5.5 to 8.5 million/mm3 for other dogs), and higher PCVs (55-65 percent, compared to 37-55 percent). Of course this explains (in part) why greyhounds are so wonderful for blood donations.
They also tend to have lower white blood cell counts (3.5-6.5, compared to 6-17/mm3), lower platelet counts (80-200, compared to 150-400 thousand/mm3) and lower total protein counts (4.5-6.2, compared to 5.4-7.7 g/dl).
Last but not least, greyhounds typically have T4 concentrations about half of other breeds.
Nipple marker
Do you ever wonder if you are looking at a nipple or a lesion on radiographs? Turns out that physicians have the same issue with their biped patients. Nipple markers contain a radiopaque indicator, placed over nipples. This helps differentiate between a nipple shadow and a true lesion, which avoids the need for repeated radiographs, thereby decreasing client cost and technician exposure to radiation. Until I discovered "nipple tape," I had used barium to "paint" nipples to distinguish them from lesions. Of course, you can use your creativity and apply this trick in other situations, such as small skin masses or "skin tags."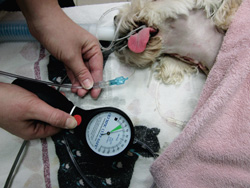 Using an Olympic Cuff-Safe to test endotracheal tube cuff pressure. Courtesy Dr. Phil Zeltzman
Blade frustration
Do you ever get frustrated when the packaging of your scalpel blade doesn't open properly? It seems to be a common issue. A colleague suggested placing a wrapped #10 scalpel blade directly in her instrument pack before it is autoclaved. She says that it saves time and makes her more independent. In addition, it avoids "packaging malfunction" frustration. And no, they don't get dull after being autoclaved.
Cuffer puffer
"Anesthesiologists, as well as critical care unit staff, have demonstrated a prevalent inability to accurately determine intracuff pressure of the endotracheal tube cuff by palpation of the pilot balloon." If this harsh assessment* is true in the human field, it might seem a little presumptuous that veterinary team members who do this less often than full-time anesthesiologists can do better. What's the solution?
One of my referral clinics uses a manometer (Olympic Cuff-Safe) to assess the pressure in the "pilot balloon" of endotracheal tubes. Cuff pressure should be maintained between 20 and 30 cm of water. Like a Doppler used to measure blood pressure, it measures pressure intermittently.
An alternative is a single-use device called the PressureEasy Cuff Pressure Controller (Smiths Medical), designed to continuously monitor tracheal cuff pressure.
Apnea alert
Few simple devices help us detect apnea. One such widget is the Breathe Safe Respiratory Monitor. Placed between the endotracheal tube and the anesthesia hose, it contains a small microprocessor that beeps with every breath. If your patient fails to breathe for 30 seconds a distinctive apnea alert will sound. It can be reused on multiple patients, of any size, thanks to a long-life lithium battery.
It only makes sense that general veterinary practitioners and specialists can learn from each other. We have different interests, different backgrounds and different sources of information. The key is talking and sharing.
Dr. Phil Zeltzman is a mobile, board-certified surgeon near Allentown, Pa. His website is www.DrPhilZeltzman.com. He is the co-author of "Walk a Hound, Lose a Pound (www.walkahound.com)."
REFERENCES
* V. Parwani et al. "Assessing Endotracheal Tube Cuff Pressure," January 1, 2006. www.emsworld.com/article/10323217/assessing-endotracheal-tube-cuff-pressure