Despite what its name may imply, the deathstalker scorpion could actually help veterinarians treat dogs with cancer. A recent clinical trial at Washington State University (WSU) shows that a re-engineered molecule found in the venom of the deathstalker scorpion latches onto malignant tumors, making the diseased tissue glow brightly and distinctly against normal tissues. Consequently, surgeons are better able to detect—and remove—cancerous cells while leaving healthy ones behind, according to the university.
The product that lights up cancer cells is referred to as "tumor paint," developed and patented by Jim Olson, MD, Ph.D., a pediatric neuro-oncologist and researcher at the Fred Hutchinson Cancer Research Center and Seattle Children's Hospital. Tumor paint is licensed by Blaze Bioscience Inc., a Seattle-based private biotechnology firm that Dr. Olson help found in 2010.
Olson said he developed tumor paint not only to help people but also the pets they love.
"Many animal tumors resemble those that arise in humans so it only makes sense for the two groups to reap the benefits that tumor paint can provide during cancer surgery," he said. "As WSU uses the technology to help dogs, the dogs provide information that's applicable to human cancers."
Although the canine clinical trial is well underway, they're still in the "information-gathering" phase, noted William Dernell, DVM, Dipl. ACVS, professor and chair of WSU's veterinary clinical sciences.
"No grand conclusions to be drawn just yet," he added.
Phase one of the trial, which ran from September 2013 through May 2014, involved 28 canine cancer patients. All patients were people's pets that had developed cancer spontaneously.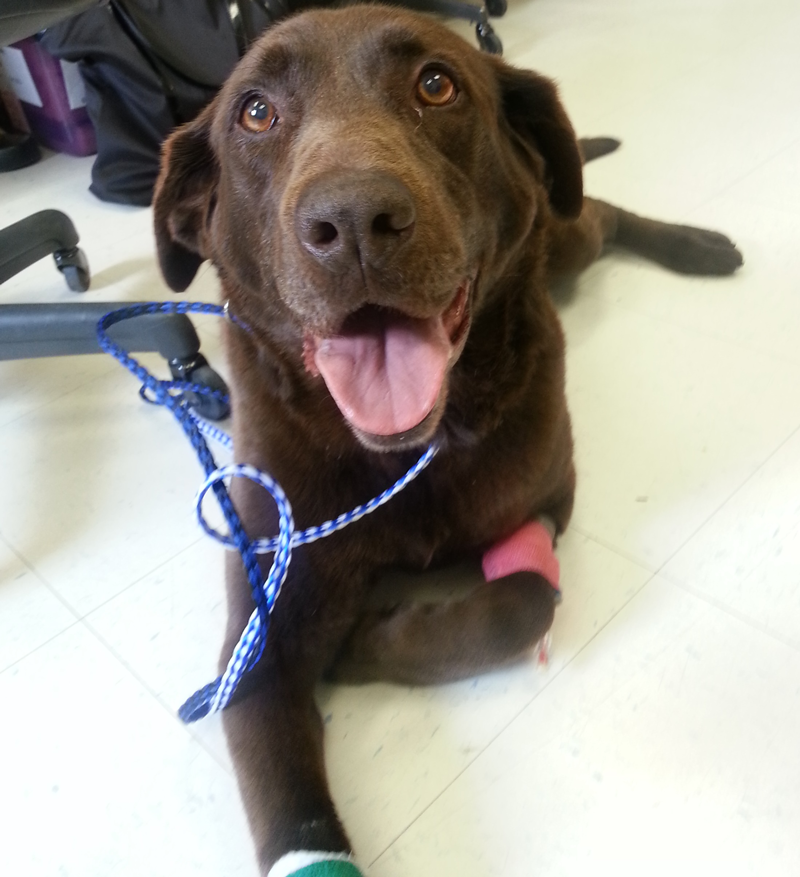 Washington State University
Browning, a 10-year-old chocolate Labrador, was administered tumor paint intravenously prior to surgery. Using an infrared camera, the surgery team was able to remove the cancerous cells that glowed bright green.
One patient included Browning, a 10-year-old chocolate Labrador. Browning underwent surgery at WSU's veterinary hospital to remove a large sarcoma on her leg.
Prior to surgery, Browning was administered the tumor paint intravenously. Using an infrared camera, the surgery team was able to remove the cancerous cells that glowed bright green. This allowed them to save the leg from amputation, Dr. Dernell said.
"The fluorescent substance prefers tumor cells over normal cells, allowing us to define the borders of where a tumor begins and where it ends," Dernell said. "We're always hearing about some new compound that targets tumors. From what we've seen, this one really does."
Browning, a hunting dog, was able to return to her outdoor activities.
This approach was also used to remove skin cancer nodules and mammary carcinomas on two pit bull mixes. Both are reportedly doing well.
The second phase of the clinical trial is already underway. The focus now is on what tumor type, more specifically, soft tissue sarcomas, had the best results, according to Dernell.
"As we move forward, we will be further refining the imaging (more surgery-friendly and accurate) and refining the types of tumors that the technique is most applicable for," Dernell said. "At this point, it has not been validated well enough to make major treatment decisions for pets, although it does help guide us in surgery. We hope that this can be developed into a very solid tool for making operative decisions on surgical margins."
Dernell hopes to enroll at least 20 dogs for phase two, which at press time, didn't have an anticipated end date.
This phase may also be expanded to include cats, but some pre-trial work is needed, he said.
Veterinarians who would like to refer a patient for the clinical trial can call 509-335-0711.