Just before sundown on November 15, 1989, Mother Nature was making it clear that trouble was on the way as wind, rain and lightning strikes steadily intensified. The National Weather Service had issued tornado warnings for a wide swath of North Alabama, placing our practice in the center of potential tornado touchdowns. As the sole owner of the practice at the time, I suddenly realized how unprepared I was to protect the lives of my staff, the pets housed in our kennel and, heaven forbid, how to function and offer services in the days ahead if we took a direct hit.
Fortunately, for us, the direct hit missed our location that night, although we did experience some minor flooding. Instead the tornado touched down in nearby Huntsville, Ala where 21 people lost their lives and $100 million of property damage occurred.1
Does Your Practice Have a Plan of Action In Case of a Natural Disaster?
It's so easy to overlook something as important as a plan of action for an event that may never happen. Most of us convince ourselves that we have a plan "in our head" about what we'd do if we were ever faced with devastation from one of nature's strikes.
According to a 2014 survey of Mississippi veterinarians, only about 20 percent have obtained training in disaster preparedness. The study done by Dr. Carla Huston, associate professor of epidemiology at Mississippi State University, does indicate that practice owners who have experienced encounters with tornadoes or hurricanes are 4 times as likely to at least desire to get training and to develop a written disaster plan to protect their practices in the future.2
As practice owners, we need to consider which natural disasters are common in our respective regions, and which are most likely to threaten our lives, our property, the future of our practices and the well-being of animals under our care. We need to take reasonable precautions to preserve the trust of clients, associates and our communities no matter what emergencies come our way. A written plan of action coupled with training of personnel can potentially save lives, reduce losses of property and income, and ease the stress of regrouping afterward.
Consider the Possibilities …
An assessment by the Hazards and Vulnerability Research Institute at the University of South Carolina showed that 91 percent of Americans live in a high-risk disaster area.3
For a map indicating areas that are at risk of natural disasters like earthquakes, floods, tornadoes and hurricanes, go here.
Other natural events which can threaten business continuity include:
Wildfires
Sink holes
Hail storms
Wind and lightning damage
Mud slides
Winter and ice storms
Indoor lightning strikes through plumbing pipes or rebar in concrete floors
Questions You Should Ask and Answer Now
Where is the safest place for doctors, staff and clients in the event of a severe thunderstorm, tornado or earthquake?
Who will be responsible for getting them to a safe place?
What precautions can we take to protect animals in our care during and after a dangerous event?
Who will be responsible for notifying clients of the status of their animals?
How will we continue to serve clients and patients if the structure sustains significant damage?
How will patient records be preserved?
Are controlled drugs susceptible to loss or theft if the building is damaged?
Do we have a good relationship with local law enforcement and EMA personnel? Who do we call? Are they aware of our capabilities and willingness to assist injured or displaced animals?
Is there another (sister) practice a significant distance away to form an agreement for support after a catastrophic event?
Are the property and the practice sufficiently covered by insurance for property loss and business loss?
What will we do if staff members are unable to come to work for several days?
We Never Think It'll Happen to Us
On Sunday, May 22, 2011, Dr. Jim Christman suddenly found himself in the grip of an F5 tornado which destroyed a large portion of his hometown of Joplin, MO. Without warning the windows of his vehicle were blown out, and he instinctively protected his daughter with his right hand while keeping his left hand on the steering wheel. When the twisting and turning finally stopped, he was able to drive the vehicle in which he picked up injured people and a pet or two. As he made his way to his own Parkview Animal Hospital, he was in for another shock.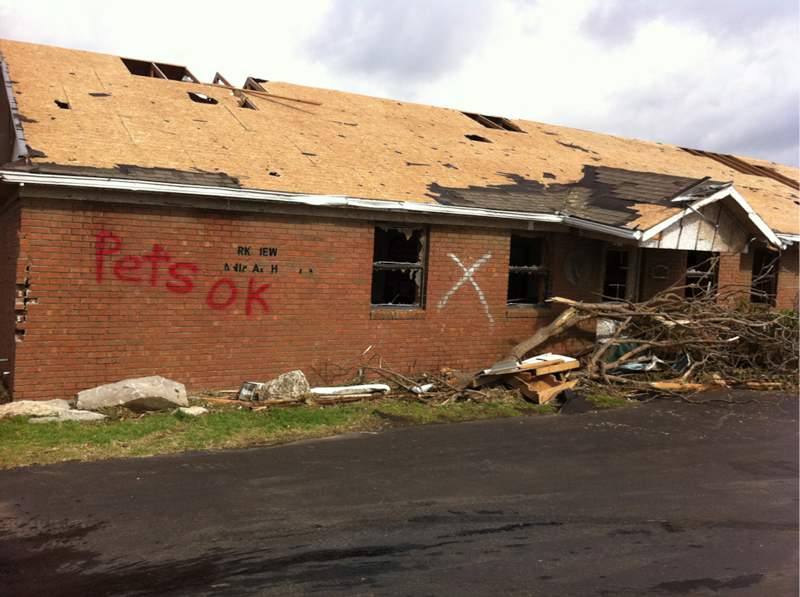 Dr. Jim Christman
If your electricity is out and phones are down, how will you communicate to people that your patients are OK?
The building had suffered severe damage. The picture above tells the story better than words. Somehow as he searched through what had been kernels, he found every animal alive and well. With cell phones and every other means of communication out, he found a can of red spray paint and shared the good news, "Pets OK," by the only means available.
In the weeks that followed, he set up practice in a trailer supplied with electrical power from generators in the parking lot while the hospital was rebuilt. Among the many lessons he learned, he realized the value of keeping a few hundred dollars in cash for emergencies like this when credit and debit cards probably will not function.4
Natural Disaster Awareness Becoming More Prevalent
Thanks to elective disaster preparedness classes in more and more veterinary schools and encouragement from key leaders in the profession, the value of putting a written plan in place to deal with a natural disaster is gaining recognition.
Dr. Brad Fields, director of emergency programs for the Alabama Department of Agriculture said, "If you like your business, you've got to protect it." Since 2005, he has been involved in teaching disaster preparedness to senior veterinary students and presenting workshops to veterinary associations. Of course, we all understand the value of various insurance policies, but he believes, "The best insurance is to have a (natural disaster) plan and have a good relationship with local authorities like the EMA, law enforcement agencies and the fire department."
Dr. Grant Miller, State Coordinator for California Veterinary Medical Reserve Corps, made the following statements in a recent interview:
"Research has shown that businesses with a disaster plan have a 2/3 greater chance of survival one year after an event than those who do not have one."
He added, "Practice disaster planning should even include a plan "B, C and D."
Top 3 Must-Haves to be Prepared for a Natural Disaster
Written action plan: We all have written evacuation plans in case of fire, right? Why not include one for a natural disaster?
A backup electricity generator: Extended loss of electricity is likely to be associated with almost any natural disaster. Dr. David Langford of Hollywood, MD, recommends diesel-powered generators which are not as susceptible to fuel deterioration during times of non-use as are those powered with gasoline. The best of these generators also start themselves periodically to protect seals and other components.
Insurance designed for your region: Much like an emergency action plan, we hope we never need insurance coverage. But, policies for property loss with riders appropriate for your location and loss of income coverage deserve close attention. A rich source of information is available from AVMA and AVMA-PLIT.
References
AL.com Blog by Mike Marshal, Huntsville Times, http://blog.al.com/breaking/2009/11/1989tornado.html
"Training veterinarians in Disaster Management using a One Health Approach" Carla Huston, DVM, PhD, ACVPM, Associate Professor, Dept. of Pathobiology and Population Medicine, Mississippi State University, AAVMC Alexandria, VA 2014 https://www.aavmc.org/data/files/annualconference/2014/ppt/Huston.pdf
Ripley, Amanda (2006). "Floods, Tornadoes, Hurricanes, Wildfires, Earthquakes…Why We Don't Prepare." Time. August 28, 2006: 55-8.