Experts in veterinary orthotics and prosthetics do not point to emerging technologies as the most significant development in the field over the past few years. They credit accelerated knowledge and interest.
Denis J. Marcellin-Little, DVM, Dipl. ACVS, Dipl. ACVSMR, also acknowledges the 2011 Hollywood movie "Dolphin Tale." The film centered on the relationship between a boy and a dolphin that was given a prosthetic tail.
"The most significant advancement over the last five years is the growing awareness in the general public of the potential of external devices to help companion animals," said Dr. Marcellin-Little, a professor of orthopedic surgery at the North Carolina State University College of Veterinary Medicine.
Numerous magazine articles and expanded use of the Internet and social media have helped spur interest in orthotics and prosthetics for pets, he said. Because of the growing recognition that animals, and not just humans, can have limbs and other damaged or lost body parts augmented to improve their lives, more pet owners are turning to orthotics and prosthetics, experts said.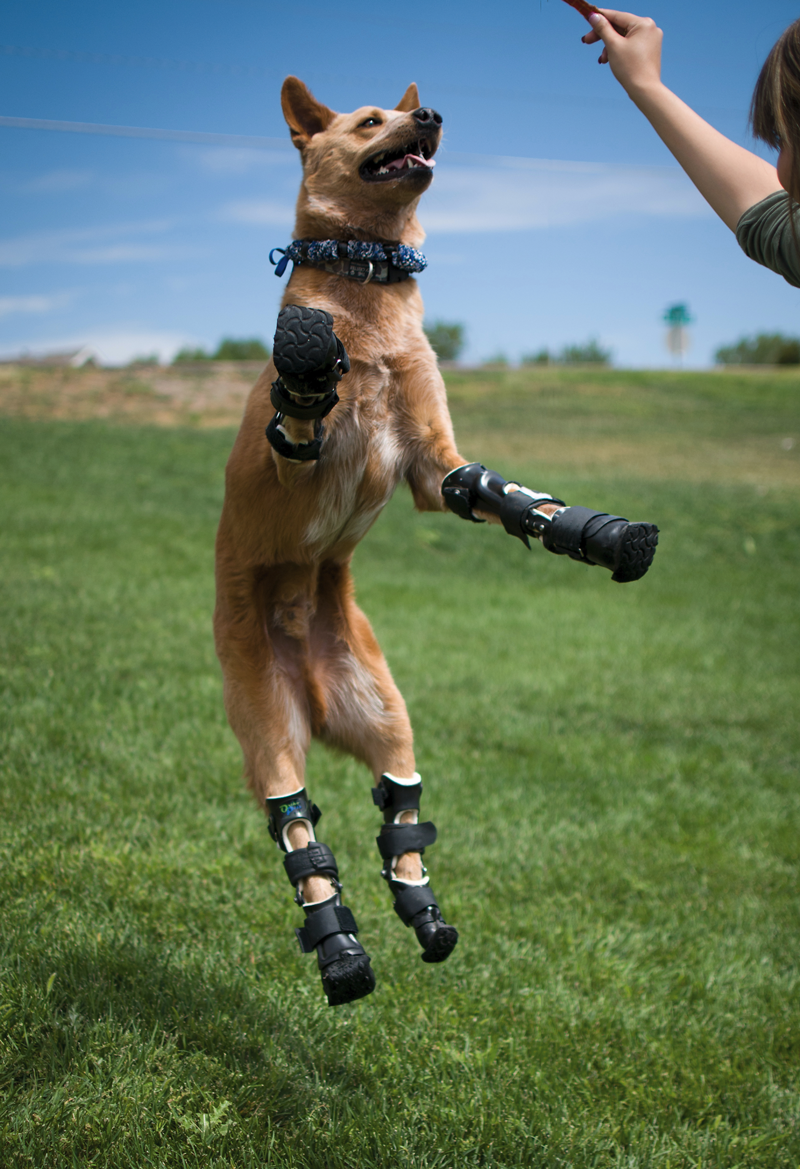 Lindsey M. Labinich
OrthoPets patient Nakio got four prosthetic legs.
Better Alternative
The human-animal bond has helped move pets from possession to family member status, said Martin Kaufmann, the founder of OrthoPets, a Denver manufacturer of orthotics and prosthetics.
Euthanasia is no longer the accepted alternative for pets that lose functionality through injury or disease, Kaufmann said.
"The advancement of these products and technology is because owners are demanding it," Kaufmann added. "They want fully functional."
"Veterinary orthotics and prosthetics have come to the forefront because owners have demanded a higher quality of care for their pets."
Kaufmann and Marcellin-Little said such desires have driven an interest among veterinarians to offer orthotic and prosthetic services.
Still Much to Learn
Despite headline-generating achievements, the field is relatively young. "The process of selecting a specific orthosis or exoprosthesis, of collecting limb measurements, building devices, fitting, troubleshooting, training and maintaining devices is far from perfect," Marcellin-Little said. "It is unrealistic to think that our profession can become expert at all these things overnight.
"The profession is evolving in the right direction, with regard to orthoses and exoprostheses, but we have a long way to go to make it simple and easy for the dog, the owner and the veterinarian."
Kaufmann agreed that a growing thirst exists for knowledge in the area. He teaches a veterinary orthotics and prosthetics course to veterinary rehabilitation professionals through an accreditation body called the Canine Rehabilitation Institute.
Over the past three years he's seen the class sizes grow and students' backgrounds broadened, he said.
He's teaching veterinary surgeons and veterinary pain specialists, and lately he has seen human physical therapists cross over to be trained to practice their modalities on animal patients.
"It speaks to a ground-floor shift in these advancements," Kaufmann said. "It's this grass-roots educational explosion going on. Veterinarians have been making their own orthotics and prosthetics for decades, but they've never had a science behind it."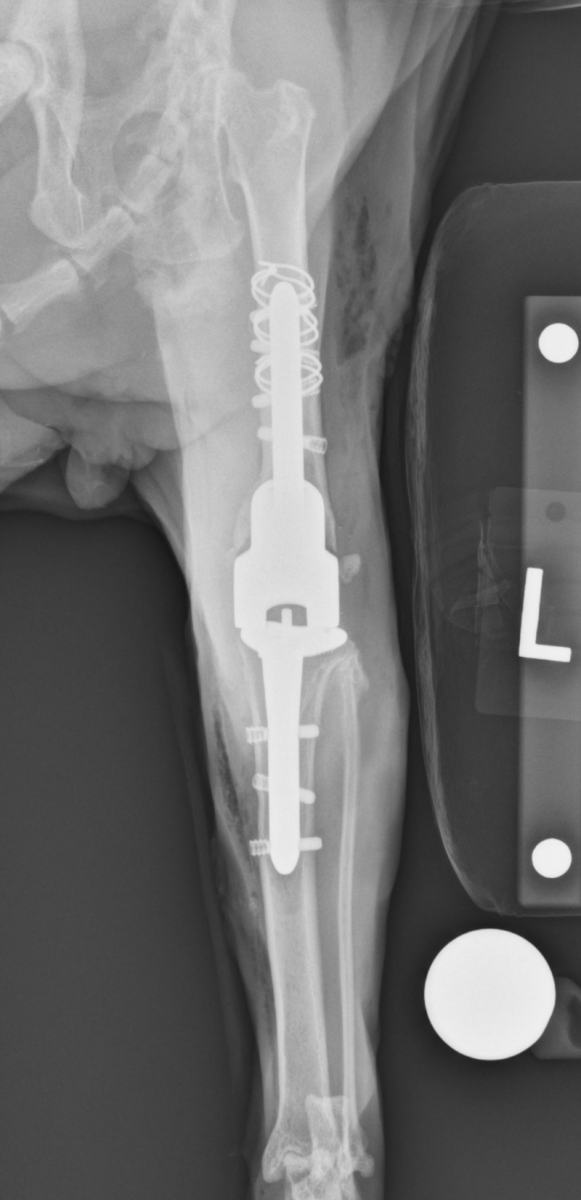 North Carolina State University
Veterinary professor Denis J. Marcellin-Little and engineering professor Ola Harrysson performed a total knee replacement on Cyrano, a 10-year-old cat.
Different Tactics
The science and the development of equipment have been slow to evolve, said Marcellin-Little. For the field to advance significantly, he added, professionals must get on the same page.
"There is a clear fragmentation among manufacturers, meaning that they tend to adopt a set of materials and manufacturing methods and stick with it," he said. "There is no comparative research in the field scientifically comparing various aspects of the process."
Jason Pawelsky, sales and marketing manager at Tamarack Habilitation Technologies, a Blaine, Minn., manufacturer of orthotic-prosthetic componentry and materials, said many devices continue to be custom-made by practitioners who tend to shun off-the-shelf products.
"The profession is very much a hands-on, craftsmanship-type field, and virtually all devices are custom-fabricated," Pawelsky said.
Some practitioners "take offense to the notion that off-the-shelf braces are appropriate solutions for humans or animals," he said, because they believe the choices reduce the value of their skills and the services they offer. As the animal orthotics and prosthetics industry has grown, so has the need to insure those products.
Pet health insurer Trupanion reports paying out more than $30,000 in 2012 on prosthetic claims, including mobility devices, custom orthotics and intraocular prosthetics. In just a few years the company went from paying out less than $5,000 per year on claims for such products to the current level, roughly a 600 percent growth.
"A majority of the claims are around the custom casting, molding or fitting of the devices to better fit the animal, specifically for chronic stifle instability and claims for the physical devices," said Trupanion Chief Veterinary Officer Kerri Marshall, DVM.
Other claims the company is seeing are for surgeries to remove eyes due to trauma or blindness and replacing them with prosthetics, Dr. Marshall said. The growing number of claims seems to be a function of growing interest in using and then insuring the products.
"Both orthotics and prosthetics have grown and advanced, but insurance to cover pets' medical costs have also," Marshall said.
What isn't yet offered but may be around the corner is what piques the interest of experts like Kaufmann and Marcellin-Little.
Looming Advancements
Osseointegration products may become even more viable for humans and animals, Kaufmann said.
"Traditional socket-based prostheses have evolved over the past few centuries, and we have reached the pinnacle of technological advancements in design and comfort," he said. "New ground is being broken in the quest for the next evolution in prosthetic technologies.
"That is a technique called osseointegration," he added, "where a titanium implant is secured into a bone in the patient's residual limb and extends through the skin."
Osseointegration hasn't been perfected. Implant rejection or failure, infection and bone fracture above the implant are risks, Kaufmann said.
British veterinarians have proposed and evaluated several solutions to these problems and are making progress, he added.
Marcellin-Little believes another radical technology will be introduced soon but will come from outside of medical research.
"3-D scanning and printing will revolutionize the field," he said. "It is only a matter of time."
3-D printed braces and prostheses are at the proof-of-concept stage but will become more conventional in the future, Marcellin-Little predicted.
He recently collaborated with the Center for Additive Manufacturing and Logistics and the North Carolina Aquarium on Roanoke Island. The case involved use of a 3-D printing machine to custom-manufacture a brace for a green sea turtle that suffered an open fracture to its right radius and ulna.
The brace enabled the turtle, Augie, to heal. His caretakers reported that Augie is well enough to swim without the brace but that he's not ready to return to the ocean.