This article first appeared in the July 2013 issue of Veterinary Practice News. Read the first part here.
Secrets To A Happy C-Section
Be prepared and work quickly. Preparation and speed count.
Correct hypotension and any acid-base and electrolyte imbalances.
Create two or three teams: surgery/anesthesia and "baby resuscitators."
Withhold analgesia until after babies have been delivered.
C-section Risk Factors
A large study found seven factors that negatively affect survival of canine neonates. They are:
emergency (as opposed to elective) surgery
brachycephalic breed
more than four puppies
a few puppies had a natural delivery
some puppies were malformed
xylazine was used
some puppies had difficulty breathing spontaneously or didn't cry at birth
Factors that improved the outcome included using propofol and not using halothane.
C-section Checklist
An experienced team will gather as many supplies as possible before a C-section. Here is a non-exhaustive checklist.
Anesthesia Team
Paperwork (records, forms)
Complete list of pre-calculated drug dosages
Various syringes and needles
Various endotracheal tubes
Laryngoscope
Surgery Team
Surgical blades
Scrubbing supplies
Extra gauze squares and lap sponges
Sterile towels
Suction (machine, hose and tip) Warm irrigation fluids
Towels on the floor to help cleaning up
Suture material
Retractor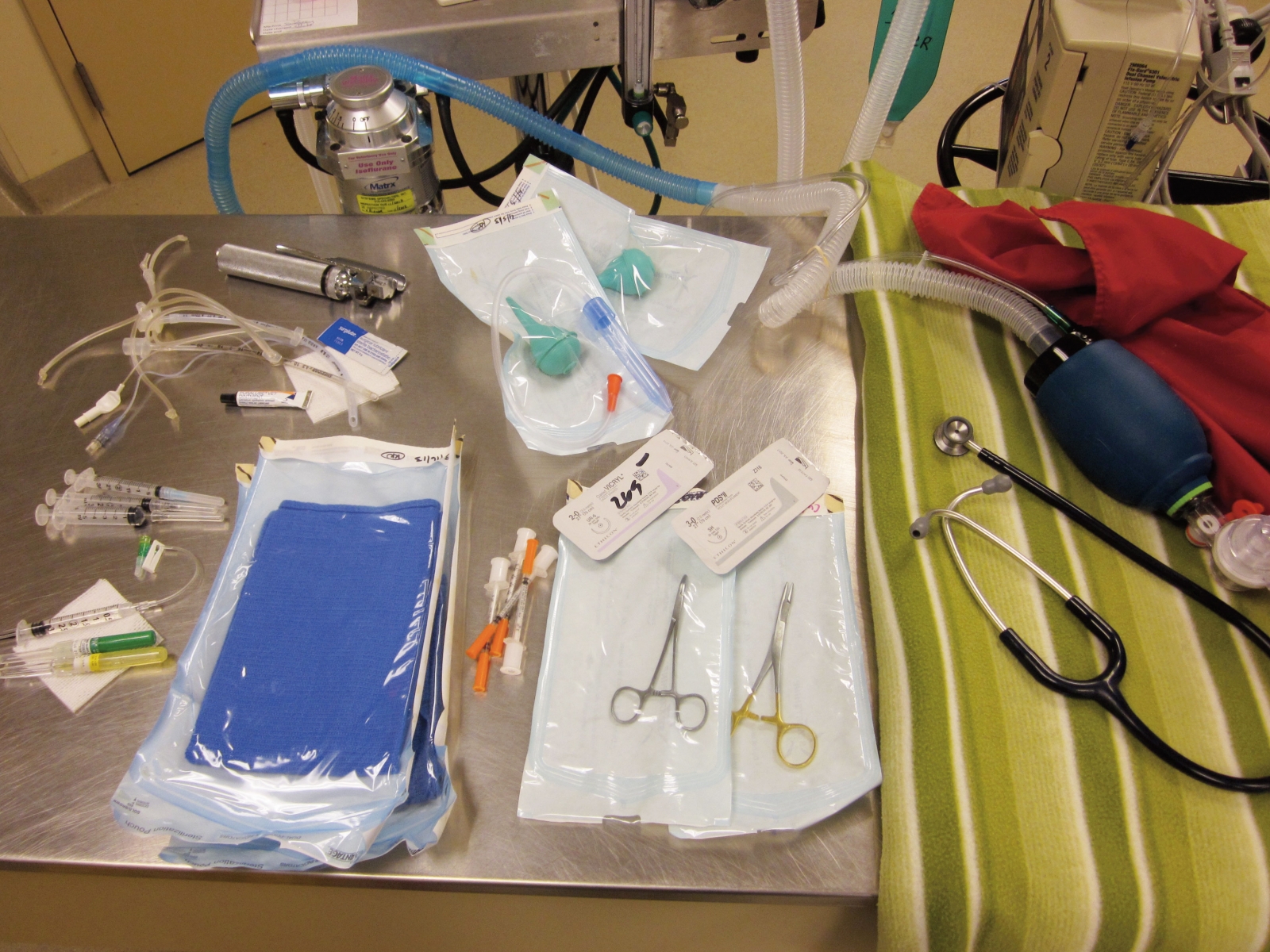 Phil Zeltzman, DVM, Dipl. ACVS
Some of the supplies you'll need for a safe pet C-section.
Nursing Team
Neonatal stethoscope
Neonate sized mask attached to small Ambu bag
Heating pads
Oxygen source for babies
Bulb syringes or "snot sucker"
Extra sterile hemostats (1 or 2 per neonate), suture and needle holder to tie off umbilicus
Comfy box or laundry basket for the newborns
Warm towels