Originally published in the June 2014 issue of Veterinary Practice News
Many controversies surround the proper use of non-steroidal anti-inflammatory drugs (NSAIDs). To shed light on this nebulousness, we talked to Kurt Grimm of Conifer, Colo., who is double boarded in veterinary anesthesiology and veterinary clinical pharmacology.
When do you prefer giving an NSAID, pre- or postop?
Most NSAIDs approved for perioperative pain management have been evaluated for administration prior to anesthesia and surgery (usually elective procedures such as spays) and have not shown significant adverse effects.
I typically administer an NSAID toward the end of surgery. The types of surgeries I usually deal with tend to be longer or complicated, and my patients are often at higher risk. By waiting, I can see if there are any complications, such as hypotension or bleeding, which may be contraindications to NSAID administration.
What are the concerns when giving NSAIDs preop?
Because most anesthetic drugs alter cardiac output and blood pressure, I'd worry about potentiating any renal toxicity. In normal, healthy kidneys, the risk is relatively low.
However, in sick or older patients with limited reserve kidney function, giving an NSAID may pose a significant risk. The dilemma is that we just don't know the reserve of the kidneys.
Standard preop blood work doesn't usually indicate a problem until 75 percent of kidney function is impaired.
In addition, hemorrhage can be an issue in some patients. NSAIDs are one of multiple factors that may contribute to blood loss during surgery. But this is one risk I can manage by waiting to see how surgical bleeding is going to respond to treatment.
Additionally, using NSAIDs that spare COX-1 function may be less problematic. The type of surgery may dictate how much of a concern altered platelet function is. For example, it may be a significant risk for neurosurgery, but much less of a concern for a skin laceration.
Would you give NSAIDs to a patient who undergoes GI surgery?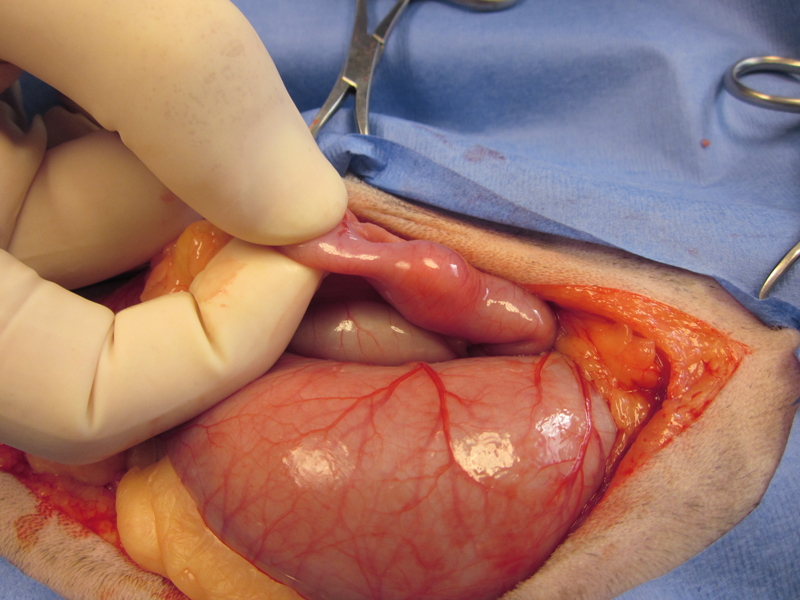 Dr. Phil Zeltzman
Foreign body in cat's duodenum.
In general I would not, but there may be exceptions. Prostaglandins play a role in mucosal healing. If NSAIDs interfere with those processes, we might impair healing. However, if there is little insult to the mucosa and we do a simple gastrotomy or enterotomy, I may use an NSAID if other perioperative pain control methods are not effective or sufficient.
Would COX-sparing NSAIDs be better in these cases?
There is probably no benefit to COX-sparing NSAIDs, since it appears that COX-2 is important for mucosal repair.
There are many variables that can influence tissue healing, and from the perspective of risk reduction, it is my practice to reserve NSAIDs (including coxib-class NSAIDs) for cases where other modes of postoperative analgesia are inadequate.
Would you give NSAIDs to a patient who has acutely increased liver values, e.g. from being hit by a car?
If opioids and a local block control pain without significant adverse effects, I would not generally administer NSAIDs until I have a chance to see how the liver function is changing over time. However, I will administer an NSAID when the opioids are ineffective alone, or if they cause significant adverse effects. Because a single measurement of liver enzyme values is not always that helpful in determining the cause or extent of liver change, I tend to be conservative.
Would you give NSAIDs to a patient who has increased kidney values, e.g. a "blocked" cat?
Probably not until I had a better handle on what the cause was. Obviously, acute renal azotemia would be a contraindication. Pre-renal azotemia may be a different story.
Once the volume deficit is replaced and renal perfusion is normal, a risk-benefit analysis of NSAID administration may suggest that it can be done with the owner's informed consent.
However with chronic kidney disease, I tend to use other classes of drugs first, like opioids. I have on some occasions recommended carefully monitored use of an NSAID when the quality of life was unacceptable without it. Having said that, there has been a report of use of NSAIDs chronically in cats with renal disease.*
Communication with the owner is very important in these cases, since there is limited scientific evidence to support the use of NSAIDs in patients with kidney disease and many reports of recommendation against their use. And of course, careful documentation of client communication is critical.
Would you give NSAIDs to a patient on phenobarbital?
Usually yes, with two conditions: owner's consent and appropriate monitoring.
Would you give NSAIDs to an Addisonian receiving physiological doses of prednisone?
I would give the same answer as with phenobarbital. NSAIDs are not often the first choice in patients on corticosterioids, although prospective studies documenting the risk and the relationship to dose are lacking in dogs. But if the patient is not helped by other classes of analgesics, a trial of an NSAID may be worthwhile, again with owner's consent.
Keep in mind, we can always stop the trial.
What is the ideal wash-out period between two NSAIDs?
You never really know in an individual patient. It probably needs to be longer in patients being switched due to adverse effects rather than lack of efficacy. Clinical experience and the limited research suggest that we may have been overly conservative in the past.
But I still recommend approximately seven days for an NSAID-to-NSAID switch after lack of effectiveness. If the patient is extremely uncomfortable, I will start the second NSAID sooner, with the owner's consent.
What is the ideal wash out period between a steroid and an NSAID? Same answer, with the caveat that physiologic duration of the steroid should be considered. Steroids with a long physiologic effect probably need more withholding time than shorter-acting drugs. It is the physiological action that poses potential interaction issues, not the drug's plasma half-life per se.
How long would you delay surgery when aspirin was given?
For an elective procedure, I'd wait seven to 10 days. In an emergency situation, we can't afford to wait that long, so the owner must understand that risk of hemorrhage may be increased.
If the surgery site is an area where hemostasis is relatively easy to achieve, the added risk is probably small. If it is a difficult-to-control bleeding site (e.g. a cervical disc hernia), then the risk could be considerable.
Is there any justification to use aspirin for pain control today?
Yes and no. There are many safer options of studied and approved veterinary NSAIDs for dogs. Those products should be prescribed when possible.
However, there are extreme instances, usually economic, where the patient would not receive any analgesics if aspirin weren't an option. The owner needs to understand the risks and benefits of any medication and make an informed decision about treatment.
Do you have any final words of wisdom on NSAIDs?
The profession has done a very good job of learning how and when to use NSAIDs. There are risks to every treatment, but the more experience we get with new products, the better decisions we tend to make.
NSAIDs have changed the way we treat pain in dogs and cats. With any treatment, there will always be risks, so our job is to balance the potential risks and benefits for the patient.
This requires owner involvement, education and consent, as well as appropriate follow-up care and monitoring for effectiveness and adverse effects.
References
* Gowan RA1, Lingard AE, Johnston L, Stansen W, Brown SA, Malik R. Retrospective case-control study of the effects of long-term dosing with meloxicam on renal funcion in aged cats with degenerative joint disease. J Feline Med Surg. 2011, Vol 13, N 10, p. 752-61.