New York City carriage horses are not as stressed from trotting the city streets as some may think, according to a new study led by Western University of Health Sciences in Pomona, Calif.
The horses studied were quartered at Clinton Park Stables from Aug. 3-5, 2014, to gauge what levels of stress the animals might have as a result of their work.
"I wanted to identify the effect this situation has on these horses," said Joseph Bertone, DVM, Dipl. ACVIM, professor of equine medicine at Western University College of Veterinary Medicine. "Ultimately, I'm concerned about equine welfare. On the other hand, I'm also concerned over claims that could dismantle, or likely end, the lives of these grand horses. The same claims could see the loss of an iconic New York City institution, the loss of the important human-animal bond the drivers have with these spectacular animals, as well as have a profound negative economic impact on the people whose lives this would touch."
NYC Mayor Bill de Blasio proposed a ban on horse-drawn carriages in December 2014. His proposed code amendment, which requires a majority vote of the New York City Council, would go into effect June 1, 2016. The mayor has suggested replacing the carriages with electrically-powered antique cars.
Mayor de Blasio, according to WesternU, is politically and financially backed by animal-rights advocates. Prior to taking office, the mayor announced that he planned to get rid of horse-drawn carriages in support of those who believe the horses are treated inhumanely, the university noted.
"So it's important we collect the research and analyze the results objectively. In other words, let's deal with the facts," Dr. Bertone said.
Bertone and second-year veterinary student Sarah Mercer-Bowyer tested 13 of the more than 70 horses at Clinton Park. Five mares and eight geldings were selected at random.
The researchers measured saliva cortisol from the animals at multiple time points in the workday. They also measured medial canthus temperature using a FLIR thermal imaging camera (IRT), and collected feces samples for fecal cortisol. Kersey and Mercer-Bowyer analyzed samples at Kersey's lab at WesternU.
Four time points were used during testing:
Time point 1: feces, saliva and IRT tests were collected an hour before horses went to work.
Time point 2: saliva and IRT were collected after the horses were harnessed and as the horses walked were hitched to their carriages.
Time point 3: saliva and IRT were collected as the horses returned from working.
Time point 4: saliva and IRT were collected an hour after they worked, as they rested in their stalls.
"We found no evidence of stress in these horses," Bertone said. "The conclusion made by the many experts in equine veterinary care who have visited the facility, and spent time in observation, is matched by the physiologic data we collected. Although not part of our study, we also observed for behavior associated with equine gastric ulcer syndrome. Ulcers result from stress. None of the behaviors were seen. We found the horses rested comfortably at night as well. That is another important feature of horses in a safe, comfortable environment."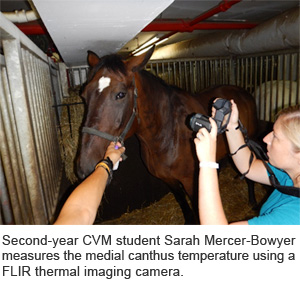 Western University of Health Sciences
Second-year veterinary student Sarah Mercer-Bowyer measures the medial canthus temperature using a FLIR thermal imaging camera.
All working horses in NYC must have a license issued by the Office of Veterinary Public Health Services. There are a number of regulations for carriage horses, including not working more than nine hours in any continuous 24-hour period and that they receive a five-week pasture furlough period per year.
Mercer-Bowyer was sent to a farm in Pennsylvania where horses go for "vacation," to collect feces samples so that the WesternU CVM team could look at their levels of cortisol, which identifies stress. She took samples from the New York stable horses on vacation in pasture. The results: Pasture horses have far greater range of fecal cortisol stress than their counterparts in New York City pulling carriages.
"The tendency is to anthropomorphize that they (pasture horses) are happier and better off," Bertone said. "The truth is that (carriage horses) spend their lives in this stabled situation, with food in front of them and with their herd mates nearby. Horses are habitual herd animals. Being put out in a pasture for five weeks may not be that great of an experience for them."