Originally published in the April 2014 issue of Veterinary Practice News
Prevention, diagnosis and good management are still the most important elements of treating a dog with allergic skin disease, experts say, despite the presence of a potentially game-changing medication.
"Apoquel has helped a lot of dogs, but you still need to implement good parasite control, including flea prevention, and you still need to ID the potentially underlying adverse reactions," said Jeanne B. Budgin, DVM, Dipl. ACVD, president of the American Academy of Veterinary Dermatology.
"In my opinion, Apoquel is not a replacement for diagnostics directed at identifying the cause of allergic skin disease," Dr. Budgin said.
Apoquel soared in popularity upon its release in January 2014. Many practitioners experienced a shortage of the drug when manufacturer Zoetis of Florham Park, N.J., ran low on supplies and faced production issues.
Shortage
Dr. Budgin, who works at Animal Specialty Center in Yonkers, N.Y., said she hasn't experienced the shortage. She said she's been able to keep patients that were started on Apoquel on the treatment.
For others, the shortage has been an issue.
One such affected practitioner is Christine Zewe, DVM, a resident in dermatology at Cummings School of Veterinary Medicine at Tufts University.
"It is currently on back order for us," Dr. Zewe said, adding many pet owners are asking for it.
When a patient is put on it and the itch subsides, a problem arises: Without a refill, the itch returns and becomes unacceptable for pets and their owners, Zewe said.
"There has been a passionate response from our clientele about the mediation," she added.
Thierry Olivry, DrMedVet, Ph.D., Dipl. European College of Veterinary Dermatology, Dipl. ACVD, a professor of immunodermatology at N.C. State University College of Veterinary Medicine, said he's heard from many colleagues about the shortage.
"I think it was a problem for all," Dr. Olivry said.
Tool in Toolkit
Zewe believes Apoquel is another great tool in the toolkit for general practitioners and dermatologists to attack allergic skin diseases.
But it's not 100 percent effective, Zewe added.
"It's a wonderful medication, but it's not a magic bullet," she said, adding that it hasn't been effective on all dogs she's treated. "It's not the golden egg that everyone wants it to be."
But it has been golden for Zoetis. Fresh off a $255 million acquisition of Abbott Animal Health, the company in February reported a jump in 2014 sales and profits and expects a strong performance this year on sales of the drug.
The company has said the drug will see increased supplies starting this month.
Common Allergies
The most common allergies Zewe sees in her practice are caused by environmental conditions, starting with pollen.
"Dust mites is a really big one," she adds, "as are grasses, weeds, mold and any and all of the above."
Rounding out the top three causes she explains to owners are flea hypersensitivity, in which dogs are allergic to the saliva from a flea bite, and cutaneous adverse reaction to food – or food allergies.
This conversation starts after a pet comes in with signs that suggest an allergy.
"The most common presentation we get is pruritus, or itchiness, and recurrent skin infection – either bacteria or yeast on their skin," Zewe said. "They're either itching and scratching, they're covered in an infection or both."
"Recurrent" is a key word dermatologists advise practitioners to keep in mind.
"They should try to ID these patients that are coming in multiple times for the same problem," Zewe said.
An example is a Labrador or golden retriever who comes in every summer for ear or skin infections.In fact,
Antimicrobials
Zewe has noted an increased bacterial resistance to common antibiotics in recent years.
"This is, for us, what is changing the most in our allergic treatment of pets," she said.
Christine Cain, DVM, Dipl. ACVD, agreed. Dr. Cain is assistant professor of dermatology and allergy at the Matthew J. Ryan Veterinary Hospital at the University of Pennsylvania.
She proceeds with caution when prescribing antimicrobials.
"In addition to judicious use of oral antimicrobials, we often recommend liberal use of topical antimicrobials – such as shampoos, sprays, and other formulations – as adjunctive or sole therapy for skin infections," Cain said.
"Topical therapy can be helpful to prevent infection recurrence as we determine and control the underlying allergy. With recurrent or relapsing infections, culture and susceptibility of the skin is often indicated to base appropriate antimicrobial therapy."
Additionally, strict ectoparasite control is recommended for any pruritic patient, she said.
"This means flea control and therapies to rule out pruritic superficial mites – such as scabies (Sarcoptes scabiei) in our small animal patients and fly control in our large animal patients," Cain said.
Common Treatments
When Budgin discusses treatments for allergic skin disease in dogs, she discusses proper management as a preventive measure, including flea control.
Managing secondary infections is also important.
"Dogs are very prone to ear infections and recurrent yeast and bacterial infections, and these are secondary to allergic skin disease," she said, adding that the most common cause of ear infection in dogs is allergic skin disease."
To treat acute flares of skin allergies, N.C. State's Olivry recommends a short course of oral steroids, such as prednisone/prednisolone/methylprednisolone, and/or a short course of topical steroids and/or short course of Apoquel.
"For long term treatment [we use] cyclosporine (Atopica), or oclacitinib (Apoquel), or intermittent oral/topical steroids is recommended," he said.
Cain said she sees a lot of atopic dermatitis.
"It is typically diagnosed by compatible clinical signs and a thorough diagnostic work-up for other allergic dermatoses," Cain said. "For most moderately to severely affected patients, allergen-specific immunotherapy is the ideal therapeutic option. Allergy testing can be used to select allergens for inclusion in an allergy shot or sublingual immunotherapy set."
Other therapeutic options include symptomatic therapies, such as antihistamines, topical anti-pruritics, omega-3 fatty acids, strategies to improve the epidermal barrier, or immunomodulatory drugs like corticosteroids, Atopica or Apoquel, she said.
"For most atopic patients, we are using a combination of therapies – topical treatments, allergen-specific immunotherapy, immunomodulatory drugs – as well as management of secondary infections to achieve the best therapeutic success," Cain said.
Food, Fleas, Mites
Zewe believes that by far the simplest allergy to deal with is a food allergy: Take away a dog's regular food, then try a food-elimination trial, keeping the pet on a therapeutic food for eight weeks. If the dog responds well, it stays on that diet.
Fleas aren't too difficult to handle either, said Zewe, who advises "really aggressive flea treatment" for the pet, all other pets in household and the pet's environment.
Dust mites, which can blow in on the winds from miles away, on the other hand, aren't so easy.
"The reality is if a dog is allergic to dust mites you can never remove all the dust mites in the environment," she said.
She advises dealing with parasite allergies by taking one of two roads – or a combination. Steroids are an effective option, but they pose some negative longterm side effects, and antihistamines are safe, but not as effective, especially in severely allergic pets.
For dealing with allergic dermatitis she suggests Atopica. While cost-prohibitive for some pet owners, it is proven because it has been around for decades so there is a great deal of data available on the effects of long-term use, she said.
"It's very effective in about 80 percent of dogs," Zewe said. "We know a lot about how it works and what to expect when we use it."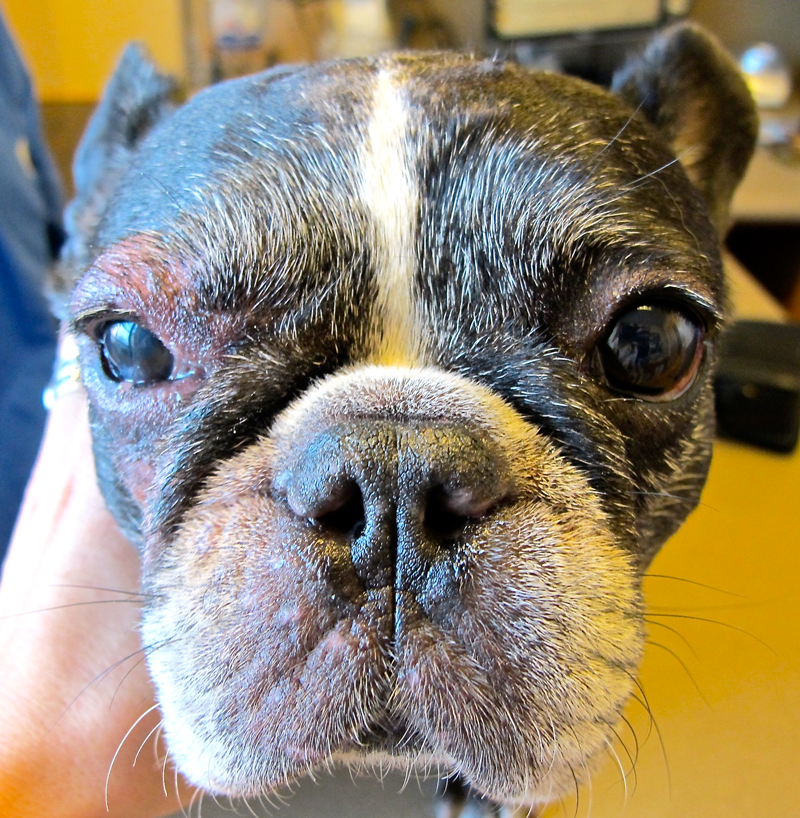 Photos courtesy of Jeanne B. Budgin, DVM, Dipl. ACVD, president of the American Academy of Veterinary Dermatology.
Boston Terrier suffering from allergic skin disease.
Apoquel
She's had a good measure of success with Apoquel, but there's a lot that's not yet known about the drug, she said.
"We don't have any long-term studies that have followed dogs for many years, especially because it's a new drug," Zewe said.
Because of that, Zewe finds it difficult to advise on its usage for younger pets who may be faced with spending a lifetime on the drug.
Because drugs like Atopica and Apoquel can suppress the immune system, Zewe orders regular blood work to look for changes to the immune system or to liver or kidney function.
For environmental causes, Zewe often relies on immunotherapy. These "allergy shots" are safe, so for younger pets this is a great option, she said.
The drawback is that it takes roughly a year to work.
"This is where a lot of practitioners struggle because owners get impatient," Zewe said. She advises pet owners that it should be 9 to 12 months before they can expect improvement, and she estimates the success rate is between 60 and 70 percent.
Why Wait?
Zewe believes that for the most part general practitioners don't wait too long to consult a specialist – except with severe cases of ear infections.
"Ears are very, very challenging to deal with, even for specialists," she said.
One problem with ear infections is that compliance becomes a big issue, because these cases usually require pet owners to medicate a dog's ears twice a day.
So she recommends that general practitioners who don't have the time to ensure compliance consider a referral.
She also recommends seeking a consult when a problem isn't responding, or if a practitioner feels uncomfortable with the medical options – like a patient with multiple illnesses or comorbidities, or if the pet owner is interested in immunotherapy and the general practitioner isn't comfortable managing that, or if the doctor feels she's relying too heavily on steroids.
Most of the referrals Budgin gets are from practitioners who have taken the right steps and then sought consultation with an expert at the right stage.
Sometimes a decision not to refer to a specialist is one that is client-driven, as some clients cannot afford specialty care. "I try to encourage veterinarians to consult with me even if they can't necessarily refer a case, but I can help remotely."
Budgin said that if a patient has a recurring infection and no solutions are evident, it may be time to seek a consult or to refer.
"If it recurs two or three times, that's usually a good time to consult with a specialist," she added.
Warmer Climate and Allergy Concerns
Could a warming world bring about more allergic skin diseases in people and dogs?
There's rhetoric on both sides, but no one in veterinary medicine has so far come out and said climate change is driving more allergies in pets.
However, what is clear is that there's a tie-in between warmer seasons and parasites.
Extreme cold and dry weather have a significant negative effect on flea and tick populations, and groups like the Companion Animal Parasite Council each year use the weather outlook to enhance their forecasts for a good year or bad year for bugs.
The warmer the temperatures, the worse these parasites may be – and dogs with allergies to these bugs may be more exposed.
Most indications are that the world is getting hotter – whether the recent changes in global climate are driven by the long-term cyclical nature of the climate, are due to man-made carbon emissions or if they are just temporary is all open for debate.
But the world is on average warmer right now, according to the UN World Meteorological Organisation, which recently reported that 14 of the 15 hottest years on record have occurred since 2000.
And some experts have reported an increase in parasite-driven allergies in step with warmer seasons.
Budgin said she is getting a sense that there has been an increase in flea allergies.
"Flea allergies tend to be far more common in warmer climates," she said. "On the human side of things we have seen more severe allergy seasons due to climate change."
Cain has also heard from fellow professionals who think there they are seeing more allergies.
But she's not sure if a changing climate is the cause, though she didn't dismiss the possibility.
"I think there is a general feeling that allergic disease may be more common in our pets than in the past – similar to the situation in humans," she said. "There are theories on why this may be the case, but they could include differences in housing or hygiene, genetics or an increasing recognition of allergy by pet owners and veterinarians."