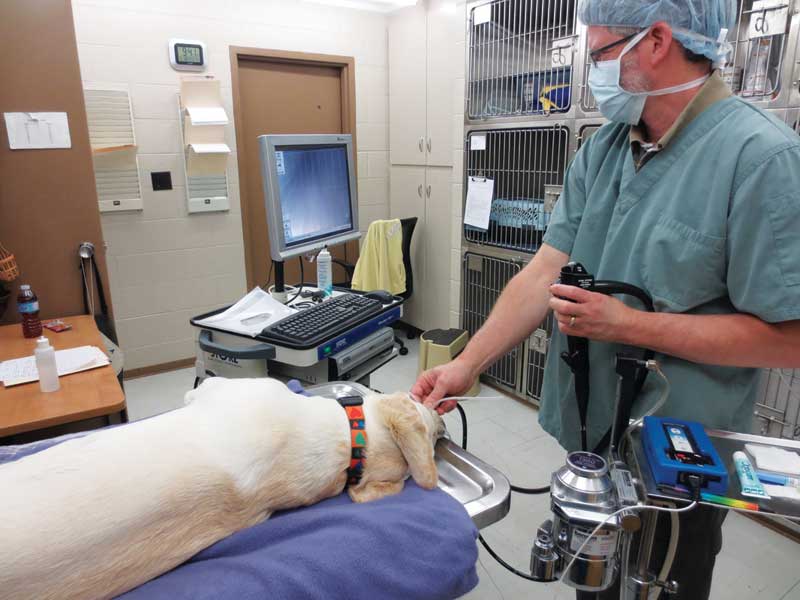 One of the first things veterinarians learn in school about endoscopes is how gastrointestinal endoscopy (GI) can be used to aid in the diagnostic evaluation of clinical signs referable to the esophagus, stomach, as well as proximal small intestine.
However, endoscopes can be used to investigate multiple body systems, and thanks in part to new equipment and upgrades, they are now also being used regularly for a variety of procedures such as bronchoscopy, esophagoscopy, tracheoscopy, otoscopy, rhinoscopy, and thoracoscopy.
The primary goal for endoscopic instrumentation is to be able to perform less invasive and more efficient procedures to allow for decreased anesthetic time and faster recovery, Katharine Arnell, DVM, DACVIM, of Veterinary Specialty Hospital in San Diego.
"Laparoscopic cholecystectomy is a newer endoscopic procedure in dogs that is a good option for uncomplicated gallbladder disease," Dr. Arnell said. "Advances in human endoscopy, including chromoendoscopy and natural orifice transluminal endoscopic surgery, are being studied in dogs as means of providing less invasive options for both diagnosis and treatment of intra-abdominal diseases."
Veterinary Specialty Hospital's veterinary team commonly uses endoscopy for gastrointestinal foreign body retrieval in dogs and cats.
"There are multiple retrieval instruments available, including snare loops, rat tooth forceps, alligator jaw forceps, and net retrievers," Arnell said. "There have been several advancements in the retrieval instrumentation types available to allow for removal of larger items, such as balls, which would previously have necessitated surgical removal."
One of the biggest advancements in the equipment concerns minimally invasive procedures using endoscopy, according to David Twedt, DVM, DACVIM, a professor of clinical sciences at Colorado State University Veterinary Teaching Hospital.
"Laparoscopic techniques are used for diagnostic procedures and biopsy but also performing surgical procedures," Dr. Twedt said. "Included are ovariectomy, gastropexy, and laparoscopic-assisted cystotomy to name a few. Also, procedures for respiratory and urinary evaluation."
Tyler Klose, DVM, DACVIM, a board certified internist with Lakeshore Veterinary Specialists in Glendale, Wis., uses endoscopy (both flexible and rigid) as a diagnostic tool, and for minimally invasive intervention such as removing foreign bodies, polyps (using either traction avulsion or electrocautery), PEG tube placement, esophageal stricture balloon dilation, etc.
In his estimation, the majority of the equipment advances are evolutionary as opposed to revolutionary, and while specific instruments do evolve and change over time (such as stone baskets, graspers, etc.) he's not aware of any dramatic developments.
"I think the current biggest improvements have to do with making scopes that are more durable, offer better control, and feature smaller overall diameters, while still having a relatively large working channel for instruments," Dr. Klose said. "Image acquisition has evolved a lot over the past few years as scopes have moved from fiber optics to digital to HD digital imaging."
Many surgeons are using single port technology where several instruments can be inserted through one port, said Ameet Singh, DVM, DVSc, DACVS-SA, associate professor, small animal surgery, at Ontario Veterinary College, University of Guelph.
"It is pretty neat; however, you lose triangulation using single ports," he said. "For that reason, I don't really use it for anything where precise dissection is required. Single ports are commonly used for ovariectomy/ovariohysterectomy, gastropexy, cryptorchidectomy, and abdominal organ biopsy."
Vessel-sealers have revolutionized laparoscopic surgery, according to Dr. Singh.
"They are safe, easy to use, and reliable," he said. "They are a much better option compared to previous energy systems used in laparoscopy. Many general practitioners that have implemented laparoscopic techniques into their practices are very pleased with their decision to invest in the equipment. While there are numerous patient benefits to the use of laparoscopy, many practitioners have enjoyed how building up their laparoscopic surgery caseload has sparked all members of the team."
Implementation in a practice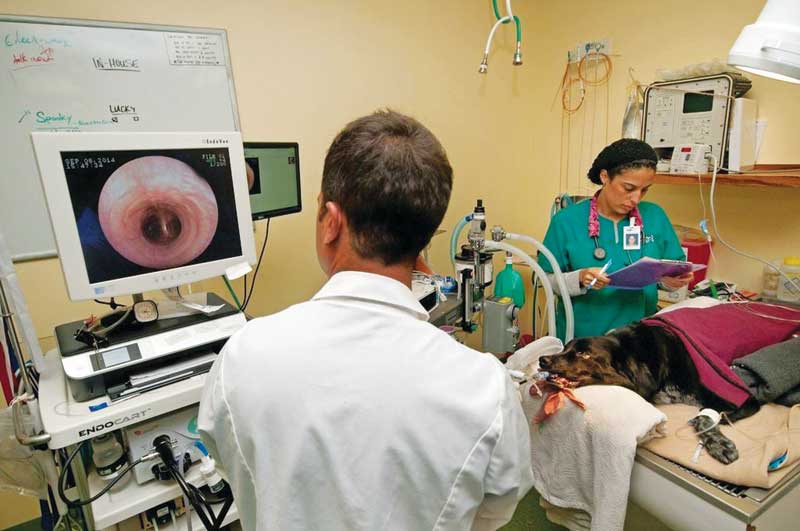 Becoming a proficient endoscopist takes extensive training, but it's an important skill to have for the veterinarian who wants to get ahead.
Once a decision is made to utilize new endoscopy equipment, it's important that practices plan a strategy for buying and implementing the tools.
The first step is for a veterinarian to work with an endoscopic equipment company and obtain all that's required to perform basic laparoscopy such as ovariectomy/ovariohysterectomy, gastropexy, cryptorchidectomy, and abdominal organ biopsy, Singh said.
"Beginning with cases from a local humane society may be a valuable method to gain expertise and skills in laparoscopy prior to working on client-owned animals," he said. "In addition, there are many training courses on laparoscopic surgery. Your support staff will be critical to your success. Ensure they are adequately trained on the instrumentation and have them watch the procedures so they can learn the techniques alongside you."
With new methods coming to fruition all the time, it's not always easy to get a practice's staff familiar with everything that's new.
"The best way to implement any new equipment is hands-on experience," Arnell said. "Lecture-style tutorials can be a very good starting point; however, the best way to gain the skills necessary to do any endoscopic procedure is practicing with the equipment itself. That said, wet labs are another great means of gaining experience prior to using the equipment in clinical practice."
Hands-on training is critical for both rigid and flexible procedures, Twedt said.
"I believe the learning curve is longer with flexible GI endoscopy," he said. "With any of those procedures, it is critical that one takes a hands-on CE course. Once basic principles are learned, then it is a matter of practice. It is important to know what is normal and then learning what is abnormal."
A big problem he sees in the industry is that veterinarians buy the equipment and take a course, but don't use it in their practice and the endoscopes gather dust.
"It is critical that endoscopy is incorporated into the practice," Twedt said. "The technicians also are important. They need to be trained to assist, set up, and take care of the equipment because it's very expensive."
For practices interested in adding endoscopy to their repertoire, Klose strongly recommends a comprehensive course (these usually take two to four days of intensive training) followed by actively recruiting a caseload to further develop and hone skills.
"Just like any medical skill, having the right equipment is a very small part of using it effectively," he said. "Understanding the indications and limitations of any medical equipment or procedure and utilizing these skills frequently enough to be proficient are much more important if someone wants to offer a service that is at the standard of care for that technique."
Joining the Veterinary Endoscopy Society or Veterinary Interventional Radiology Interventional Endoscopy Society is also a savvy step for any veterinarian with a strong interest in endoscopy, he added.
Rigid versus flexible
Both rigid and flexible endoscopes are safe and effective for noninvasive visualization, obtaining biopsy samples, and retrieving foreign objects. However, rigid endoscopy allows for observation solely on a vertical axis, whereas flexible endoscopes can be manually rotated in various directions to allow for better access and maneuverability, Arnell said.
"The length of procedure time using either type of endoscopy can vary depending on the user and comfort level, although the flexible endoscopes typically allow for a shorter duration of procedures," she said. "Rigid endoscopes are most commonly used for laparoscopy, thoracoscopy, and cystoscopy, and flexible endoscopes are most commonly used for upper gastrointestinal endoscopy, colonoscopy, bronchoscopy, rhinoscopy, and tracheoscopy."
While flexible GI endoscopy primarily is diagnostic, better endoscopes have enhanced that, Twedt said.
"Videoendoscopes make the procedures easier and diagnostics better," he said. "The images are superior than with older fiberoptic endoscopes. Also, there is advancement in recording and storage of images that can be downloaded into medical records or sent to referral DVMs for their records."
Rigid scopes are easier to learn and to perform with, but flexible endoscopes would be used more often than rigid endoscopy, Twedt said. For example, in a brief survey of procedures performed at Colorado State University, GI endoscopy was the most common procedure performed, followed then by respiratory, urinary, and laparoscopy for tissue biopsy.
Klose has seen small animal general practitioners effectively incorporate rigid scoping into their practices, describing these setups are less expensive, more straightforward to maintain, and more durable. For example, one practitioner started by becoming familiar with laparoscopic spay, and subsequently becoming highly skilled in the area, and then branching out into liver biopsies, gastropexies, and other relatively straightforward procedures.
"He's very happy with how this has helped his practice to grow as well as to improve his professional satisfaction," he said.
Whatever endoscopy equipment a practice purchases, be mindful of what one is getting, as there is a lot of equipment out there and often one gets what they pay for, Twedt said.
"Used equipment can be good and less expensive, but some is junk—you need to find someone with experience to advise you on used equipment," he said. "I personally believe in working with veterinary endoscopy companies that can help one set up equipment and help with maintenance of equipment. That's the best route to take."