As animal surgical procedures become longer and more complex, the need to keep patients from becoming hypothermic is greater than ever.
"The veterinary industry is starting to better understand the medical value that fluid warming and whole body temperature management can offer to the surgical and critical patient," says Judith Rossi, vice president of global communications for Smiths Medical of Norwell, Mass. "Patient warming is now recognized as one of the most valuable enhancements used to help improve outcomes in patient care."
The number of veterinary patient warming systems available is greater than ever.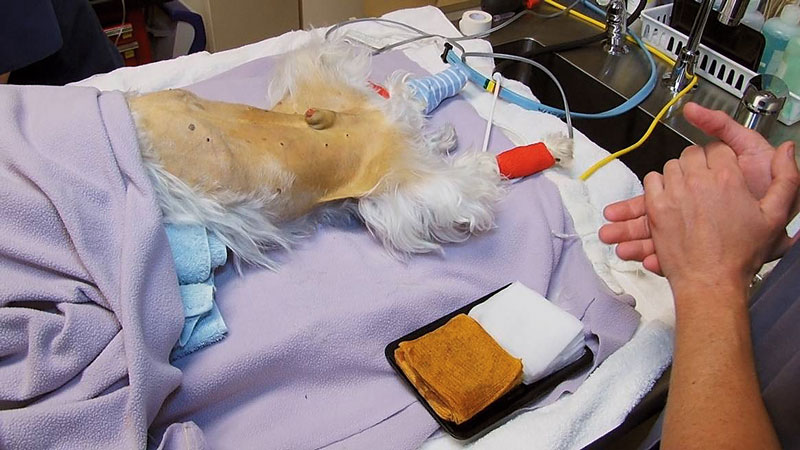 Dovelewis emergency animal hospital
Under the towel is the Hot Dog Warmer, used to keep this patient warm during preparation for abdominal surgery.
"The industry is steadily moving to the next generation of patient warming with blankets that warm with a conductive fabric technology," says John Bayard, senior product manager for Augustine Biomedical + Design of Eden Prairie, Minn. "It's hard to believe, but before this breakthrough the last big innovation in patient warming was over 25 years ago with the invention of forced-air warming blankets."
Nick Papinchak, an equipment consultant with apexx Veterinary Equipment of Englewood, Colo., says new patient warming products always come into the industry but veterinarians almost always go back to the main three types of warming systems—air circulating systems, water circulating systems and electric warming pads.
"We sell all three of the different styles so when we talk to our customers, we can take more of a consultant approach to make sure they get what they like and what will fit within their budgets," he says. "Each practice has a warming system that works for it and there is a lot of personal preference that comes into making the final decision to purchase."
Papinchak says air systems used to be most popular, but the price has caused some veterinarians to go in a different direction. Water blankets are increasing in popularity but they can puncture due to sharp nails and claws. Demand for the electric style pads, the newest of the three, is increasing the most because they can't be punctured, are water resistant and can be sanitized, and the temperature is fixed at 102 degrees.
What's Out There?
Smiths Medical offers the SurgiVet Equator Convective Warming System, which Rossi says offers a number of features that distinguish it from its competition, including a HEPA filter that is built into the unit, so that dust, dirt and dander are removed from the patient area and not re-circulated; a thermistor located at the patient blanket, not at the heating unit, compensating for heat loss from the hose; and over-temperature protection to prevent overheating and possible injury.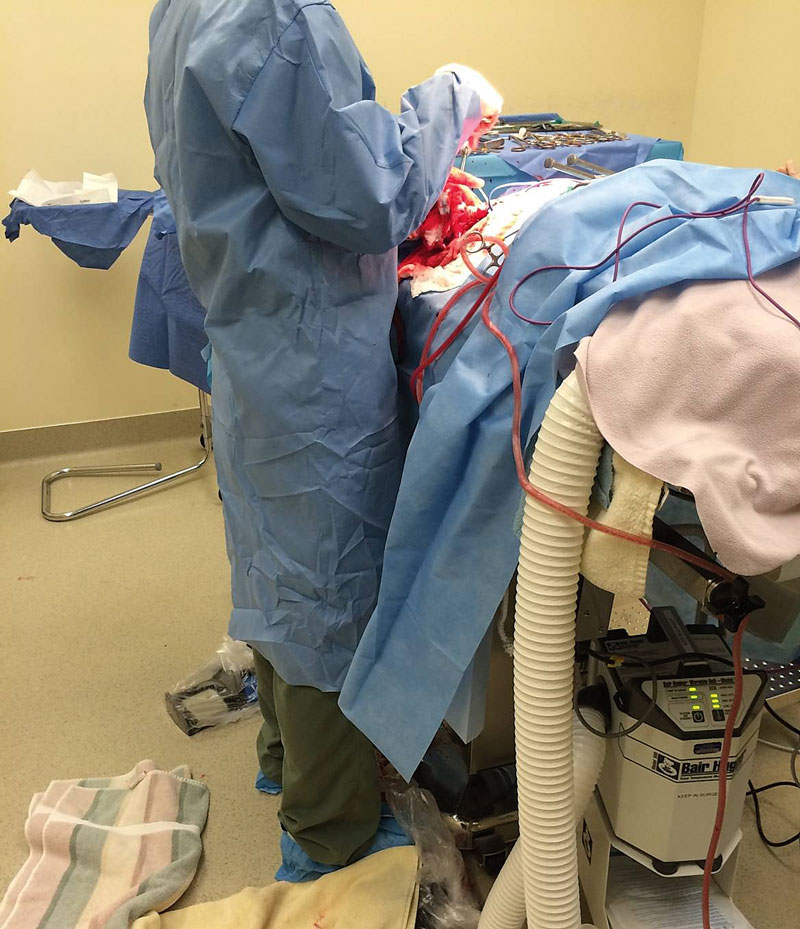 dovelewis emergency animal hospital
A Bair Hugger provides circulating warm air and in this instance is being used to keep a patient warm during abdominal surgery.
"With the Equator system, we are able to offer a unit that can maintain temperature during surgery or dentistry, as well as recover temperature postsurgically or for critical care patients, offering improved patient outcomes," she says. "We also offer the SurgiVet Hotline fluid warmer, which uses triple lumen technology to consistently deliver fluids and blood products to the patient at a consistent 100+ degrees Fahrenheit up to eight feet away from the patient."
De'Andre White, chief operating facilitator for the Milwaukee Emergency Clinic for Animals in Greenfield, Wis., says the Equator is very efficient, especially for smaller animals.
"It has worked really well for us and is our warmer of choice," he says. "By keeping patients warm, they are less likely to suffer postoperative shivering, delayed wound healing, delayed recovery from anesthesia or cardiac instability."
The Bair Hugger Warmer Series 505 provides clinical warmth to the animal before, during and after surgery with forced warm air being pushed and ventilated through a blanket.
Bayard, of Augustine Biomedical, creator of the Hot Dog Patient Warming System, says its system was designed by Dr. Scott Augustine, the inventor of the Bair Hugger.
"Dr. Augustine invented forced-air warming, and forced-air warming was the gold standard for many years, but now there's a better way to warm," he says. "The Hot Dog blankets feature a conductive fabric for safe, even heat distribution and conduction is the most effective means of heat transfer."
More Options
The Hot Dog controller powers the blankets and monitors the temperature with sensors built into the blankets. That means if a patient is drawing a lot of heat from the blanket, the controller responds by providing more heat to maintain the set blanket temperature.
"This results in better patient temperatures. For added safety, the controller will audibly alarm and shut off power to the blanket if the blanket ever gets too warm," Bayard says. "Even with the extra-large blanket size, there is even heat transfer from one end to the other."
Conductive fabric warming is environmentally responsible too, he says, with considerably less electrical consumption than other warming methods and less disposable waste since the blankets are much more durable and don't require frequent replacement.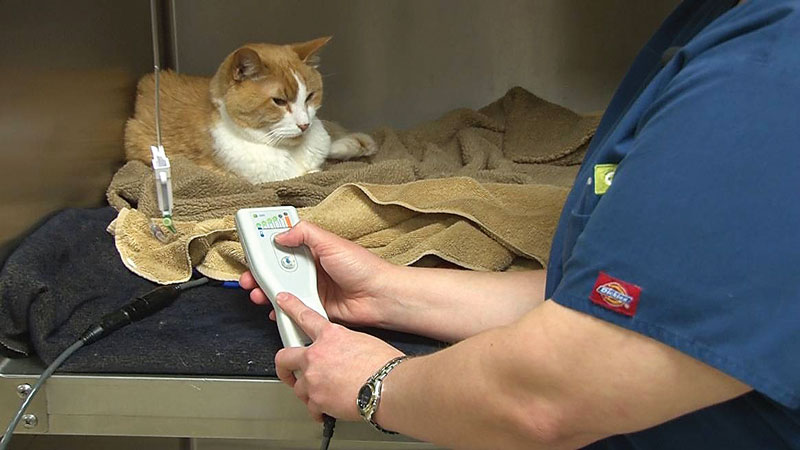 Dovelewis emergency animal hospital
This cat was covered with a blanket to keep him warm. The ChillBuster cage pad helps him stay warm while he is hospitalized in the ICU.
Animal Hospital Supply of Knoxville, Tenn., has also manufactured a series of BAJA Convective Warming Blankets, which are specifically designed to fit companion animal patients in hard-to-drape procedures such as in extremity surgery. DVM Solutions also offers a patient warming blanket with its ChillBuster Vet Surgical System.
Megan Brashear, CVT, VTS, of DoveLewis Emergency Animal Hospital in Portland, Ore., says the hospital utilizes the Bair Hugger, the Hot Dog blanket and the ChillBuster.
"We like them because they all serve a slightly different purpose and we can determine which one will work best for the situation we are in," she says.
"The Bair Hugger we will use with patients that come in really cold and are up and moving around, and in surgery; the Hot Dog warmer we use in our surgery prep under patients if we are doing a wound repair; and the ChillBuster we use in our ICU, mostly because the power supply is a lot smaller so we can keep in it in the cage for the animal to lie on if we're having trouble keeping the temperature up."
Brashear says the best way to learn about patient warming systems is to take tours of specialty hospitals and see what others are using, asking fellow veterinarians about their experiences and simply trial and error.
One thing she would like to see on future warming systems is increased attention to safety for the patient.
"Anytime you have electrical wires and an animal who may urinate on it, we just want to make sure it won't cause a problem," she says. "Animals are also chewers and can chew on the edge of any blanket, so I just want to make sure they are really protected."