Bruce Tarkington, DVM, had an affinity for art since childhood, but waited until retirement to make his creative dreams come true. Since then, the 67-year-old artist has enjoyed tremendous success as an esteemed North Carolina illustrator of coastal realism.
The practitioner
Dr. Tarkington was born in the small seaside town of Sea Level, NC, which partially explains his fascination with the coastal scene. An animal lover as a child, he owned numerous pets from ducks to dogs, and decided early on veterinary medicine was his calling. Tarkington did his undergraduate work at the North Carolina State University in Raleigh and received his DVM in 1980 from Auburn University in Alabama.
In 1983, he established Parkwood Animal Hospital in Durham, NC. It was initially a small operation, just 1,000-square-feet, but Tarkington put in long hours to make it a success, eventually bringing in two additional veterinarians to assist. As a general practitioner, he performed a wide variety of procedures, some of which would come in handy when he turned to art fulltime.
"I was a people person," says Tarkington. "I wanted to be the Andy Griffith of veterinary medicine, and I think I was."
The artist
Tarkington sold his practice in 2010 and turned to art to fill his time. He is self-taught, noting his last art class was in the 7th grade. "My 7th grade art teacher still follows me on Facebook," Tarkington says. "She tells me, 'Bruce, you're doing really well!' She's one of my inspirations."
Another is painter Andrew Wyeth, an artist Tarkington greatly admires for his realism. So much so, in fact, Tarkington practiced his technique by recreating some of Wyeth's works. "I have a couple of pieces hanging in my house that look just like his stuff," Tarkington says. "I can emulate him fairly well."
Tarkington works primarily in pastels and charcoal, though he has dabbled in colored pencils. "I can see why there aren't a lot of large works using colored pencil because it takes a lot of work," he says. "I don't have that kind of patience."
When he starts a new piece, Tarkington sketches first in pencil, then completes in pastels, and uses charcoal for detail. He averages about 20 hours per piece, start to finish, though larger works may take longer. Tarkington estimates he has created almost 120 pieces over the course of his art career.
Art imitates life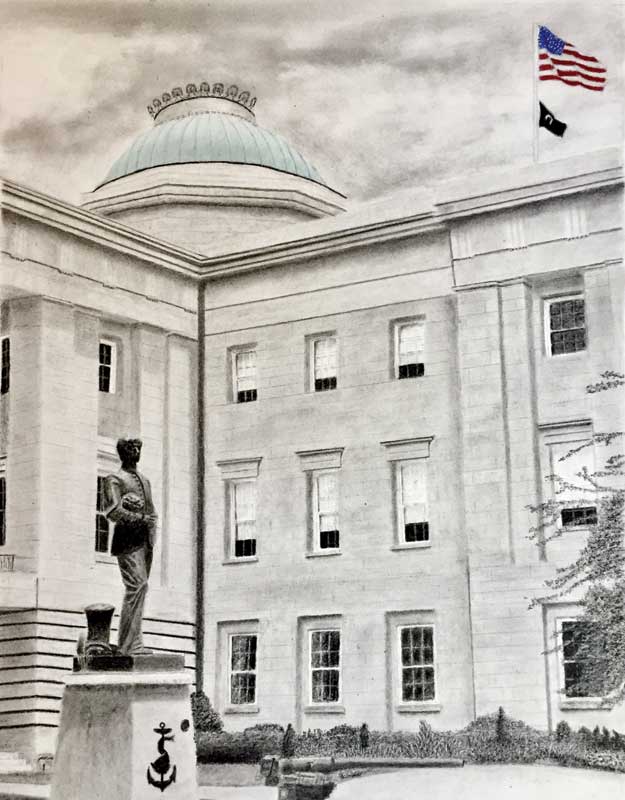 Interestingly, the delicate surgeries Tarkington performed on some of his smallest patients, including kittens, proved extremely helpful when he started drawing because it enabled him to draw very minute details. "Learning to perform very small procedures as a veterinarian, such as correcting deformed eyelids, really made a difference in my art," he says. "My work is very detailed, and it all comes from that."
Tarkington explains he focuses on coastal realism because it reminds him of his early years growing up on the North Carolina coast. "We moved away when I was about four years old, so it's like getting back to my roots," he says. "Plus, people like it. I don't draw sand pails or anything like that, though I love lighthouses. It's always a lonely beach scene that kind of whispers to you."
Tarkington has exhibited his work throughout North Carolina, including two solo exhibits in Cary, where he currently lives, a five-month exhibition at the Core Sound Museum in Morehead City, and two winery showings. He received a People's Choice Award for his contribution to a Cary Fine Arts League exhibition, and another for his contribution to an NC Wildlife Artists' Society exhibition at the ArtWorks Gallery in Wilmington, which currently represents Tarkington's work.
New calling
Art competitions can be challenging, as Tarkington found out when he entered a charcoal lighthouse in a contest he felt certain he would at least place, if not win. However, as the winners were announced, he found that he had not placed at all. The reason? His work contained everything the judge–an abstract artist–despised.
"He said he loved color, and mine was in charcoal, so that was strike one," Tarkington says. "Then he said, 'I really don't like form, I prefer something more vague.' Well, I'm a realist, so that was strike two. And then he said, 'I really hate two things: lighthouses and horses.' Well, mine was a lighthouse, so that was strike three. I didn't stand a chance."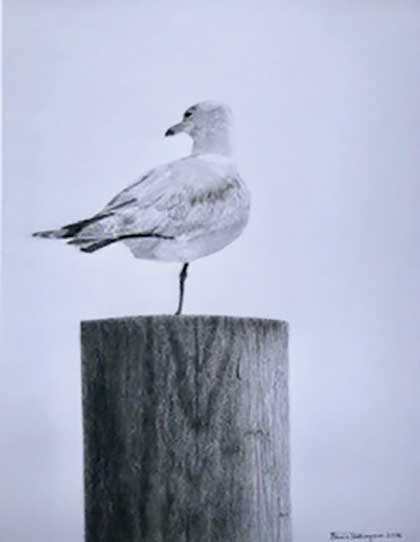 In 2019, one of Tarkington's works was featured on the cover of the August 15 issue of The Journal of the American Veterinary Medical Association. It was an intentionally half-finished drawing of a seagull Tarkington had originally created for a local exhibit. It was one of three drawings submitted for consideration, and Tarkington was surprised when the seagull was chosen over one he felt had a better chance, a drawing of a kitten named Scooter originally created for Ocracats, a nonprofit organization on Ocracoke Island that controls and cares for the island's community cat population.
"I was really proud to have my drawing selected," Tarkington says of the seagull. "That was a thrill."
Tarkington's work can also be found in the North Carolina State Capitol. He was approached by a friend, who was then president of the Capitol Foundation, to draw a series of pictures depicting the Capitol building. When they were completed, Tarkington and his friend decided to gift one of the five drawings to North Carolina Governor Roy Cooper.
Ever humble, Tarkington quietly told Governor Cooper that if he didn't like the picture, he would happily take it back. "I didn't want to give him something that would end up in the back of a closet," Tarkington says. But Governor Cooper assured him that he genuinely liked the drawing, and First Lady Kristin Cooper also voiced her appreciation.
As a successful artist, Tarkington talks often to those who aspire to create. His advice to veterinary colleagues who may be considering trying their hand at drawing or painting, now or in retirement, is simply to go for it.
"When you're operating on a patient, you can't make a mistake," Tarkington explains. "If you mess up, you can't get another dog or cat, so it has to be perfect. The thing about art, though, is that if you make a mistake, you can either erase it or throw it away and start again. There is no malpractice involved, and the veterinary board won't come after you. There is no pressure, so you can do whatever you want to do. So, my advice is to figure out what kind of art you want to do, buy the proper tools, and start drawing."
UP FOR SOME ART?
To see additional examples of Bruce Tarkington's work, or to purchase prints, visit his website at BruceTarkingtonDrawings.com.
Don Vaughan is an award-winning writer who frequently writes about veterinary-related topics.