Suggested Veterinary Products
My husband, Ira Lifland, and I suddenly have become parents of sorts.
The news came by text message on Aug. 2, 2012. I was to drive to San Diego to celebrate Dr. R.K. Anderson's 90th birthday with the Behavior Academy before the AVMA Convention. R.K. invented the Promise Collar, also known as the Gentle Leader and halti head collar.
For the past five years, we have been the supportive family for a Chinese mother and daughter. This is our second Chinese family. Our first family settled in Vancouver, Canada, and their daughter graduates from medical school this year.
The text message from mother and daughter said that they both agreed it would be best if 14-year-old Cindy came to live with us and go to high school.
So for the first time in 30 years of marriage, we have a two-footed child!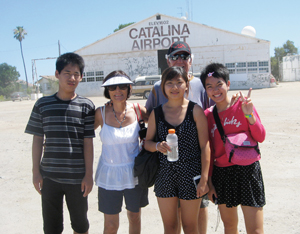 Dr. Villalobos, in white, with Cindy, holding bottle, two Japanese exchange students and husband Ira Lifand.
We welcomed Cindy into our household of four-footed pets. We have Fern, a lame Peter Zippi Fund rescue cat; Neo, an Old English bulldog; Trinny, a feisty French Dogue de Bordeaux puppy; and Sulchy, an African tortoise.
Cindy is a blessing and we are grateful for the opportunity to become her official guardians and to parent her.
I was sad because we recently had to rehome our macaws, Stanley and Max. They lived in a huge aviary in our back yard for over 20 years facing the ocean. They started nervous squawking due to construction next door that would drag on for two years. Complaints and a letter from a neighbor caused me to look into the ethics of being a good pet owner-neighbor.
Dr. Alan Beck of Purdue University focuses on animals in society and has published on bird keeping. He generously helped me arrive at a heartbreaking decision. Dr. Beck offered a premise for consideration: "Your neighbors have the right to complain about your noisy birds but not your children, because you have the right to have children. If one's pets ruin a neighbors' tranquility, it is not fair or acceptable or ethical to ignore the problem."
I reluctantly decided to do what was right. Stanley and Max now live and squawk happily on two and a half acres in their big transplanted aviary, thanks to J. and Maria Castelleon.
Our next-door neighbor's construction job specified a 30-foot hole. The pounding caused our cats to disappear and the huge deep hole caused the sand to shift. Cracks appeared in our entry walkway, patio and terrace retaining walls and our property line's stone wall tilted along with our gates. Our front doorway jammed and our interior countertops, fireplace and hearth shifted. Ira haggled for two years with the insurance carrier while our beautiful garden entryway and back yard deteriorated in the chaos.
Demolition and construction of our new wall, garden and deck consumed another six months. Neo and Trinny, were not safe in our yard! They enjoyed bike runs and walks on The Strand more than ever. We thought we were busy. Then along came Cindy!
On Aug. 17, Cindy arrived on the center stage of our lives, just four months after our 30th wedding anniversary. Cleaning out our guest room (which also served as Ira's office) to give Cindy her own room is a work in progress. That room was loaded with 30 years' of stuff on shelves in drawers, desks and closets.
This project is testing my hoarding instincts! It takes will power to toss old veterinary journals, slides, tapes, CDs, paperwork, clothes, sports and electronic equipment. But we must toss out the old to bring in the new!
Thank God for Dr. Paul Pion and VIN and the Internet. Now we veterinarians can stay informed without keeping stacks of journals! Now, I must break the old habit of saving articles in files!
Cindy asked to train as a volunteer for the Peter Zippi Fund for Animals. This warms my heart because the PZF was founded in memory of 25-year-old Peter Zippi in 1977. Peter worked for Dr. Frank Lux and me. He helped us move from a small rental into our 6,000-square-foot facility, which evolved into Coast Pet Clinic/Animal Cancer Center, a 24-hour specialty facility that offered radiation therapy. It transitioned into VCA Coast Animal Hospital 22 years later.
Peter's dream to be a veterinarian ended in a fatal private airplane crash in Torrance, Calif., just two weeks before our open house.
Our medical director, Dr. Jennifer Kitchen, feels that the PZF is a wonderful part of the hospital's giving culture.
I am thankful for the leadership of Leslie Neff and Linda Washburn who run the PZF's today amazing volunteer club. The PZF has helped and homed over 14,000 animals, mostly feline. I am pleased that Cindy is now an official PZF kitten socializer and that she has a cat sitting job for a neighbor.
We are filled with thanks because our friends offered to be aunts and uncles to Cindy. Thanks to the guidance of my best friend, Julie Jennings, Cindy is a volunteer for the Beach Cities "Blue Zone" Project. It focuses on helping citizens gain healthy exercise and nutrition habits by promoting exercise, walking, running, swimming, weight loss, quitting smoking and reducing intake of soft drinks and foods containing high sugar and salt. Soon we will promote dog "wogging" (jogging in place with weights), my favorite sport next to skiing.
Blue Zones synchronizes with the book "Walk a Hound, Loose a Pound," co-written by Dr. Rebecca Johnson, president of the International Organization of Human-Animal Interaction, and Dr. Phil Zeltzman, Dipl. ACVS, and blogger. The Animal Health Foundation, the non profit affiliate, plans to organize annual "Walk a Hound, Lose a Pound" events starting next year. Veterinary groups and dog walking clubs around the country embrace the Walk a Hound theme. Dr. Robin Downing of Windsor, CO, advocates dog walks to raise funds for recession-battered nonprofits.
The One Medicine, One Health concept that Dr. Roger Mahr and colleagues are promoting will positively affect the well being of people, animals and Mother Earth. Be sure to support every measure and every advocate who will help animals in society, agriculture and in the wild to have quality of life.
The Human-Animal Bond celebrates relationships between people, animals and the environment. Leo Bustad founded the Delta Society (renamed Pet Partners) to study and value the relationship between people, animals and the environment. It is all about love and gratitude!
Teach others to develop an attitude of gratitude for Mother Nature's gifts. We must be proactive to reduce emissions and pollution and to clean up our streams, rivers, lakes and oceans.
Thank goodness we can get engaged with issues that we care about and make a difference. Every green vote and every healing event counts! Send Drs. Johnson, Zeltzman and me a post on Facebook if your local chapter or VMA is planning a Walk a Hound or heal the earth event. Let us know what you are doing to help humans, animals and the earth.
Our positive actions, expansion and gratitude give us reason to celebrate Thanksgiving and the holidays ahead. I wish a Happy Day of Thankfulness to each of you who read The Bond and Beyond. Your time and feedback are deeply appreciated!
Dr. Villalobos is a past president of the American Association of Human-Animal Bond Veterinarians and is president of the Society for Veterinary Medical Ethics. Her column appears every other month.