Suggested Veterinary Products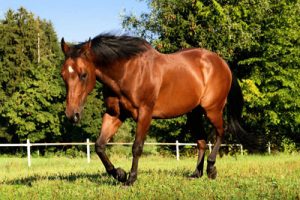 The American Association of Equine Practitioners (AAEP) Foundation has approved 2018 funding of $701,723 for 28 organizations, projects, and programs committed to its mission of improving equine health and welfare.
Since its inception in 1994, the foundation has distributed more than $5.4 million to support its mission.
Some of the support, earmarked for helping to financially stabilize students' transition into practice, funded 49 scholarships at $340,000. The disbursement also includes support for a record 10 equitarian (working equid) programs. Also funded were two disaster training and preparation programs at veterinary schools to include veterinarians, students, first responders, and horse owners, as well as an equine disaster planning session for veterinarian leaders and industry stakeholders.
Among new programs receiving support is the Equine Welfare Data Collective, a collaborative effort to enhance programming for transitioning and at-risk horses, as well as iBooks at the University of Georgia College of Veterinary Medicine and up to four $20,000 first-time faculty awards for research projects.
The recipients, by mission category:
Benevolence
Equine advocacy/Unwanted horses
Equine Welfare Data Collective
Unwanted Horse Coalition/Operation Gelding Program
Equitarian (working equid) programs
Equitarian Projects in Costa Rica, Ecuador, Guatemala, Honduras, Peru and South Dakota
Equitarian Young Leader Development Scholarships
Fast Horse Seminar and Herder Training in Mongolia
Veterinary Agent Training in Haiti
Working Equid Owner Education Program
Disaster preparedness and relief
Equine Disaster Planning Session
Louisiana Tech University Foundation Disaster Preparation Training
University of California, Davis, Veterinary Emergency Response Team Disaster Preparation Training
Equine Research
Research awards and projects
AAEP Past Presidents' Research Fellow
EQUUS Foundation Research Fellow
First-time faculty awards for research projects
Education
Programs and projects
World Equine Veterinary Association Congress
University of Georgia College of Veterinary Medicine iBooks development
Equine Veterinary Student Educational Programs:
AAEP Annual Convention student programs
Focus on Students summer programs
Student chapter Essential Skills Workshops
Student chapter activities
Equine veterinary student scholarships
AVMA Congressional Fellowship Program
Coyote Rock Ranch Scholarships
Merck Animal Health Scholarships
Northwestern Pennsylvania VMA Equine Symposium Scholarships
Oakwood Charitable Trust Scholarships
Winner's Circle Scholarships (in partnership with the Race for Education, Platinum Performance & AAEP Foundation)
Zoetis Scholarships
For more information about the AAEP Foundation's involvement in horse welfare, visit aaepfoundation.org and click the Our Impact link.