Suggested Veterinary Products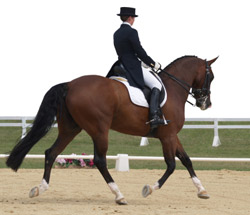 The American Assn. of Equine Practitioners has issued a white paper recommending the elimination of soring within the Tennessee Walking Horse industry.
AAEP defines soring as "the infliction of pain to create an extravagant or exaggerated gait in horses for training or show purposes."
The white paper, "Putting the Horse First: Veterinary Recommendations for Ending the Soring of Tennessee Walking Horses," includes the following guidance:
Immediate institution of drug testing at every competition.


.

The abolishment of the Designated Qualified Persons Program and the establishment of a corps of independent veterinarians to conduct horse inspections and impose sanctions for violations of the Horse Protection Act.


.

The development of objective methods to detect soring in order to eliminate the current practice of conditioning horses to tolerate pressure applied to the limbs.


.

Establishment of a single industry organization that has governance responsibilities and sets and enforces uniform standards and regulations.


.

Reevaluation of judging standards.
Although soring is prohibited by the federal Horse Protection Act of 1970, it continues within the industry, according to AAEP. For instance, the U.S. Department of Agriculture issued 103 competitor violations during the 2007 Tennessee Walking Horse Celebration, the industry's championship event.
Click here to view the white paper.