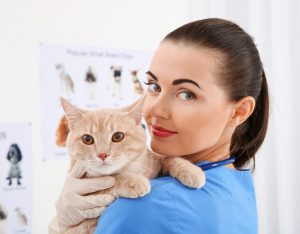 Ninety-eight percent of members of the Cat Friendly Practice (CFP) program say they would recommend it to other veterinary professionals.
That's one of the findings of the American Association of Feline Practitioners' (AAFP's) 2018 Cat Friendly Practice survey.
The program's main purpose is to cater to the unique behaviors and needs of cats, and to help decrease the stress of the veterinary visit for the cat and the caregiver by providing the veterinary team with tools and resources needed to treat feline patients.
"The survey results tell the story that CFPs, and their clients and cats, are benefiting from the program in vital ways," says Heather O'Steen, CAE, chief executive officer of the AAFP. "They're improving treatment of cats in their care and helping to advance feline medicine. We encourage any practice that has feline patients to learn more about becoming a Cat Friendly Practice. The program is an AAFP membership benefit with no additional charges, and there are many resources to walk you through the process. Implementing just a few cat-friendly strategies can make a huge difference in the experience for the cat, caregiver, and your entire veterinary team."
The survey—which included 460 respondents—also found the following:
99 percent satisfaction rate proves the CFP program meets or exceeds members' needs
93 percent reported an improvement in feline knowledge and care among practice staff
88 percent state the CFP program has positively impacted their team dynamic when handling, treating, and caring for cats
83 percent have recorded increased visits from better feline handling and CFP marketing
81 percent received positive feedback from clients on being a CFP
80 percent have gained new feline patients due to their CFP designation
79 percent report increased practice revenue since implementing the CFP program
61 percent of CFPs report a reduction in personnel injuries when handling cats
The top reported benefits of the program are:
Less stress for feline patients
Higher satisfaction among current clients with cats
Display of care for their feline patients
Improved client retention and more frequent visits by existing cat owner clients
Gaining of feline patients from CFP status
For more information visit, catvets.com/cfp. To download the survey results infographic: bit.ly/2018_cfpsurvey