Suggested Veterinary Products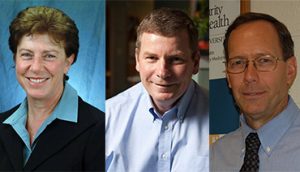 The Association of American Veterinary Medical Colleges (AAVMC) has announced the recipients of four awards that recognize professional excellence, achievement, and service in academic veterinary medicine. The awards will be officially presented during the AAVMC's 2018 Annual Conference and Assembly, which will be held March 2-4, 2018 at the Grand Hyatt Washington in Washington, D.C.
Jennifer Hodgson, BVSc, Ph.D., MRCVS, DACVM, from the Virginia-Maryland College of Veterinary Medicine received the 2017 AAVMC Distinguished Teacher Award. The award recognizes excellence in professional veterinary medical education and is presented to an educator whose sustained record of teaching excellence and ability, dedication, character, and leadership has contributed significantly to the advancement of the profession. In her role as associate dean for professional programs, Dr. Hodgson is responsible for all academic and student affairs relating to Virginia-Maryland's Doctor of Veterinary Medicine program, and teaches bacteriology and mycology in the DVM curriculum.
Colin Parrish, Ph.D., the John M. Olin Professor of Virology at the Cornell University College of Veterinary Medicine, received the 2018 AAVMC Excellence in Research Award. The honor designates Dr. Parrish as the outstanding veterinary medical researcher of the year and recognizes his demonstrated excellence in original research, leadership in the scientific community, and mentoring of trainees and colleagues in any discipline of veterinary medicine. Dr. Parrish's studies into the properties that allow viruses to cross species and produce new outbreaks have demonstrated the importance of understanding animal viruses and their role in disease emergence. His work has discovered how parvovirus capsids interact with host cells and tissues and how naturally occurring variant viruses gain the ability to infect new host cells.
James A. Roth, DVM, Ph.D., DACVIM, the Clarence Hartley Covault Distinguished Professor in Iowa State University's College of Veterinary Medicine, received the 2018 Senator John Melcher, DVM, Leadership in Public Policy Award. The award is presented to current or former faculty, staff, or students at an AAVMC member institution to recognize leadership in public policy that advances veterinary medical education and success in advocating for veterinary medical education on a national or international scale. Dr. Roth has focused on improving veterinary medical education and public health related to animal health, public health, and food security. He directs the Institute for International Cooperation in Animal Biologics to improve the availability and use of biologics for animals worldwide.
Dr. Norman B. Williamson from the University of Melbourne in Australia received the AAVMC's Billy E. Hooper Award for Distinguished Service, presented to an individual whose leadership and vision has made a significant contribution to academic veterinary medicine and the veterinary profession. Dr. Williamson was a pioneer in the development and implementation of computationally based herd health programs in dairy cattle. He served for 11 years as program director in Veterinary Sciences of the College of Science at Massey University and served as chair of the Veterinary Schools' Accreditation Advisory Committee of the Australasian Veterinary Boards' Council since 2012.