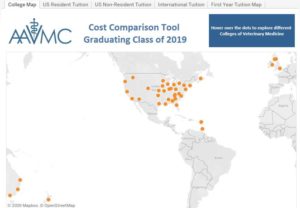 The Association of American Veterinary Medical Colleges (AAVMC) is now making it easier for prospective veterinary students to see how much it really costs to fund a veterinary education.
To do that, the association has released an updated version of its Cost Comparison Tool (CCT).
The interactive online database offers tuition costs, scholarship resources, and financing options on all 30 accredited U.S. schools, as well as 12 Canadian and international colleges.
"Higher education is an expensive proposition in today's world, and educational debt has become a major national problem," says AAVMC chief executive officer, Andrew T. Maccabe, DVM, MPH, JD. "We're committed to providing our applicants and students with the data they need to make informed and intelligent decisions about financing their professional education. Our CCT program is a powerful tool for helping them do that."
The CCT was updated to include the total costs of earning a DVM degree for 2019 graduates and median debt levels for 2018 graduates. A tab for a single-year view of tuition costs was also added.
Students can now filter the data by tuition costs, total costs, and percentage of students receiving scholarship aid from the colleges.
To view the updated CCT, click here.