Suggested Veterinary Products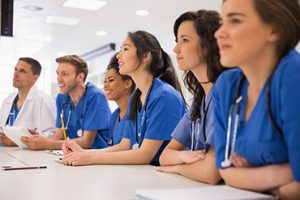 The number of applicants applying for admission to member institutions of the Association of American Veterinary Medical Colleges (AAVMC) continues to rise, according to final data compiled at the end of the annual application cycle.
A total of 7,507 individuals applied through the AAVMC's Veterinary Medical College Application Service (VMCAS) for admission to the class that begins their studies in fall 2018. That compares to 7,077 applicants who applied during the prior year admissions cycle and represents an increase of about 6 percent. The total number of applications submitted was 36,638, which rose about seven percent over last year, when 34,134 applied. Each applicant applied to an average of 4.88 institutions, which also slightly increased. This marks the second straight year that the number of applicants has increased about 6 percent year-over-year.
A recently published report by the Department of Labor's Bureau of Labor Statistics suggests opportunities for careers in veterinary medicine will grow 18 percent by 2026 as a result of increased demand for companion animal care and food production and security.
"Veterinary medicine offers a wide variety of rewarding career opportunities in many different sectors of the profession, including clinical care, food security, public health, and biomedical science," said Andrew T. Maccabe, DVM, MPH, JD, AAVMC CEO. "Our responsibility to promote global health and well-being continues to grow, and it's encouraging to see that we have a deep and talented pool of applicants who are willing to rise to the challenge."
Qualified applicants were reimbursed $17,220 through the VMCAS Fee Reimbursement Program, which is now in its fourth year of operation. The goal of the program is to provide financial assistance related to the application process for students with demonstrated financial need. This year, VMCAS received 103 requests for reimbursement and 84 qualifying requests were granted.
Overall, the VMCAS system ran very efficiently over the course of the annual application cycle, according to Tony Wynne, AAVMC director of recruitment and admissions. However, heavy damage sustained throughout the southeastern United States and the Caribbean by Hurricanes Harvey, Irma, and Maria affected the ability of many applicants to complete their application packages on time.
As a result, the AAVMC Admissions and Recruitment Committee officials extended the application deadline from Sept. 15 to Sept. 29 for affected applicants, and allowed Puerto Rican applicants until Oct. 13 to submit components of their applications.