Suggested Veterinary Products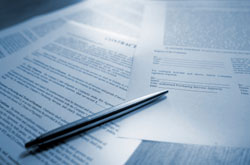 Abaxis Inc. of Union City, Calif., has entered the animal health rapid-test diagnostic market with the signing of a manufacturing agreement with SA Scientific of San Antonio, Texas.
SA Scientific develops and manufactures One-Step rapid tests for fertility and infectious diseases.
The agreement is for the manufacturing of a canine heartworm lateral flow/rapid test kit. The market for canine heartworm tests is estimated at $70 million in the U.S. alone, Abaxis reported.
"SA Scientific is an outstanding company with which we have done business with in the past," said Clint Severson, Abaxis' chairman and chief executive officer. "They have all the tools, capacity and expertise to manufacture a broad line of rapid diagnostic, lateral flow devices, and we look forward to a long-term strategic relationship with them."
Martin Mulroy, Abaxis' vice president of marketing and sales, said the company expects to provide customers with "a high-quality, low-cost alternative to competitive products."
"Our brand is highly respected and Abaxis is well-known for innovative and cost-effective solutions," Mulroy said. "Upon launch of the VetScan Canine Heartworm Test I anticipate it, too, will be widely and rapidly accepted."