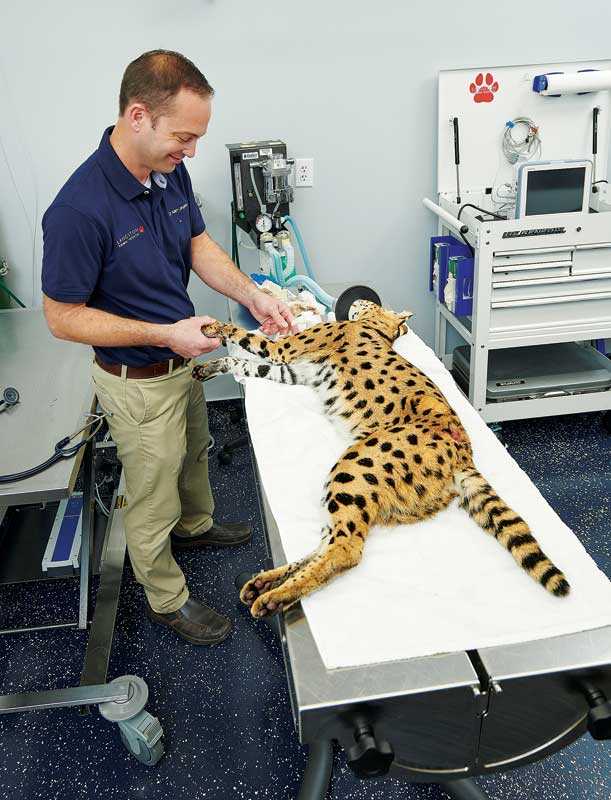 It is possible to begin offering dental and/or surgical services in as little as a weekend. While practices will need some basic tools, they will not need a contractor and they will not need to move walls. It is an easier way to keep up with the latest advancements in equipment while offering new services or expanding on existing ones.
Although improved treatment areas can help practices take advantage of client demand, veterinarians may be hesitant to jump into a complete office redesign. The cost, contractors, development time, and project management may seem to be too disruptive and, ultimately, not worth the investment.
It is possible to simplify the process. Modern and well-designed equipment suites can make a space easier to work in while adding to the roster of a practice's services. The key is looking at pieces of equipment that are modern, mobile, and designed in the context of what a practice is looking to accomplish.
Look for equipment bundles
Practices will want to get the right equipment, of course, and this is easier to do when it is selected and streamlined to work seamlessly together.
Some dental and surgical bundles can all be put together in one weekend with no construction, no interruption, no contractors, no tools, and be up and running on a Monday morning. In addition, to rapid turnaround times, another benefit of this approach is it can fit a large amount of functionality into a small space.
Focus on tables first
The center of any new surgical or dental suite starts with the table. Some can be specifically developed to meet patient positioning needs for dental procedures; others are designed to be converted from dental procedures to another purpose. Either wet or dry tables are also options. If a wet table is selected, installation can be completed with a visit from the plumber.
Tables are not only the center of a suite; they can be the hub of expanding a veterinarian's functionality. A good dental or surgical table should be able to accommodate a single power strip for easy access to multiple devices without staff having to contend with unwieldy cords. With power access, the right table can also accommodate either new or existing equipment, allowing practices to scale up equipment purchases over time.
Build onto the table
A well-equipped procedure room includes lighting, an instrument tray, an IV pole, a laptop, and a monitor. With the right table, these can also be securely mounted onto swinging arms or connected to a 110-volt outlet where they are ready to be used as soon as they are plugged in.
Swing arms help make the best use out of a smaller space and allow the equipment in a procedure room to be repositioned for maximum comfort. It should not take a lot of effort to move instruments out of the way so they are within easier reach—not impeding a doctor's field of vision.
Now veterinarians can begin adding larger pieces of equipment like an anesthesia unit, a high-speed dental unit, an ultrasound machine, a radiology machine, or a cautery unit.
Customization can also include adding features that make the suite easier to use, such as a foot pedal to access certain technologies, a table platform surface, or a warming system designed with a state-of-the-art thermostat to ensure temperature control.
Look for ergonomic suites
Performing surgery can be a pain in the clinician's neck quite literally. Equipment choices can impact a veterinarian's long-term health, so look for equipment to support someone's height and minimize lifting and awkward angles.
Ergonomics in veterinary equipment comes down to considerations such as how heavy a piece of equipment is, how difficult it is to push a table, the location of a piece of equipment, the height or positioning of a table during a procedure, and how many functions can occur on a single table to reduce patient transfers for different procedures.
Another consideration that can improve the physical health of a provider is the number of tables available in a surgery suite. Multiple tables adjusted to equal heights can make patient transfers easier. It is also more efficient for times when a procedure table is needed for the next surgery while the patient is on a different table in a recovery room.
Practices see the benefits to smart equipment choices. Once they move toward an ergonomic system, they notice staff members are more comfortable at the end of the day. More comfortable dentals and surgeries mean veterinarians and their staff need less time to recover from the physical strains of a procedure, and can help a greater number of patients on each scheduled week. It also means staff members stay healthy for years to come.
Jonathan Butz is director of equipment for Patterson Veterinary and has worked in the industry for more than 30 years. He oversees and curates the equipment portfolio, including Olympic dental and surgical suites.