Suggested Veterinary Products
pet food recalls that began a year ago in March–one of the most sweeping in the nation's history–irrevocably changed some consumers' buying habits.
Ninety-three percent of pet owners knew of the recalls, according to the market research firm Mintel in Chicago. The most common reaction was to switch brands, with 16 percent converting to organic food.
Mintel doesn't expect those buyers to remain converts. However, Packaged Facts in Rockville, Md., another research firm, believes the $15.4 billion pet-food market is up for grabs and predicts the winner.
"Alternative pet foods are emerging as the primary beneficiaries," says David Lummis, a senior analyst with the firm, writing in Petfood Industry magazine. Among the alternatives he cites are high-end natural and organic pet foods; raw, frozen, refrigerated and homemade food; and U.S.-sourced, locally grown and smaller-batch foods.
The category's growth seems unstoppable. Sales of organic pet foods in the U.S. totaled $30 million in 2005, an increase of 46 percent over 2004. In 2006, sales increased 36.7 percent to $41 million, the Organic Trade Assn. says.
Whatever choices clients make, today many are armed with a new-found knowledge of pet food manufacturing and ingredients' country of origin.
"One of the most significant changes is the fact that buyers are looking more closely at labels. They're making more educated decisions," says Erin Murray, senior research analyst and editor of the Mintel report "Pet Food and Supplies."
In response, many manufacturers stress their products' safety to maintain or regain buyers' trust. "The recalls were an 'Aha!' moment for pet-food makers," says Debbie Phillips-Donaldson, editor-in-chief of Petfood Industry.
"Their massive scale took everybody in the industry by surprise. The whole safety and quality emphasis isn't new, but they're having very heightened attention and focus."
"

Wheat gluten is the protein concentrate of wheat and can be a good source of dietary protein," says nutritionist Sally C. Perea, DVM, MS, a consultant at Davis (Calif.) Veterinary Medical Consulting. "There is nothing inherently unsafe about it."
The flurry of reports, congressional committee hearings and new regulatory efforts that followed the recall of more than 100 brands came down to this: The industry recognized that it needed to better self-regulate its products," says Kim May, DVM, assistant director of professional and public affairs at the American Veterinary Medical Assn. "Consumers are demanding that, and manufacturers are definitely stepping up and communicating with the public."
Previously, manufacturers had not publicized or been very vocal about safety practices, Murray says.  "Now they're working hard to alleviate consumer concerns. Companies that had no tainted products quickly distanced themselves from those that did. Other brands took a less-is-more approach. They said their products hadn't been affected and left it at that."
The recalls' impact was painful for the pet-food industry and tragic for many pets, says Peter Atkins of Natura Pet Products in Santa Clara, Calif., a company unaffected by the recalls.
"In the end it will make a positive impact. Customers are asking a lot more questions. We hear that from the stores, too."
"Customers used to ask, 'What do you recommend?' Now they ask, 'Do you know this company? Do they make their own food?' Then they turn the bag over and look at the ingredients."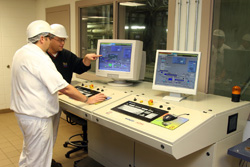 A technician monitors the kibble extruders from a state-of-the-art computer console.  Highly controlled and automated cooking methods allow optimization of the nutritional benefits. (Courtesy of Natura)
Atkins, Natura's co-founder  and co-owner, instituted new testing protocols for melamine and cyanuric acid–contaminants implicated in animal illness and deaths—for all foods produced under the Natura label, including cans and baked treat products.
"We are happy to report that all tests came back negative," the company's website says.
Natura went on to issue a 121-point quality control checklist, including testing all its products for melamine and having quality control employees present during production at the South Dakota plant that makes its canned foods.
"You have to know where every single ingredient comes from," Atkins says. "You can't leave any stone unturned. The whole franchise is at risk."
Large companies operate many of their own plants, Phillips-Donaldson explains, "But if they have a short run or a new food they're testing, they might contract for manufacturing, as would small companies that can't afford their own plant. Before the recall, consumers had no idea how pet food is made–no idea there are private-label manufacturers producing for the big names."
Natura, which also makes grain-free EVO, organic Karma and California Natural, markets them as "the healthiest pet foods in the world." Sales have grown in double digits since the company began in 1992. Today it has sales of $100 million a year, Atkins says. "We'd been clipping along at 30 percent growth last year, then the recall bumped it up to 40 percent."
In an unusual twist in food recalls, new customers have remained with the company. Mintel says brand shifts in food scares are often temporary. "Consumers take a Pollyanna approach, believing if there has been a problem, a company will have addressed it," Murray says.
Natura's and others' increasing sales also reflect the popularity of natural and organic food in general.
The Honest Kitchen, a small San Diego company producing natural treats, herbal supplements and dehydrated, raw human-grade pet food for dogs and cats, has experienced 100 percent growth annually since it began in 2002, says marketing director Lucy Postins.
"After the recalls, we saw a huge increase in phone calls and orders and inquries to the point where nobody did anything but answer the phone."
A $500,000 Answer to the Pet Food Safety Question
Customers who have a question about the safety of Dick Van Patten's Natural Balance Pet Food can log onto its website and see results of two  laboratory tests on more than 100 products.
Say they want to check the three-ounce size of Tuna With Shrimp Formula Canned Cat Food. They find the name on a dropdown list, enter the "best by" date and up pop Reports Number 07-206-5106 and 07-206-5111.
They show no evidence of these ingredients in the tuna: the mold aflatoxin, the fungi vomitoxin, the industrial chemical cyanuric acid and melamine, the China import named in the pet food recalls. The cost to launch the "Buy With Confidence" initiative: a half million dollars.
The project was the brainchild of Chief Executive Officer Joey Herrick. He'd received eight calls in two days last April from owners reporting illness in their pets from venison cat and dog food. He immediately issued a recall, and lab tests confirmed the presence of melamine.
The Pacoima, Calif., company experienced a dip in sales, then a record month. It expected to close 2007 with typical double-digit growth. To assure safety, it had hired two biochemists to establish product testing protocols and check results and built its own laboratory in an existing warehouse.
The hires and the lab were costly, Herrick says, "But I did it so I can sleep at night. Our customers need to know we stand behind our food products."
Phone calls leveled off toward the end of the year, though sales more than doubled over 2006. But a problem developed.
"The Honest Kitchen has found its regular supplies of domestic, natural and organic ingredients have become more tight recently, particularly since the recalls, as more and more other companies have attempted to begin eliminating ingredients of Chinese origin," Postins says.
The amount of food imported to the U.S. and the extent of its oversight were a revelation to many consumers.
Nearly $65 billion worth of food is imported annually, according to Public Citizen, a consumer advocacy group. The FDA doesn't categorize food inspections, so a breakout for pet food isn't possible, but Laura Alvey at the agency's Center for Veterinary Medicine says, "I can tell you overall that 100 percent of foods are electronically screened and 1 percent is physically inspected."
Some pet food ingredients, such as vitamins, amino acids, fine chemicals and gluten, must be imported to meet consumer demand, says Duane Ekedahl, president of the trade group the Pet Food Institute.
"The source of the pet food recall, and the numerous other product safety recalls related to imported products that followed, drew attention to the challenge of ensuring the safety of imported food and other products."
Melamine, a compound used to make plastic and fertilizer, was found in wheat gluten imported from China, leading some to question all gluten.
"Wheat gluten is the protein concentrate of wheat and can be a good source of dietary protein," says nutritionist Sally C. Perea, DVM, MS, a consultant at Davis (Calif.) Veterinary Medical Consulting. "There is nothing inherently unsafe about it."
The Pet Food Institute is evaluating recommendations from the National Pet Food Commission on ways to strengthen safety and quality assurance. "In several instances, the steps have been in place by larger and/or established producers for years," Ekedahl says.
"The action plan will involve raising standards for the overall industry, particularly for the smaller and newer companies that may have not yet implemented procedures like a formal quality assurance plan and printing individual lot and date codes on finished products."
No matter what standards will be enacted, the pet food market shows no sign of slowing. Estimates were that 2007 would end with sales up 8.8 percent over 2006.
Betty Liddick, a freelance writer in Venice, Fla., also edits Your Dog, a monthly newsletter from Cummings School of Veterinary Medicine at Tufts University.