Suggested Veterinary Products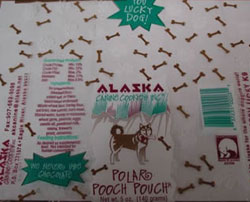 The nationwide peanut butter recall has prompted another maker of dog treats to pull its product from shelves. Alaska Canine Cookies of Anchorage, Alaska said it is recalling Peanut Butter, Power Bone and Carrot Cake flavors of Canine Cookies.
These products were made with peanuts recalled by Peanut Corporation of America (PCA), and have the potential to be tainted with Salmonella, the company said March 10. Salmonella can affect pets and there is risk to humans from handling contaminated pet food.
The company informed customers about the recall on its website, including information on the symptoms of Salmonella, which include some or all of the following: nausea, vomiting, diarrhea or bloody diarrhea, abdominal cramping and fever. Rarely, Salmonella can result in more serious ailments, including arterial infections, endocarditis, arthritis, muscle pain, eye irritation and urinary tract symptoms.
People can get Salmonella if they do not thoroughly wash their hands following contact with tainted pet food or any surfaces exposed to the product.
Pets with Salmonella may be lethargic and have diarrhea or bloody diarrhea, fever, and vomiting. Some will have only decreased appetite, fever and abdominal pain.
Infected but otherwise healthy pets can be carriers and sicken other pets or humans. If pets have consumed the recalled product and show these symptoms, owners are urged to contact a veterinarian.
The Alaska Canine Cookies were distributed in Anchorage, downtown Anchorage in the 5th Avenue Mall, Homer and Wasilla and online.
The three flavors — Peanut Butter, Power Bone and Carrot Cake — come in a "Filled with Fun" bag (diagonally striped bag containing three bones) and a "Woof Pack" (15 ounce bag labeled "Alaskan "Woof" Pack" with the Husk E. Dog on the front containing approximately 45 bones). The Filled with Fun and the Woof Pack, as well as any other Canine Cookie with a 1 ½ inch bone-shaped sticker reading "Peanut Butter for Dogs, a natural treat for dogs" are included.
Additionally, the "Lollipup" (peanut butter flavor only) comes in a 1 ounce bag with the Husk E. Dog on the front, and the name "Lollipup" on the back and contains one large bone.
The "Polar Pooch Pouch" (carrot cake flavor only) is a 5 ounce bag with the Husk E Dog on the front, with "canine carrot cake" across the front of the bag and contains 12 medium bones. There are no product codes or UPC codes for these products.
All flavors have been available in bulk by request. There are no product codes or UPC codes for the bulk products.
No illnesses have been reported, the company said. The recall was initiated after it was determined that the peanut product was manufactured by PCA.
Consumers who have purchased any of the Canine Cookies in the flavors mentioned above are urged to return it to the place of purchase for a refund. Consumers may contact the company at 800-280-2927 (10 – 5, Monday through Friday, Alaska time).