Suggested Veterinary Products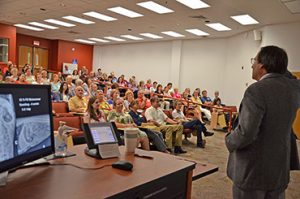 The American Heartworm Society (AHS) is redoubling efforts to bring the latest heartworm information directly to veterinarians and veterinary nurses via scientific symposia and proceedings.
Heartworm University—a traveling four- to six-hour symposium taught by AHS faculty—provides practical clinical information in an interactive format that enables presenters to address specific audience concerns and questions. Course content incorporates essential disease pathophysiology, diagnostics, screening and testing, treatment protocols, prevention strategies, and pet owner counseling, while also covering issues such as heartworm incidence trends and resistance.
A preliminary schedule for Heartworm University includes the following dates and venues:
15th Triennial Symposium Proceedings available as free download
The latest AHS Triennial Symposium proceedings was recently published as a special supplement to Parasites and Vectors and is available worldwide for the first time in the symposium's history as a free download. With 28 papers, it is the largest proceedings ever, covering topics from disease biomarkers to resistance to diagnostic and treatment protocols.
To help support future educational efforts of this kind—and to help arm more veterinarians and veterinary nurses in the fight against heartworm—the AHS urges veterinary professionals to become members of the AHS in 2018. For more information on AHS membership, which earns discounts on symposia and AHS client education materials, as well as a subscription to the AHS Bulletin publication, visit heartwormsociety.org.