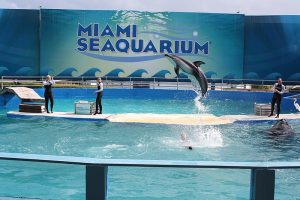 American Humane has announced the certification of Miami Seaquarium and Roger Williams Park Zoo through the American Humane Conservation program.
Both facilities passed rigorous, independent third-party audits to earn the certification and join a select group of fewer than two dozen zoos and aquariums in the United States. Less than one-half of one percent of all zoological institutions in the world have earned this certification.
"The public is rightly demanding that animals in human care are receiving objectively and verifiably good treatment in conditions that meet scientifically based welfare criteria," said Kwane Stewart, DVM, chief veterinary officer for the American Humane Conservation program. "We commend Miami Seaquarium for voluntarily opening their doors and undergoing exhaustive examinations including in-depth comprehensive assessments of actual welfare conditions and practices for nearly 1,000 animals and intensive on-site assessments by a team of independent auditors, including a marine mammal expert, a professor and animal psychology and development expert specializing in marine mammals, and a fish and life support systems expert."
The American Humane Conservation program verifies many aspects of animal welfare and well-being, including excellent health; positive social interactions within groups of animals, as well as between animals and handlers; safe environments; appropriate air and water quality, lighting, sound levels, and thermoregulation; and evidence of thorough preparation and protocols established to prevent and manage medical or operational emergencies.
"We are pleased to receive this certification," said Jeremy Goodman, DVM, executive director of the Roger Williams Park Zoo. "American Humane Conservation certification reinforces the outstanding work our animal keeper staff accomplishes daily. I am particularly proud of the care our animals receive, and the commitment all our staff have to each animal in our zoo family.  I am honored that Roger Williams Park Zoo is a member of an elite group of zoos and aquariums around the world who work hard to earn and maintain this certification."