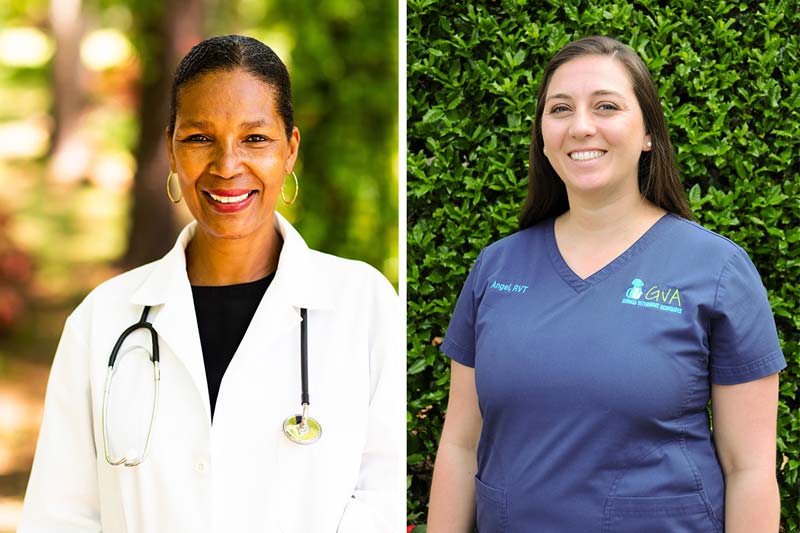 Two animal health-care professionals were praised as heroes at the ninth annual American Humane Hero Dog Awards.
Terry Morris, MS, DVM, PhD, of Durham, N.C., and Angel Martin of Lawrenceville, Ga., took home the Zoetis-sponsored American Humane Hero Veterinarian and Hero Veterinary Nurse Awards, respectively.
"Veterinary professionals are the heroes who dedicate their lives to making a difference in both animals' and their owners' lives through their outstanding veterinary care, and we are honored to show our support through sponsoring these awards," says Tara Bidgood, DVM, PhD, DACVCP, executive director of veterinary professional services with Zoetis.
American Humane commended Dr. Morris for her dedication to fostering the human-animal bond, particularly through her work as the founder of Vets to Vets United, a 501(c)(3) nonprofit organization that unites veterans with dogs.
Meanwhile, American Humane says, Martin's work with the Companion Animal Rescue & Emergency (CARE) Fund at the Russell Ridge Animal Hospital in Georgia has saved the lives of countless pets.
"To us, veterinarians and veterinary nurses are heroes and we want to recognize the best of the best," says American Humane president and CEO, Robin Ganzert, PhD. "Dr. Morris and Ms. Martin are remarkable animal welfare advocates, and we are proud to spotlight their work in aiding the animals living in their communities and beyond."
"Dr. Morris and Angel have provided life-saving services to many animals," Dr. Bidgood adds.  "Their inspiring work continues to strengthen the powerful human-animal bond between pets and the families who love them."
The American Humane Hero Dog Awards, which are presented by Zoetis and the Lois Pope LIFE Foundation, will be broadcast on Hallmark Channel on Oct. 21 at 8 p.m. (7 p.m. CDT).