Suggested Veterinary Products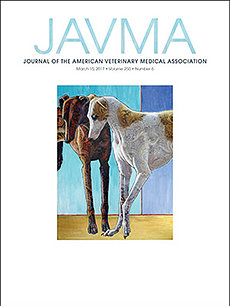 The American Veterinary Medical Association (AVMA) launched an app for tablets and mobile devices that offers Journal of the American Veterinary Medical Association (JAVMA) subscribers access to the full journals. The app optimizes the journal for reading on Apple and Android tablets and smartphones.
App features include:
Pinch-to-zoom functionality to view text and images in greater detail
Full text search and archival search
Note taking, note syncing and bookmarking pages
Article sharing via/to email or social media
Navigation by table of contents and page carousel
Browsing of bookmarked pages and page history via carousel
The journal, which celebrated its 100th anniversary last year, said in a statement that it hopes to add such multimedia to the app as video, audio, animations, and slideshows.
The app does not replace the print version of the publication, according to said Kurt Matushek, DVM, MS, director of the AVMA Publications Division and JAVMA editor-in-chief. Subscribers will continue to receive the print edition as well as online access to the journal.
Issues prior to 2017 will not be available through the JAVMA app; to access issues published prior to that date, subscribers can visit the JAVMA archives.
JAVMA subscribers can download the app from the Google Play and the App Store. Once downloaded, subscribers can log into the app with the same user ID and password used to access the AVMA website. Users must be an individual subscriber to JAVMA to log in and view issues.