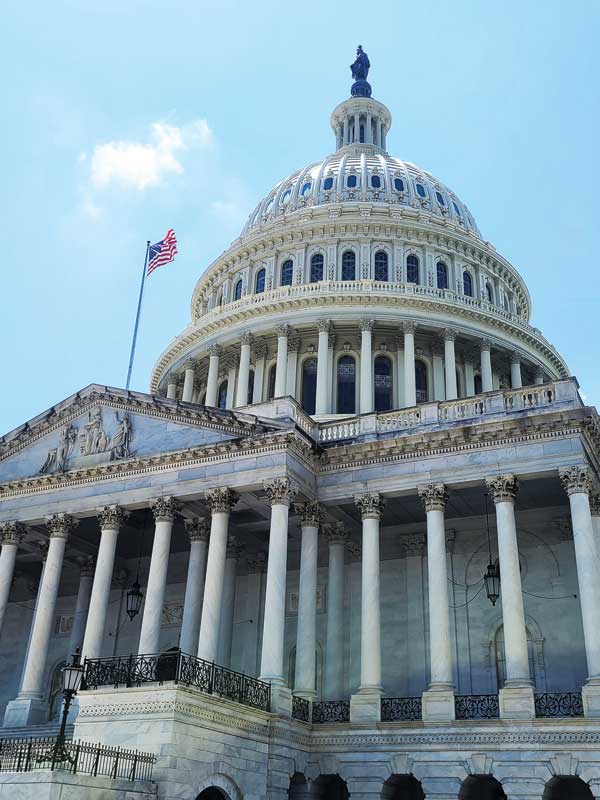 Congress designated millions of dollars for veterinary programs in the $1.5 trillion federal spending bill approved this spring. Among other priorities, there are funding increases targeted for healthy dog importation and rural access to veterinary care. We have also seen other positive developments on Capitol Hill recently, including the advancement of One Health legislation and a bill that would support better retirement benefits for small business employees.
Veterinary priorities in the federal budget
The government spending bill approved includes major wins for the veterinary profession. The American Veterinary Medical Association and other advocates worked with federal lawmakers to secure funding for these and other important programs:
The Veterinary Medicine Loan Repayment Program: The VMLRP, which provides educational loan repayment in exchange for service in areas identified as having veterinary shortages, saw its funding increase by $1 million, to a total of $9.5 million.
USDA Animal and Plant Health Inspection Service: The agency was allocated $1 million to strengthen its oversight of imported dogs.
USDA Food Safety and Inspection Service: $2.8 million was designated to remedy the high number of vacancies for public health veterinarians within the agency.
Food Animal Residue Avoidance Database: FARAD was allocated $2.5 million to protect the U.S. food supply against drug residues in animal-derived foods.
Veterinary Services Grant Program: An additional $500,000 will go toward grants that support veterinary services and practices in rural areas, raising the program's total funding to $3.5 million.
National Bio and Agro-Defense Facility (NBAF): $4 million will go toward transitioning veterinary diagnostic capabilities to NBAF from Plum Island Animal Disease Center in New York State, and carrying out programs at the new Kansas facility, which is slated to open this year.
Improving retirement plans for small businesses
The association-supported Securing a Strong Retirement Act 2.0 has passed the House of Representatives with overwhelming bipartisan support, moving a step closer to becoming law.
This legislation would make it easier for small businesses to band together to improve retirement benefit offerings. Known as the Secure Act 2.0, it builds on a previous bill that helped set the stage for creation of the AVMA Trust Retirement Plan for veterinary business owners, including the self-employed.
The new legislation includes these provisions:
Expands automatic enrollment in retirement plans
Allows Americans to save for retirement longer
Improves coverage for part-time workers in 401(k) plans
Creates incentives for small businesses, including veterinary practices, to offer retirement plans
With House passage, the bill moves to the Senate for further consideration.
New compounding guidance: Will it meet veterinary needs?
When the FDA published final guidance in April on veterinary drug compounding from bulk substances, it incorporated many changes made in response to AVMA's concerns. In fact, the guidance provides veterinarians considerable latitude when compounding in a practice setting, as well as when writing patient-specific prescriptions.
However, more restrictions apply when a pharmacy provides compounds from bulk drug substances for office stock or dispensing. In this situation, the compounds must be on one of three approved lists maintained by FDA. AVMA voiced considerable opposition to the use of such lists because of concerns about the feasibility of maintaining them to keep up with clinical demands. In response, FDA modified its approach to make the lists more dynamic, and indicated it will work with the veterinary profession to ensure the lists are robust and comprehensive.
AVMA continues to work with the FDA on this issue, and evaluate other options, as necessary, to make sure veterinary access to the compounded drugs we need for patient care is not unduly burdensome.
One Health legislation gains support
We have also seen progress toward passage of One Health legislation, with the Senate Committee on Health, Education, Labor, and Pensions passing the PREVENT Pandemics Act. The legislation includes key components of an AVMA-backed bill that would establish a coordinated One Health framework for government agencies to work together to prevent, prepare for, and respond to zoonotic diseases.
The association supports the inclusion of these measures in the act, and is working with Congress to propel One Health legislation into law.
Student loan relief extended to August 31
There is also continuing good news for veterinary professionals with student debt.
The U.S. Education Department has again extended its COVID-related pause on federal student loan repayments, this time through the end of August. The action delays payment requirements and interest accrual on all federal student loans, as well as collection on defaulted loans.
New safety measure protects pets in cars
Another positive development we saw recently came in the Infrastructure Investment and Jobs Act passed by Congress and signed into law. Going forward, newly manufactured vehicles must have an alert system to remind the driver to check for passengers in the back seat when they turn off their vehicle. The AVMA supported this measure, which will protect dogs and cats from being inadvertently locked in hot cars.
Lacey Act provisions could harm animal health
Provisions that would limit importation of many non-native species and reinstate the ban on interstate transport of species listed as injurious under the Lacey Act were quietly inserted into the America COMPETES Act before it passed the House of Representatives. Although well-intentioned, these changes could impact access to care for wildlife and exotic animals, and create regulatory barriers to care by requiring additional permitting for research institutions. AVMA opposes them.
These provisions were not included in the Senate version of this act, and a conference committee will need to reconcile differences in the two versions of the bill. At press time, AVMA is working with lawmakers in the conference process to help them understand the unintended consequences of these measures on animal health and veterinary medicine.
Non-economic damages: A victory in Maryland
Advocacy happens at the state and local level, as well as in Washington, and there's good news on non-economic damages in Maryland.
On March 2, representatives from AVMA and the Maryland Veterinary Medical Association testified at two Maryland legislative committee hearings about a proposal to allow non-economic damages in litigation involving pets. Our testimony emphasized how this legislation would harm pets and the ability of veterinarians to provide affordable veterinary care. If the change were to become law, non-economic damages would be allowed for injury or loss of an animal, but prohibited for many close human relationships, including injury or loss of a best friend, sibling, or grandparent.
Thanks to opposition from both the Maryland VMA and AVMA, the legislation has been withdrawn by the sponsor. AVMA previously has worked with state VMAs and other groups to oppose similar measures in Arizona, California, Florida, Texas, Vermont, and other states.
How to stay informed
One key role the AVMA plays is to keep veterinary professionals informed about new laws and regulations that affect our work and our patients.
Look to avma.org/News for breaking news as it happens, and get legislative and policy updates sent to your email by signing up through the AVMA Congressional Advocacy Network (avma.org/AVMACAN).