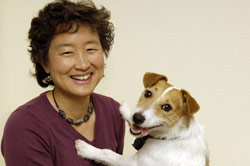 Animal behaviorist Sophia Yin, DVM, has joined ContinuEd, a provider of continuing education seminars for the veterinary profession, to offer a series of one-day seminars for veterinarians and other team members on common animal behavior problems.
Four areas will be covered: How Animals Learn, Recognizing Brewing Behavior Problems, Correcting and Reversing those Problems and Updated Handling Techniques for Dealing with Problem Pets.
"The No. 1 cause of pet loss is bad behavior that forces an owner to give up the animal for adoption, or worse, to have it euthanized," said W. Drew Turner, DVM, Dipl. ACVS, founder and executive producer of ContinuEd.
"You can play a critical and active role in identifying brewing behavior problems in your client's pets, and help correct them before they snowball."
Some venues are still be determined. Dates and locations are as follows:
March 30 – Seattle area: (Doubletree Guest Suites, Tukwila, Wash.)


.

April 6 – Los Angeles: (Four Points by Sheraton Hotel, Los Angeles International Airport)


.

June 22

– Chicago


.

June 29 – Phoenix


.

July 13 – Denver


.

July 27 – San Diego


.

Sept. 7 – Portland


.

Sept. 14 – Boston


.

Sept. 21 – San Francisco


.

Sept. 28 – Atlanta
Dr. Yin sees behavior cases at San Francisco Veterinary Specialists in San Francisco and offers pet behavior house call consultations in the Davis, Calif., area. She also consults with the Santa Barbara Zoo in Santa Barbara, Calif.
Click here for details.