Originally published in the December 2014 issue of Veterinary Practice News
Case Discussion
Fonzie, a 12-year-old neutered male domestic shorthair cat, was presented for evaluation of a proliferative, bleeding, friable mass arising from the gingiva and mucosa of the dorsolateral surface of the right caudal mandible.
Appetite was normal, but the patient did have a history of occasionally exhibiting abnormal chewing motions. The mass had been present for approximately three months and was removed by Fonzie's primary care veterinarian approximately one month before presentation to me. Biopsy submitted by the primary care veterinarian revealed ulcerated and inflamed granulation tissue.
Although the mass appeared to be completely excised on histopathology, it recurred within a few weeks postoperatively. At the time of presentation to me, the mass was approximately 1.5 mm x 1.0 mm x 0.8 mm, located in the area of a missing right mandibular first molar (tooth 409, Figure 1).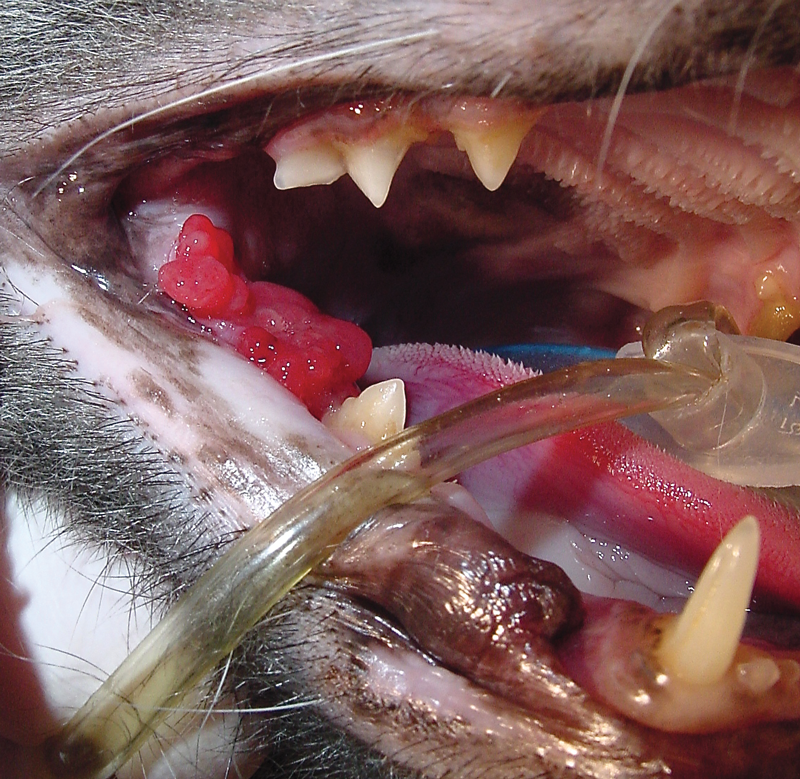 John R. Lewis, Northstar Vets
Figure 1. Pyogenic granuloma in the area of the missing mandibular first molar tooth of a cat.
A dental radiograph of the right caudal mandible revealed no osseous involvement and no evidence of retained roots (Figure 2). No other areas of the mouth were affected, including the contralateral mandible. No excessive mobility of the mandibular symphysis was noted.
Some teeth were extracted at the time of the initial excisional biopsy at the primary care veterinarian's practice; these sites appeared to be well healed.
Differential Diagnoses
Neoplasia was a consideration, including, but not limited to, squamous cell carcinoma, fibromatous epulis, osteosarcoma and amelanotic melanoma. Lymphocytic plasmacytic stomatitis was another consideration, but was less likely due to the focal nature of the proliferative mass in the absence of mucosal inflammation anywhere else in the mouth.
Other differentials included focal foreign body, focal fibrous hyperplasia, and the recently described pyogenic granuloma of cats.1, 2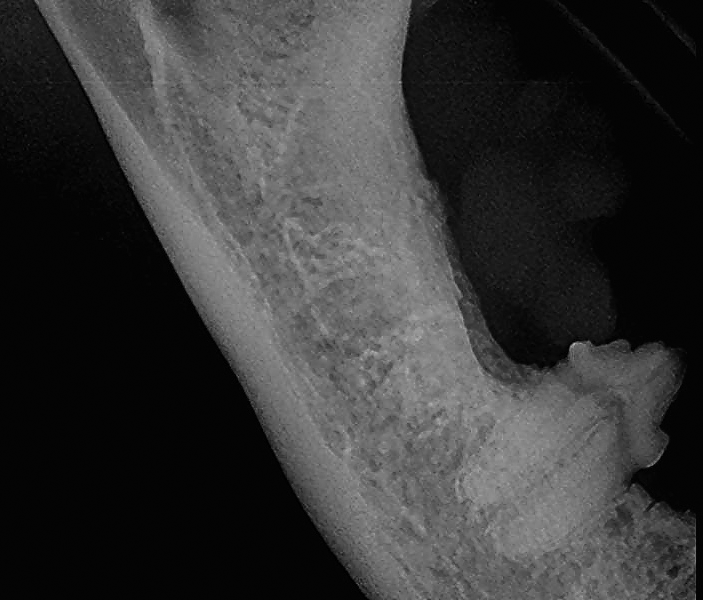 John R. Lewis, Northstar Vets
Figure 2: Radiograph revels no osseous involvement and no retained root tips of tooth 409.
Treatment
An excisional biopsy was performed with a No. 15 blade and tenotomy scissors. After the mass was removed, the underlying bone in the area of the missing right mandibular first molar (tooth 409) was inspected and no evidence of osseous involvement was seen. The right maxillary fourth premolar (tooth 108) was extracted after raising a mucoperiosteal flap.
Both sites were closed with 5-0 poliglecaprone 25 in a simple interrupted manner. Histopathology showed robust proliferation of granulation tissue, composed of bundles of hypertrophied fibroblasts interspersed with vertically oriented small blood vessels, with surface accumulations of fibrin, neutrophils and cellular debris.
A few clusters of hemosiderin-laden macrophages were also present. A re-examination at two weeks postoperatively showed resolution of the lesion (Figure 3).
Etiology: Acquired Malocclusion
Until recently, there was virtually no literature on pyogenic granulomas in cats, except for stray proceedings notes. Two peer-reviewed studies were published in the summer of 2014.
One study in the Journal of Veterinary Dentistry reviewed 12 cases of pyogenic granuloma in eight cats. Median age of cats affected was 15.5 years of age. Each of these cats had at least one lesion in the vestibular mucogingival tissues of the mandibular first molar tooth (lateral to the tooth). Four had bilaterally symmetrical lesions.
The authors proposed that malocclusion and secondary traumatic contact of the ipsilateral maxillary fourth premolar tooth was a contributing factor. The recurrence rate was 100 percent in those patients where surgical excision of the mass alone was performed. Odontoplasty (crown reduction without pulp exposure) of the opposing maxillary fourth premolar resulted in a reduced recurrence rate of 25 percent.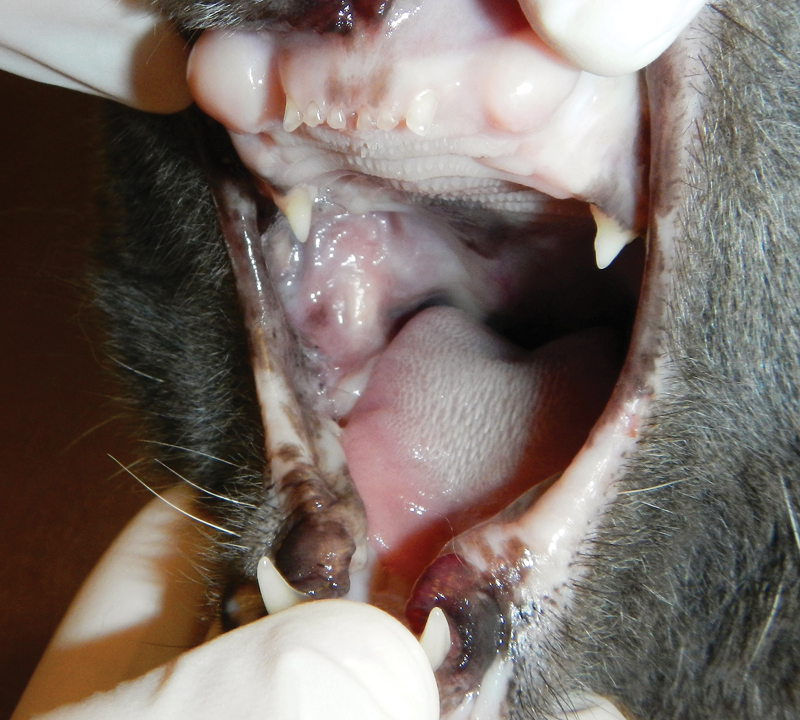 John R. Lewis, Northstar Vets
Figure 3: Two weeks postoperatively, the surgical site has healed with no evidence of recurrence of the pyogenic granuloma.
Extraction of the inciting maxillary teeth was the most predictable means of preventing recurrence; only one case showed recurrence when the opposing maxillary fourth premolar tooth was extracted. This case resolved when the maxillary first molar and mandibular first molar teeth were extracted.1
A separate study in the Journal of Feline Medicine and Surgery reviewed 27 cats with 44 lesions. The mean age of patients presenting with pyogenic granuloma was 6.6 years. Removal of the opposing occlusal contact (by extraction or crown reduction) was successful in all cases, with or without excision of the mass.
If this is truly a malocclusion problem, why does it occur in older cats instead of young cats? The authors proposed possible causes for the development of a delayed traumatic conclusion including abnormal lateral mobility of the mandible, occlusal drift of the premolar and molar teeth, and alveolar bone expansion. I propose an additional possible cause. In most of the pyogenic granuloma patients I've seen, the mandibular symphysis has become mineralized and the space between the right and left mandibular first incisors was visibly increased (Figure 4).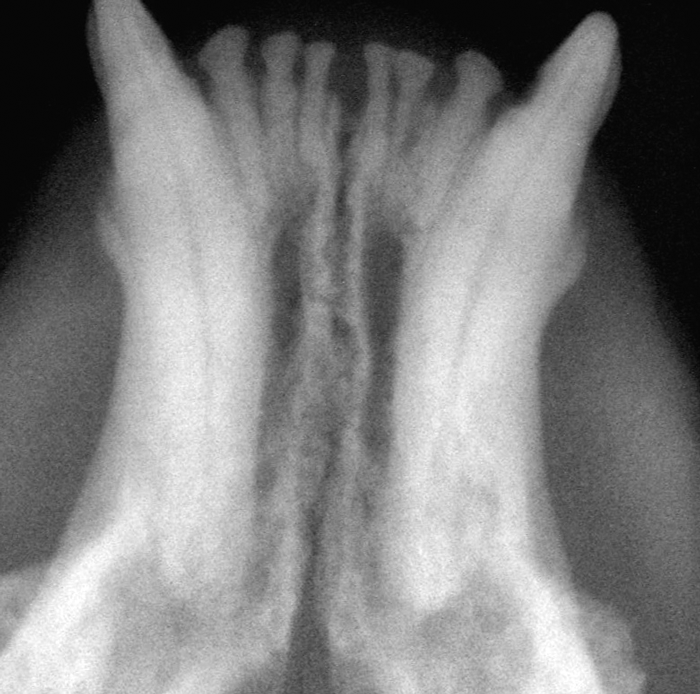 John R. Lewis, Northstar Vets
Figure 4: Radiograph of the rostral mandible showing a widening of the space between the right and left mandibular first incisor teeth and mineralization of the normally fibrous joint of the mandibular symphysis.
This relative widening of the mandibles affects the occlusion in the area where the bite is the tightest in the medial to lateral direction, i.e., between the maxillary fourth premolar and the mandibular first molar teeth.
Summary
I see approximately one to two cases of pyogenic granuloma per year in cats, so this is not a common problem. However, it is a good reminder that not every proliferative oral mass in the cat is malignant, and biopsy of any oral lesion is indicated to determine if more aggressive therapy is warranted.
Keep the diagnosis of pyogenic granuloma in mind when seeing focal inflammation and proliferation of the gingiva and mucosa lateral to the mandibular first molar tooth. Remember, this is an acquired occlusal problem, therefore it is important to take a step back from the lesion to achieve resolution. l
References
1. Riehl J, Bell CM, Constantaras ME, Snyder CJ, Charlier CJ, Soukup JW. Clinicopathologic characterization of oral pyogenic granuloma in 8 cats. J Vet Dent. 2014;31:80-86.
2. Gracis M, Molinari E, Ferro S. Caudal mucogingival lesions secondary to traumatic dental occlusion in 27 cats: macroscopic and microscopic description, treatment and follow-up. J Feline Med Surg. 2014 Jul 7. [Epub ahead of print].