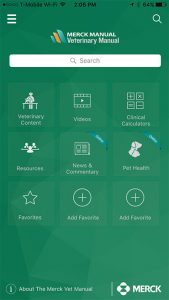 The Merck Vet Manual App digitally enhances all of the information in The Merck Veterinary Manual and makes it readily available anytime, anywhere, according to the company.
Accessible on multiple handheld devices, the app provides guidelines for the diagnosis, treatment, and prevention of disorders and diseases in companion, exotic, laboratory, and food animals.
The mobile app offers:
Thousands of topics written by more than 400 veterinary experts from more than 20 countries
Thousands of photos, illustrations, and videos of disorders and diseases
Clinical calculators
Numerous reference guides and hundreds of useful tables
All of this material resides on the device so accessing it does not use data, and after installation an internet connection is not needed.
Download the app for Apple devices at the App Store; for Android devices, at Google Play.
App, online reference offer digital enhancements
When connected to the internet, the app can access many features found on the online reference at merckvetmanual.com, including quizzes and case studies, news and commentary, and pet health content written in consumer-friendly language for sharing with clients.
"Both the online reference and the app are based on the latest edition of the book, but the digital platforms are enhanced by multimedia content, interactive tools, and more," said Scott Line, DVM, Ph.D., DACVB, editor-in-chief of The Merck Veterinary Manual.
Access to the online reference is free and there is no registration. Both digital platforms are regularly updated to reflect emerging topics in veterinary medicine.