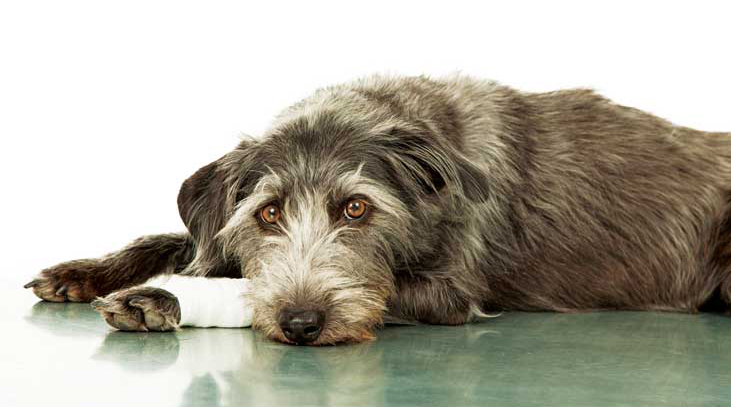 Triage was first implemented in World War I as a way of sorting the most injured soldiers for immediate medical care regardless of rank. The method dramatically improved patient outcomes because doctors spent more time treating salvageable wounds in all soldiers instead of hopelessly fatal injuries in officers alone.
With phones ringing off the hook at general and emergency practices, and so many pets requiring evaluation for urgent conditions, veterinary staff must find a way to cut through the clamor. We know veterinary burnout is rampant. Veterinary professionals want to help every patient and fulfill every client's expectations. Yet, when there are simply not enough of us to go around, we can begin to feel like failures.
The mass casualty incident paradigm
To gain perspective, let's walk in the shoes of an emergency medical services (EMS) worker who has just arrived at the scene of a human mass casualty incident (MCI). Think Twin Towers in downtown New York, or even a motor vehicle accident involving five critically injured people in a rural valley. In either case, the number of patients and degree of injury exceed the community's ability to provide adequate care through normal daily operation. The goal of a coordinated MCI response is always the same: to provide appropriate care to the highest number of casualties with the resources available.1
What is the single most valuable weapon in the EMS arsenal? The START method (Simple Triage and Rapid Transport).2,3 In EMS hands, triage has become elegant in its simplicity. (The START triage system is used by most EMS agencies in the United States. A newer triage method, SALT (Sort, Assess, Lifesaving Intervention, Treatment and Transport), has been endorsed by several emergency organizations, but has not been exhaustively studied.4
First things first
At the start of any mass casualty incident, first responders must determine if the incident area is safe to enter. Once the active threat is nullified, responders then choose a safe staging area on the perimeter of the site where survivors can be further evaluated, treated, and prepped for transport, and where command-and-control and inter-agency communication can be centralized. This staging area is called the casualty collection point.
If these terms sound like military lingo, it is because war is the ultimate mass casualty incident, and community triage responses are based on hard lessons learned by troops on the battlefield.
Color-coding to turn chaos to order
Once the casualty collection point (CCP) is chosen, an EMS worker gets on a bullhorn and tells the injured to get up and walk to the staging area for further evaluation. Survivors who are able to both understand and move under their own power have just performed a small miracle. In one stroke, they have declared themselves the "walking wounded," earned a GREEN triage status (meaning "minor" injury), and cleared the trauma scene to make room for EMS personnel. Green does not mean these survivors are cleared to go home, only that they are stable enough to wait for additional resources to arrive to further assess them.
The non-walkers are sorted based on respiration, perfusion, and mentation (RPM). Those who are bleeding profusely, unconscious/altered, whose respiratory rates are greater than 30 breaths per minute or whose respiratory rates are normal with delayed CRT or absent pulses are triaged RED (or "immediate"). These people require rapid intervention because they are likely to experience the loss of life, limb, or organ within one hour. Another way to phrase this is the Reds are the patients most likely to survive instead of die with immediate intervention.
The dead (also termed "expectant," since this group includes those in respiratory arrest even after opening the airway or with injuries incompatible with life, such as brain matter on the pavement) are labeled BLACK.
Those who cannot walk due to injury, but have normal respiratory and heart rates while obeying commands are triaged YELLOW ("delayed") and seen as soon as resources are sufficient. It is important to note Yellows can have serious injuries requiring intensive surgical or ICU intervention. They are Yellow because their airway, breathing, circulation, and mentation appear to be normal and remain stable over the next hour.
Patients are treated and/or transported in order, from Red (life-saving treatment) to Black (palliative and pain care as indicated) to Yellow (stabilization, fluids) to Green (simple sutures, splints, etc.). When patients arrive at area hospitals, medical workers reassess patient status and adjust each individual's triage level accordingly.
Fluid dynamics
I want to observe three facts about the above triage algorithm.
1) Fluctuating resources will change the speed at which a team can treat a given cohort of patients. Stabilization occurs more quickly as more workers and equipment arrive, and more slowly as workers and resources are removed. Yellows do not magically become Reds in order to be seen sooner. Rather, Reds receive intervention faster so Yellows and Greens do not wait as long to be treated.
2) Only a change in patient stability will change the number of patients in a triage category. The physiological parameters for each triage category remain the same, regardless of resources. Patients can get better, worse, or stay the same. Periodic reassessment is vital to ensuring the pool of patients within a triage level is accurate.
3) The best way to enhance the survival of patients in an MCI is to pool the resources of an entire community. In the human realm, this means multiple first responder agencies, hospitals within an area, and specialties within a hospital must coordinate the transport, treatment, and discharge of survivors.
Case in point: the police, not EMS, are often the first on scene and thus the agency to control the site, neutralize the threat, and assign the CCP.5 Hospitalists manage patient intakes and discharges, while pediatricians and gynecologists arrive on emergency and OR floors as subject matter experts. Regional trauma centers preferentially receive the more critical cases unless distance nullifies the benefits.
Applying the MCI response to veterinary medicine
These days, many veterinary emergency clinics (and daytime practices) resemble the scene of a mass casualty incident. This is no exaggeration. Remember, the definition of an MCI is an event in which patient numbers and needs outstrip the capabilities of a hospital's normal, daily operation. Let's apply the lessons of the MCI response, in order.
1) Define your mass casualty incident site. It is a safe bet this starts at your phone lines and ends at your parking lot. This means you must train your team to triage over the phone to determine if a patient is stable or unstable. Any unstable patient should be triaged in person, by a medical professional.
2) Assign a "casualty collection point" and pool the walking wounded there. When a patient arrives at the hospital, a registered (or otherwise experienced) technician should assess the respiration, perfusion, and mentation (RPM). In an ideal world, stable but ill/injured patients would be ushered to a spacious wing off your waiting room where they could remain within sight of staff for periodic reassessment and efficient workflows.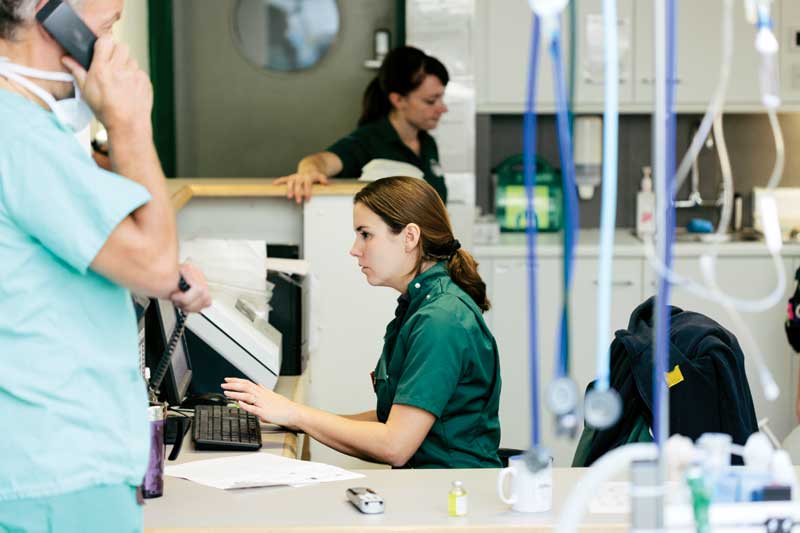 Unstable patients would be directed immediately to exam rooms or the treatment area for further intervention. In reality nowadays, the "CCP" is often a typed list of patients who are waiting in the parking lot for further care as resources allow.
3) Determine patient triage status and codes using clearly demarcated parameters. Many triage systems exist. The aforementioned RPM (Respiration, Perfusion, Mentation) acronym is a good start for determining patient stability. Given veterinary medicine holds quality of life in particularly high regard, I propose we add another P in our stability equation to assess Pain.
In the same vein, decide if euthanasia requests qualify as emergent patient presentations. "Black, Red, Yellow, Green" and "Level 1-4" are common formulas used to code veterinary patient stability. In broad strokes, any cat or dog with a respiratory rate greater than 50 breaths per minute,6 CRT >3 sec, altered activity/mentation, or moderate to severe pain is unstable.
4) Remember, as resources and patient needs change, your ability to treat new patient changes. Sometimes your limited resources mean you can only see the dead and dying. Practically speaking, this means the "vomiting x 4 days" pancreatitis dog and the "straining but still passing urine" male cat must wait until more resources become available or their stability status worsens.
This also means the rat bait dog who ate bromethalin (the rapid-acting, untreatable CNS toxin) gets triaged ahead of the anti-coagulant eater, but behind the cyanotic dog suffering heat stroke. Is this ideal medicine? No. However, if it is good enough for MCI in the human realm, it is good enough for veterinary triage.
5) MCIs are best handled as community endeavors. If there was ever a time to open wide lines of communication between emergency/specialty hospitals and referring general practices, it is now.
Primary veterinarians: Provide a list of after-hours care options for your clients, with the distance of each from your clinic. Understand your preferred emergency facility's current capabilities to know if you should refer a patient there, elsewhere, or stabilize the patient yourself when the pet presents near closing time.
Emergency veterinarians: Establish realistic expectations for referring veterinarians in your patient pool by posting expected wait times and triage statuses you are seeing through shared communication channels. Mutual respect and teamwork will make each practice's burden easier to bear.
Given current patient flows, you are not a failure if you cannot see every sick animal in a timely manner. However, you will fall short of your calling if you cannot discern which patient needs your attention the most at any given moment. When circumstances demand it, frame your perspective to "mass casualty incident" triage, so you and your team can perform at your maximum level.
Holly Sawyer, DVM, HAB-C, is a veterinary regional director for GuardianVets, a veterinary teletriage company. GuardianVets exists to alleviate real-world problems in emergency and general veterinary practices through timely and effective interventions, like 24-7 triage over the phone by licensed veterinary professionals to handle excessive call volume, facilitate clinic workflows, and decrease staff turnover. Visit www.guardianvets.com.
Resources