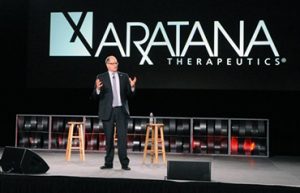 Aratana Therapeutics announced that its canine osteosarcoma vaccine, Live Listeria Vector (AT-014), has been granted a conditional license by the USDA Center for Veterinary Biologics for the treatment of dogs diagnosed with osteosarcoma, 1 year of age or older.
The vaccine is a novel immunotherapy developed by using a listeria-based antigen delivery system licensed from Advaxis Inc.
"Osteosarcoma is the most common primary bone tumor in dogs and, since there haven't been advances to raise the standard of care in nearly 20 years, dogs often face a poor prognosis," said Ernst Heinen, DVM, Ph.D., chief development officer of Aratana Therapeutics. "We are hopeful that our canine osteosarcoma vaccine will be a new tool for veterinary oncologists to prolong survival in dogs with osteosarcoma."
According to the company, the vaccine is a lyophilized formulation of a modified live, attenuated strain of listeria that activates cytotoxic T-cells. The therapeutic expresses a tumor-associated antigen that directs T-cells to fight cancer cells, even after the bacteria are cleared; the therapeutic capitalizes on the dog's immune system and its ability to attack bacterial infections, redirecting it to fight cancer cells, the company stated.
Data from a clinical study in 18 client-owned dogs with osteosarcoma suggested that the immunotherapy may be able to delay or prevent metastatic disease and may prolong overall survival in dogs with osteosarcoma, according to Aratana. The single-arm study evaluated dogs that had primary tumor removal and four doses of carboplatin chemotherapy, followed by the therapeutic vaccine every three weeks for three doses. Median survival time was 956 days compared to 423 days for a historical control group (p<0.05). A separate field safety study submitted to USDA for conditional licensure demonstrated that the most common adverse events included lethargy, diarrhea and fever. Four serious adverse events were observed.
As required by USDA to progress from conditional licensure to full licensure, Aratana will conduct an extended field study in a clinical setting and anticipates initiating the study in early 2018. Initially, the therapeutic will be made available for purchase at approximately two dozen veterinary oncology practice groups across the US that participate in the study.