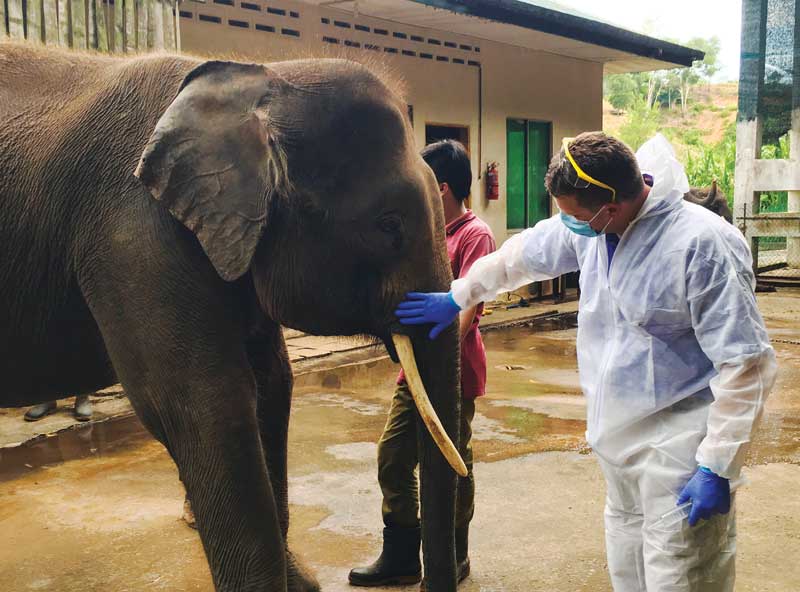 Veterinarians have been a part of the United States military since the nation's founding, when farriers provided informal veterinary care to the horses employed by George Washington's Continental Army.
The movement to establish a formal veterinary corps within the U.S. Army grew stronger during the Civil War, and it became reality in 1916 via the National Defense Act, designed to bolster American military preparedness as involvement in World War I grew more likely.
"Events were coalescing during this time that resulted in the Veterinary Corps' formation," says Nolan A. Watson, supervisory historian and chief of the U.S. Army Medical Department's Center of History and Heritage. "These include World War I in Europe, more federal food inspection requirements, improved sanitation, animal health inspection and care, and an increased interest in medical research."
Years earlier, the Spanish-American War helped highlight the need for military veterinarians, especially in the area of food testing and safety, which remains an important component of today's Army Veterinary Corps.
The vital role of veterinarians in the care of military working animals also became clear when horses amassed around Tampa, Fla., for transport to the Caribbean began to exhibit glanders and other maladies. "What had been regional equine problems were suddenly being shared," notes Watson. "Fortunately, veterinarians were able to intercede and quarantine the animals before they traveled further."
The role of the Army Veterinary Corps grew stronger during World War I as Army veterinarians continued to work with horses and mules, while advancing their knowledge and surgical skills. During World War II, the emphasis shifted from pack animals to military working dogs, also an important component of the modern Army Veterinary Corps.
Modern times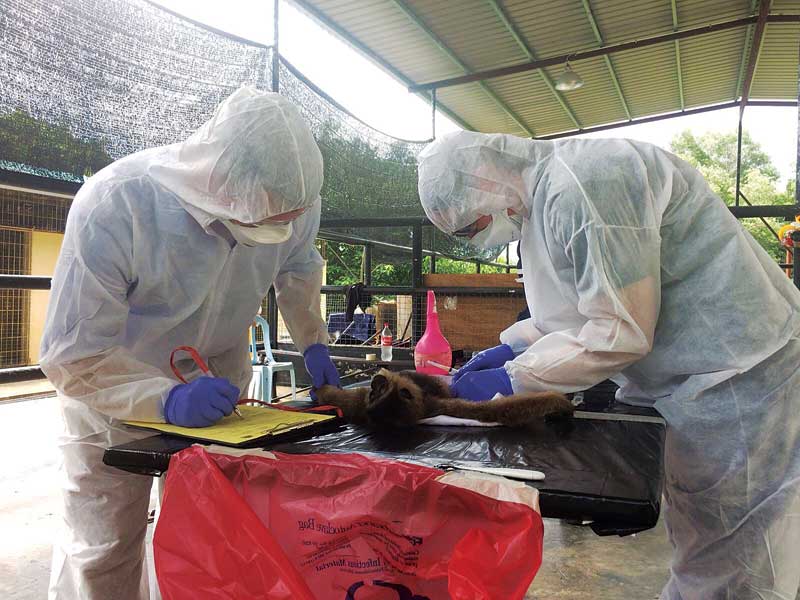 Indeed, today's Veterinary Corps is both similar and very different from the body established in 1916. Its focus remains supporting the warfighter, explains Col. Deborah Whitmer, DVM, PhD, MA, DACVPM, chief, U.S. Army Veterinary Corps, and it does this primarily through the clinical care of military animals, food security, and research and development.
According to Col. Whitmer, there currently are approximately 800 Veterinary Corps officers, supported by an extensive staff that includes a civilian component. The Veterinary Corps is part of the Army Medical Department, and Col. Whitmer, as Corps Chief, advises the U.S. surgeon general on matters affecting the Veterinary Corps and veterinary service personnel.
"The one thing that is unique about the Army Veterinary Corps is that our mission serves all of the Department of Defense," Whitmer notes. Corps veterinarians and technicians can be found on Navy ships, where they ensure food safety; on air force bases, where they serve food safety and other functions; and even deploy to war zones, where they provide care to military working dogs and more.
Corps veterinarians also work in close collaboration with government agencies, such as the Transportation Security Administration, Centers for Disease Control and Prevention, and the Food and Drug Administration (FDA), and consult with foreign nations on issues ranging from infectious disease control to food safety to improving human health.
Military career
Veterinarians can join the Veterinary Corps through a couple of paths. One is the Army's Health Professions Scholarship Program, which offers first-year veterinary students the opportunity for scholarship for their remaining three years of veterinary school in exchange for a specific term of military service. "There are a little over 30 scholarships awarded annually, and they are very competitive," says Whitmer.
Another option is a process known as direct accession, in which a veterinarian who has already graduated can directly join the Army with the rank of captain.
Col. Justin Schlanser, DVM, MPH, DACVPM, is command veterinarian and deputy director, surgeon for U.S. Army south at JBSA-Fort Sam Houston, Texas. He comes from a military family, and joined the Veterinary Corps after a stint in small animal medicine during veterinary school.
"My family history was a big motivation to join the Army Veterinary Corps, but more so was the opportunity to do things in veterinary medicine that couldn't be done in private practice," Col. Schlanser says. "In the Army, I have escorted wounded military working dogs home from war, worked with endangered species in Malaysia, overseen public health for multiple Army bases in the United States, and worked to prevent African swine fever from entering our country.
"Another deciding point was the opportunities for advanced education. The Army wants its veterinarians to continue to educate themselves beyond the DVM. The Veterinary Corps has specialists in almost every AVMA specialty. I chose to do a residency in zoological medicine, which gave me skills to use in the Army, as well as after my Army chapter has closed."
Lt. Col. Joseph Anderson, DVM, DACVP, director of pathology at the Naval Medical Research Center in Silver Spring, Md., was inspired to join the Veterinary Corps by his father's 30 years of service as an air force dentist.
"I always admired his career, the positions he held, and the places he went, including four deployments," Lt. Col. Anderson explains. "So, when I was accepted to veterinary school at Texas A&M, I began to research military options for veterinarians and learned about the veterinarians who serve in the Army. I was really drawn to the variety of jobs available and the possibility of a bit of adventure in my career. I also wanted to find a way to use my unique skill sets to support the nation as I had seen my father do with his own career."
Corps veterinarians who work in the clinical care of animals may do so throughout the United States and around the world, says Whitmer. They work primarily with military working dogs, performing biannual physical examinations, blood work, routine vaccinations, and treating acute injuries, such as lacerations and broken bones. Dogs requiring acute care may be referred to the Military Working Dog Center at Lackland Air Force Base in San Antonio, Texas.
Of course, the Department of Defense employs other species for various endeavors, and Corps veterinarians care for them, as well. These include military equids, such as the horses that pull caissons at Arlington National Cemetery, as well as the bottle-nosed dolphins and California sea lions that are part of the Navy Marine Mammal Program.
Research and development is also a key component of the Army Veterinary Corps. One aspect of research focus involves animal health, especially improving performance and survivability of working dogs in the field.
Lt. Col. Emilee Venn, DVM, MS, DACVECC, chief of veterinary clinical operations at the U.S. Army Institute of Surgical Research (USAISR), is part of this overall effort, using her small animal emergency and critical care clinical specialty skills to contribute to the execution of the research protocols at USAISR focused on optimizing combat casualty care for service members and ultimately military working dogs at their greatest time of need.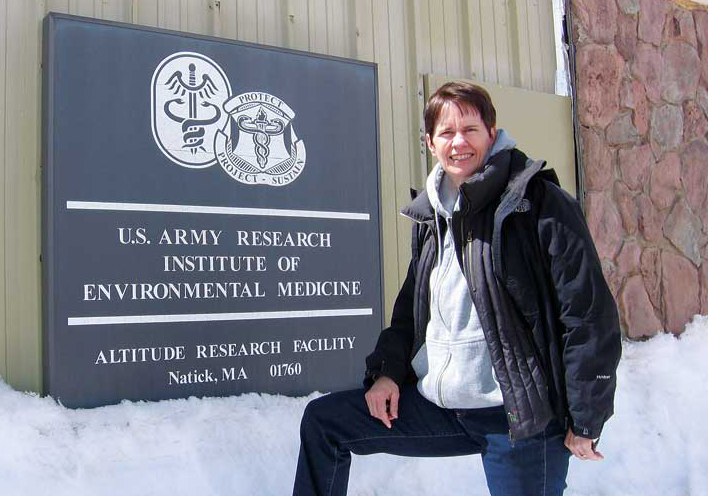 "USAISR is dedicated to developing interventions that can be used to minimize preventable deaths from battlefield injuries and the veterinary team here plays an important supporting role toward those goals," Lt. Col. Venn explains. "My job also allows me to be involved with initiatives and efforts at strategic levels within the Department of Defense that will also directly benefit the support we are able to provide military working dogs around the world."
Corps veterinarians are also involved in human-health studies into disease causes and cures, and more. For example, Raymond Kelser, later the first Veterinary Corps Brigadier General, served in Panama and the Philippines in the 1920s and '30s. He helped pioneer a test for detecting botulism in canned foods, the first "killed virus" vaccine that utilized chloroform as an inactivating chemical, made important observations in equine encephalomyelitis, and worked on an improved rabies vaccine, notes historian Watson. More recently, Corps veterinarians assisted in the national response to COVID-19.
"As the Director of Pathology at the Navy Medical Research Center, I assist U.S. Navy medical researchers with their investigative studies that utilize animal models to support the healthcare of wounded and ill U.S. service members," Anderson explains. "I've supported research that investigated treatments of battlefield neurotrauma, infectious diseases that are common in deployed environments, and improving healthcare during aeromedical evacuations from combat theaters. I also perform necropsies on animals that have been involved in scientific studies, performing both gross and histopathologic analysis."
Veterinarians in the Army Veterinary Corps say they get a lot of personal satisfaction from their work. "Personally, I enjoy getting the opportunity to work with so many amazing and talented people who are dedicated in their service to others and their country," says Venn. "The part about working in the Veterinary Corps that brings me the most joy is the opportunity to support and directly interact with our military working animals. Their job is so unique and it never ceases to amaze me what they are capable of accomplishing on any given day."
Anderson also gets an immense sense of satisfaction and pride in his work, noting, "I love knowing my job supports animal and human health in a real way. I love seeing something I supported be recognized at a medical conference or get published in a scientific journal and then the next research adds to it."
However, while their job brings them tremendous satisfaction, it also poses unique challenges. For Col. Schlanser, it is the balance veterinarians must strike between two worlds. "We must be a competent, reliable veterinarian, but also an Army officer and leader," he explains. "This requires tremendous personal discipline and a continued commitment to both professions. Army veterinarians must remain current on the newest aspects of medicine, yet also work on their ability to lead others, sometimes through austere and challenging conditions. Like medicine, leadership also requires education, study, and experience to succeed."
For those willing to put in the effort, a career in the Army Veterinary Corps can be life changing. "The greatest professional benefits for me have been the ability to grow as a clinician and a leader in ways I didn't know were possible," says Venn. "The stakes are different when you're responsible for the safety and well-being of your soldiers or patients in a deployed environment and it changes how you look at things day-to-day once you're back home. I was fortunate to get the Army scholarship while in veterinary school at Virginia Tech. The Army also paid for me to complete my Masters of Clinical Sciences and supported me through my small animal emergency and critical care residency at Colorado State University. They have allowed me to translate a passion for supporting our military working animals into tangible products or initiatives for their benefit, and even more the benefit of animals outside the Department of Defense."
To learn more about the Army Veterinary Corps, visit https://medcoe.Army.mil/amedd-veterinary-corps.
Don Vaughan is an award-winning writer who frequently writes about veterinary-related topics.