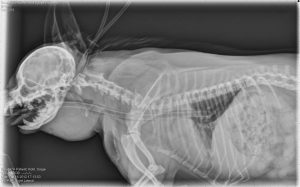 The Auburn University College of Veterinary Medicine and the Jule Collins Smith Museum of Fine Art have teamed up to teach veterinary students how to sharpen their radiology-reading skills.
Students volunteered at the museum, examined works of art on display, and were asked to objectively describe the visual details they saw in each one and use the details to interpret the artwork.
They then, along with Rachel Moon, DVM, DACVR, assistant clinical professor of radiology in the Department of Clinical Sciences at Auburn University's College of Veterinary Medicine, and Scott Bishop, curator of academic and public programs at the museum, entered the classroom to discuss their findings and interpretations. At the end of the session, students applied their newly developed skill set to examine radiographs and other diagnostic images.
"Interpretation is based on our actual experience. There can be a lot of different interpretations based on a central theme," said Dr. Moon. "This is a pilot program for the college, but one that other medical training programs have adopted and one I felt was applicable to the clinical education of our student veterinarians."
According to Dr. Moon, radiology is an integrated process between the art and the science of discovery and the answer is not always apparent, which is why it is important that students can first describe what they are seeing before jumping to possible answers.
"These skills can be used broadly in a number of physical diagnosis situations for veterinarians, including dermatology and ophthalmology," said Dr. Moon. "Their observations and interpretations of the paintings, once they examine them, is exactly the same process that they need to go through when they look at a radiograph."