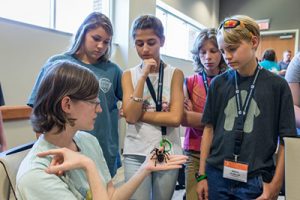 The Auburn University College of Veterinary Medicine is offering hands-on summer camps to middle and high school students to give them an idea of what a career in veterinary medicine entails. Conducted by students, faculty, and staff of the college, Vet Camp takes students into classrooms, laboratories, and clinical facilities to give them a glimpse of veterinary studies and the animal health industry as a whole.
Kimberley Moyers and Trey McElroy, both third-year veterinary students at Auburn, are Vet Camp's student directors, overseeing more than 20 second- and third-year veterinary students who work with campers.
"Vet Camp is a week of hands-on education where we show the students as many aspects of veterinary medicine as possible," said McElroy. "We incorporate learning with many fun-filled activities. We want to immerse them in the medical side, along with showing the many other aspects of the veterinary field."
A total of 100 students will attend the camps, which are coordinated in partnership with Auburn's Office of Professional Continuing Education. Two camps for high school students will take place in June—one for grades nine to 11 and the second for high school seniors—while the third, a junior veterinary camp for sixth- to eighth-graders, will be held in July.
Students in all sessions will learn about veterinary medicine through first-hand experiences. Popular labs include Surgery Day, where campers practice drawing blood, placing intravenous catheters, and intubating dummy canine patients; Bone Box Day, where students are given bones and asked to produce a skeleton from them; and Physical Diagnosis Day, where campers are guided on how to perform physical exams on live dogs.
"You really experience what you will study as a professional veterinary student," said Moriah Lorge, a counselor and second-year student who attended Vet Camp in 2013. "Going to Vet Camp was one of the reasons I wanted to come to school at Auburn to be a veterinarian. I knew from Vet Camp the program was going to be amazing, and it is."
Campers will also be introduced to some of the large animals studied in Auburn's equine, dairy, and beef units, spending time learning about pathobiology and studying common diseases in animals (e.g. fleas, ticks, and heartworms).
"The kids are able to interact with our horse herd and learn about colorings and markings, husbandry, parasites, and how to do physical exams," said Moyers. "The students get to interact with our dairy herd, where they learn haltering, teeth aging, and physical exams. We also bring up some of our small ruminants, such as goats, sheep, and alpacas."