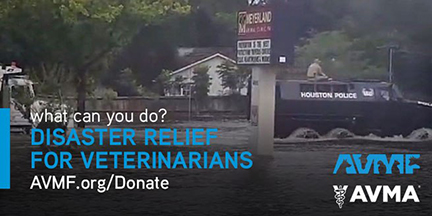 By Veterinary Practice News Editors
The American Veterinary Medical Association has donated $100,000 toward Hurricane Harvey relief efforts via the association's charitable arm, the American Veterinary Medical Foundation (AVMF).
"This is a way for the AVMA to help our members, while simultaneously helping animals and their owners get the care they need in their time of need," said Michael Whitehair, DVM, chair of the AVMA board of directors.
More than a million animals have been impacted by the hurricane, which has already displaced 600,000 people, with 1 million others under voluntary evacuation, according to reports. Related storms are likely to affect even more people and animals living in the Southeastern U.S. as Harvey's remnants move on.
"In addition to providing financial support, the AVMA is playing an important role in helping to disseminate information within the veterinary community, between the veterinary community and organizations providing animal and public assistance, and to animal owners and advocates so that those who need help get the right support as quickly as possible," Dr. Whitehair said.
The AVMA has created a web page that allows us to continually update its members on available assistance, hotlines, and other resources.
"Our thoughts and hearts are with the people affected by Hurricane Harvey," said Jan Strother, DVM, District III AVMA board representative and chair of the AVMF board of directors. "As the charitable arm of the AVMA, the foundation has the capacity to directly aid those who are providing shelter and care for displaced pets, equines, food animals, zoo animals and wildlife. By working together and assisting our veterinary communities in need, we hope to diminish the heartache and restore some type of normalcy as quickly as possible."
To help support the efforts of veterinarians on the ground, visit AVMF.org/Donate and use the code Disaster Relief to designate your donation.