Suggested Veterinary Products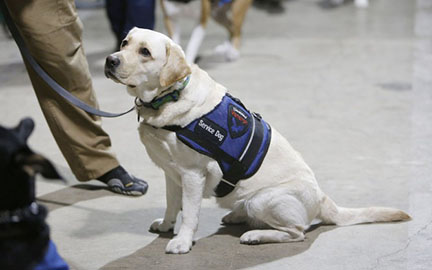 Marijuana-based therapies for pets, telemedicine, the opioid epidemic, and service and assistance animals were the hot topics of discussion during the American Veterinary Medical Association (AVMA) House of Delegates (HOD) Veterinary Information Forum (VIF).
The VIF, established in 2016, is an open discussion in which AVMA HOD members address high-profile issues of significant importance to AVMA member veterinarians.
Marijuana therapies
As the use of medicinal marijuana products continues to grow in human medicine, more and more owners are wondering if their pets might benefit from similar therapies. HOD delegates agreed to recommend to the AVMA Board of Directors that the association consider creating informational pieces on:
Current legal status of cannabis as it applies to veterinary practitioners
Unified definitions of cannabis and its derivatives
Current research available
Signs, symptoms, and treatment of cannabis toxicosis in animals for both practitioners and clients
The HOD also recommended that the AVMA investigate working with other research organizations and medical professionals to attempt to reclassify cannabis from a Schedule 1 drug to a Schedule 2 drug to facilitate research opportunities for veterinary and human medical uses.
Telehealth
Delegates also approved a new AVMA Policy on Telemedicine and a revised Model Veterinary Practice Act to help begin to address advances in technology that are leading to more people seeking telehealth information and education for themselves and for their animals.
Given the current state of technological capabilities, available research and the current regulatory landscape, the AVMA believes that veterinary telemedicine should only be conducted within an existing Veterinarian-Client-Patient Relationship (VCPR), with the exception for advice given in an emergency until that patient can be seen by a veterinarian.
Without a VCPR, any advice provided through electronic means should be general and not specific to a patient, diagnosis or treatment. Future policy must be informed by evidence-based research on the impact of telemedicine on access to care and patient safety, according to the HOD.
Opioids, prescription monitoring programs
The nation's growing opioid epidemic means more states are looking to require more veterinarians to participate in prescription drug monitoring programs. In an effort to better understand the issue and to better educate association members and others about the veterinarians' role in opioid prescribing, the HOD recommended that the AVMA develop model language related to:
Interacting positively with state boards of pharmacy
Reporting recommendations that are practical, reasonable and realistic
Developing appropriate reporting software
Creating permanent identification methods for animals
Defining veterinarians' responsibility in monitoring
Continuing education for veterinarians (best prescribing practices, identifying diversion and abuse)
Service and assistance animals
During the past two years, the AVMA has researched the role of service, emotional support, and therapy animals, developed policies, and drafted "Assistance Animals: Rights of Access and the Problem of Fraud."
Given recent concerns specifically about service animal fraud raised by AVMA members, the AVMA HOD approved a policy expected to promote further educational and advocacy efforts regarding these animals, and discourage misunderstandings or fraudulent activities.
The HOD also recommended that the AVMA:
Create educational materials on service and assistance animals for the public, veterinarians, businesses, and human medical professionals
Advocate for unified definitions for service, assistance, and emotional support animals
Create a working group to develop materials supporting information exchange between human healthcare providers and veterinarians