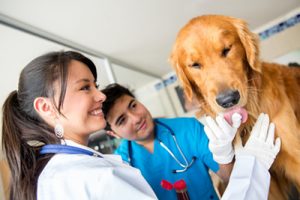 Membership for the American Veterinary Medical Association (AVMA) hit a record-high this year, with more than 91,000 veterinarians cited as association members—equating to three out of every four U.S. veterinarians.
The achievement was announced at AVMA's board of directors meeting, held in Schaumburg, Ill., Apr. 5-6. The board also announced the results of its recent performance survey, which demonstrated an increase in member satisfaction, with more members recommending the association to veterinary colleagues.
Additional meeting highlights are outlined below.
New AVMA website
The board approved funding for a digital agency to assist AVMA with a full redesign of the association website. The project has commenced, with the updated website scheduled to launch in 2019.
Veterinary Information Forum follow-up
In January, the AVMA House of Delegates hosted a Veterinary Information Forum and asked association staff to collect information from state veterinary medical associations about the provision of veterinary care to underserved populations. The association expects to compile these findings and share them with its members by January 2019.
Depopulation guidelines
The AVMA Guidelines for the Depopulation of Animals: 2018 Edition will be the third product in the association's Humane Endings series, joining the Guidelines for the Euthanasia of Animals and the Guidelines for the Humane Slaughter of Animals. Funded through a cooperative agreement with the U.S. Department of Agriculture, the latest guidelines aim to ensure as much consideration is given to animal welfare as practicable within the constraints of an emergency event (i.e. a natural disaster, hazardous zoonotic disease outbreak, etc.). The report is currently undergoing editorial review and is expected to be published in the coming months.
World Congress bid
The board approved AVMA submitting a bid to host the World Small Animal Veterinary Association (WSAVA) World Congress as part of the 2022 Annual Convention in Philadelphia. Additionally, AVMA will submit a bid to be the host committee for WSAVA meetings.
To read a full meeting summary, click here.