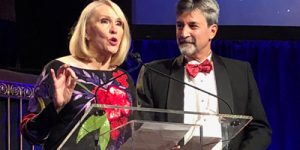 The American Veterinary Medical Association (AVMA) was named 2018 Animal Health Organization of the Year by the Pet Philanthropy Circle during its annual Pet Hero Awards.
AVMA president, John de Jong, DVM, accepted the award during an Oct. 19 ceremony in New York.
"Veterinarians touch people's lives every day, whether or not they have a pet," said Dr. de Jong. "Veterinarians serve at the critical intersection of human and animal health known as 'One Health.' They are responsible for breakthroughs in research benefiting both people and animals, public health, food safety, and so much more."
The Pet Hero Awards recognize outstanding contributions to the health and welfare of animals. Other 2018 winners included Zoetis, which was named corporation of the year.