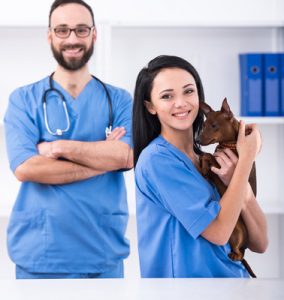 The American Veterinary Medical Association's (AVMA) new teambuilding resource is designed to help create a more positive veterinary work environment.
Team-building Exercises: Three Paths to Stronger Teams provides step-by-step instructions for running a variety of team-based challenges and fun competitions at work. These activities can help veterinarians engage with their staff in exciting new ways while offering opportunities for them to grow and overcome challenges together and to build camaraderie.
The new team-building activity guide joins a suite of other AVMA tools designed to practitioners manage and build a stronger team for their businesses:
All four resources are free and available exclusively to AVMA members. Located in the practice management section of our website, access them directly by visiting avma.org/TeamCPR.
Practice owners or managers looking for more teambuilding strategies can visit the AVMA Veterinary Career Center's latest webinar, Leadership and Team-building for Practice Success. The session features veterinary practice consultant Peter Weinstein, DVM, MBA, who discusses leadership and team-building skills, the importance of having a practice vision and mission, and the values necessary in building a collaborative team. This webinar is free and open to all veterinary professionals.