Suggested Veterinary Products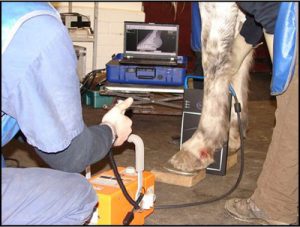 An organizing committee has submitted a petition to the American Board of Veterinary Specialties requesting the recognition of equine diagnostic imaging as a specialty within the American College of Veterinary Radiologists (ACVR), asserting the current format is weighted toward small animal imaging and limits the training time for equine imaging.
According to the petition, ACVR equine diagnostic imaging specialty (ACVR-EDI) would:
Provide dedicated training for equine radiologists to enhance their service to equine practitioners and specialists
Further raise the standard of care
Promote research, teaching, and academic development
The proposed three-year training would include all available diagnostic imaging modalities, and encompass orthopedic, soft tissue, abdominal, airway, and cardiac imaging.
Certification in ACVR-EDI would be a possibility for currently boarded veterinary radiologists who pass the ACVR-EDI certifying examination, as well as for those who undergo the ACVR-EDI residency.
Input must be received by Sept. 17. For more information, click here.