Suggested Veterinary Products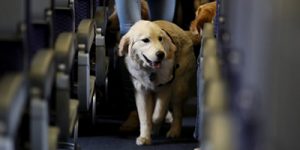 The American Veterinary Medical Association and the AVMA Professional Liability Insurance Trust have entered into the emotional support animal-airline travel challenge.
United Airlines recently announced a new policy requiring a veterinary signature vouching for the health, behavior, and training of psychiatric service and emotional support animals flying with its passengers. The airline said the policy took effect March 1.
The AVMA reviewed United's veterinary health form and expressed concern that the information it requested might not appropriately support the health and welfare of their animal and human passengers—and that it created potential liability risks for veterinarians attesting to them.
After collaborating with United, the airline has adopted AVMA recommendations and will be posting a new form on their website that reflects alternate language. The new form will allow veterinarians to confidently report meaningful information to assist United in making decisions about transporting psychiatric service or emotional support animals on its flights, according to the AVMA.
Requested revisions include:
The form should be completed and signed only by a licensed veterinarian.
The original version asked a veterinarian to attest that s/he "is not aware of any reason to believe that this animal would pose a direct threat to the health or safety of others." The AVMA recommended that United address disease and behavioral concerns separately.
The AVMA recommended adding a field indicating the date on which the last physical examination was conducted, as well as an affirmation that there was no evidence of infection or contagious disease, at the time of the examination, that would endanger other animals or public health.
The original form asked the veterinarian to determine which measures could be taken to safely carry the animal in the aircraft cabin and predict how the animal might react to a commercial aircraft environment. The AVMA feels that an examining veterinarian cannot assess whether an animal is qualified to be a psychiatric service or emotional support animal, whether its presence with the owner on the flight is required, or how an animal might react. The revision allows the veterinarian to offer additional information, obtained from the owner, regarding certain behaviors (g., biting, scratching) that might assist United in determining whether the animal presents an unacceptable risk or whether that risk might be remedied (e.g., muzzling, kenneling, transport in the cargo hold).
The AVMA said it would be contacting the nation's other major air carriers to ensure that veterinarians have input into any requirements they might be considering for the transport of these animals.
For veterinarians interested in learning more about the different types of service and support animals, the legal context for their use, and preventing service animal fraud, the AVMA offers a variety of knowledge resources for its members. The AVMA encourages veterinarians to be familiar with the legal status and protections accorded to service, assistance, and therapy animals and their owners, and to discourage inaccurate or misleading descriptions of these animals' roles.