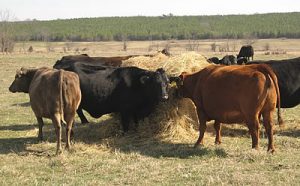 The American Veterinary Medical Foundation (AVMF) announced that it has given a $25,000 grant to support Montana reservations in need of hay due to the impact of recent winter storms.
The grant will go toward replenishing hay supplies to help thousands of cattle and horses in the Fort Belknap, Northern Cheyenne, and Blackfeet tribal reservations. These tribes have reported more than 150 livestock deaths due to the extreme cold and record amounts of snowfall. This winter's hay shortages were compounded by Montana's drought last summer and the wildfires that damaged more than one million acres in the state during the fall of 2017.
"The weather events we've had over the past several months have really strained feed resources here in Montana," said Ben Thomas, Montana Dept. of Agriculture director. "We are grateful for the assistance of our national and international partners in helping these communities during their times of need."
The hay will help cover five days of food for the animals in each tribe; after that, the tribes should be out of their emergency operations period and be able to restore access to their hay stores or purchase hay from elsewhere in Montana.
"We're pleased to be able provide this grant to support these tribal nations," said Jan K. Strother, DVM, chair of the AVMF board of directors. "We hope that the contribution from AVMF will save many animal lives during Montana's state of emergency."
The AVMF has provided more than $200,000 in disaster relief in the last six months to help animal victims of disasters and the veterinarians who provide medical treatment and shelter to affected animals.
At the time of this press release, the state of Montana was requesting additional financial support for this disaster relief effort. For those wishing to contribute, the Montana Community Foundation is coordinating donations through its website at mtcf.org.