Suggested Veterinary Products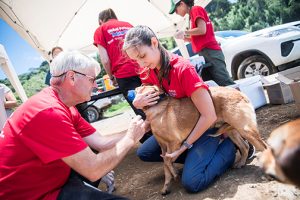 Working together to improve veterinary care for all animals is a cause that extends beyond borders and language barriers. That's what a team of veterinary specialists from BluePearl Veterinary Partners and Pet Partners discovered when they traveled to Costa Rica to share knowledge and help pets in need.
"This was really a first step," said David Ruslander, DVM, DACVIM, DACVR, chief of oncology service at Veterinary Specialty Hospital of the Carolinas, a Pet Partners hospital. "It was a great opportunity to share knowledge and network with other veterinarians from Costa Rica. This is just the beginning of what we hope will be a long-term partnership."
The idea for the trip, which took place in August, began with Dr. Ruslander, who developed a relationship with Dr. Carlos Coto, a Costa Rican veterinarian interested in learning more about oncology and introducing board certified specialty medicine to his country. Dr. Coto has visited Ruslander in North Carolina, and together they proposed organizing a trip to Costa Rica to benefit local veterinarians.
The trip was divided into two segments: a community service project at a local shelter and a continuing education presentation for Costa Rican veterinarians in San Juan, Costa Rica.
At Acoproba, a shelter owned by a Costa Rican veterinarian, the group worked with local vets to perform rabies and DA2PPV-L vaccinations on almost 300 dogs. Thanks to IDEXX Laboratories' donation of 300 SNAP 4Dx Plus Tests, the team was also able to test the shelter dogs for heartworm disease, ehrlichiosis, Lyme disease, and anaplasmosis.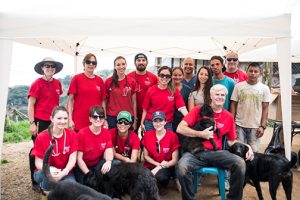 The rest of the group's time was spent at the Colegio de Médicos Veterinarios, the local veterinary medical association. They gave several hours of CE lectures with simultaneous translation on a variety of topics, including kidney disease, blood transfusion, lymphoma, wound management, fluid therapy, tickborne disease, mast cell tumors, and Cushing disease.
Group members said they were amazed at how few of the local vets actually needed translation, because Costa Rican veterinarians often use English textbooks and many have spent time in the US performing externships.
"The Costa Rican veterinarians are clearly dedicated to education, as they must do a lot with limited resources," said Philippa Pavia, VMD, DACVS-SA, a BluePearl medical director from New York. "Many perform complex surgical procedures and treat endocrinopathies and cancers while working within the financial confines of their clients."
The group hopes to make a return trip at some point to continue the good work they have started and to strengthen connections with the veterinarians in Costa Rica.
"It was an amazing experience," said Coto. "I will never be able to thank all of the doctors enough for sharing their valuable time and their knowledge."