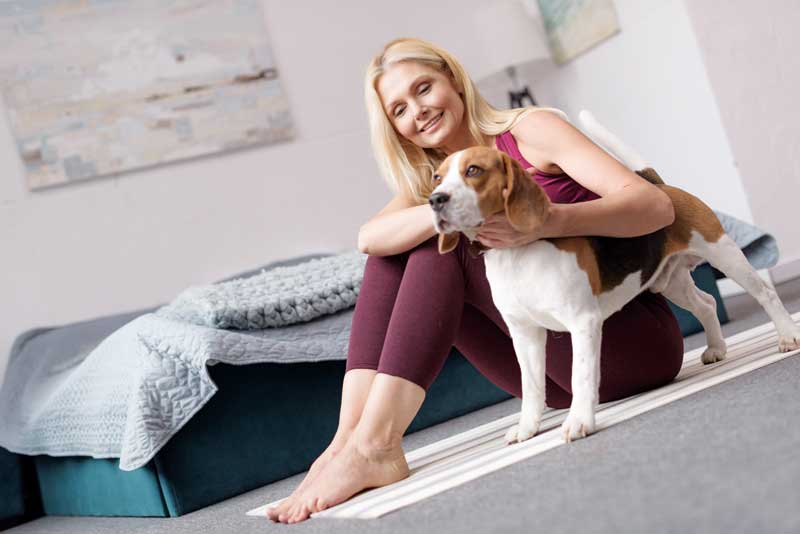 Remember that substance-slurred resolution you glibly proposed on New Year's Day with your 60-inch screen, burgeoning belly, and beer bottle as righteous witnesses? Where you promised to lose weight? Exercise more? Get healthier? Feel sexier? Make your life partner happier and your doctor less of a nudge?
If you're like 90 percent of the veterinary professional population (I'm kinda just guessing here), then I'm thinking you remember a moment somewhere right around the first where you found yourself saying something along these lines, to no one in particular: Please let me be a better version of me this year.
Which is absolutely doable, of course. Veterinarians are creatures who value continuous improvement, after all. But for most of us, revealing Self 2.0 (or an even higher level of evolution) means doing something totally different this year. It means expanding your conception of what's possible for even the least exemplary anatomical specimens among us. And that means more than just hitting the gym, taking up walking, or signing up for yet another overbearing boot camp class.
After all, you're a veterinary professional. Which probably means you have a physically demanding job to do. Lifting patients onto elevated surfaces at unnatural angles into uncomfortable positions. Holding these ill-conceived postures for hours. It's what most of us do (whether we're supposed to or not). We need more than just a glorified stroll regimen to make us whole again after day of all that.
What's more, we're also treated to the unholy savagery perpetrated by clients and drug reps wielding donut boxes, brownie trays, and cookie plates. It's enough to make the most ascetic veterinary professional surrender his or her blood vessels to the seductive wiles of high glycemic index fare.
But that doesn't mean we have to suffer. Instead, why not expand your horizons and try something that has more than the power to change your physical health incrementally? Why not look past the endless monotony of the elliptical toward something that has the power to change your brain, too?
These possibilities are endless and ageless
This year, consider that, whatever your age, your clinical career's longevity is limited by your ability not just to move, but to move effectively, efficiently, comfortably, safely … and sanely. Because whether you're picking up patients (knowing what you're risking), standing for hours at exam room and surgery tables, or merely roving from room to room at a state of ratcheting anxiety, you're at high risk of physical and mental burnout. (One, as we all know, is apt to influence the other.)
Which raises this very interesting question:
What do yoga, tai chi, and ballet all have in common? Taekwondo, Pilates, and ballroom dancing? Karate, figure skating, and equine dressage?
All are physical practices most veterinary professionals can take up at any age. Many are even blind to most any physical limitation. Moreover, all are capable of transforming your mind and body connection, a modern (dare I say "new age-y") concept that has deep roots in ancient practices.
Though in many cases the disciplines in question have been around for millennia, these kinds of activities were originally referred to as "somatic exercise" in the 20th century. That's when European ballet dancers and American new-age yogis, among others, explored the internal physical perception of their practices' movements, often with an eye toward safety and professional longevity, but unintentionally, perhaps, they created a new occupational safety paradigm.
Connections and memories
The one thing these forms of exercise share is that all incorporate patterns of movement that leverage the central nervous system to develop muscular "habits." Your rapt attention to proprioception, fundamental to all these disciplines, means you develop more than mere "muscle memory." You create connections previously unexploited by your nervous system.
These practices, or indeed any that incorporate mentally challenging physical routines, can help develop neural pathways that can recruit underutilized segments of muscles required by the movements. To varying degrees, the exercises do this by encouraging you to pay attention to your proprioceptive observations, including things like how you breathe, how your fingers move, what position your feet are in, etc. In effect, these are exercises that work the mind-body connection in ways that other exercises don't tend to—not as effectively, anyway.
Though some may argue, not unreasonably, that dance, including versions like figure skating, zumba, and dressage don't belong in the same category as more traditional somatic practices, they're viable alternatives that will get you there way better than muscling weights and trudging treadmills.
Beyond the almighty core strength that Crossfit trainers preach, or the fast twitch fiber virtuosity your basketball coach once touted, practicing karate, hot yoga, fencing, or even synchronized swimming a few times a week can more effectively improve your strength and coordination in ways that translate immediately to improvements in your daily physical abilities and your mental health.
After all, when you're concentrating hard on getting specific movements down, you're not thinking about the client who complained about your spay incision or accused you of overcharging for a bandage change. Instead, you're meditatively making observations about how your arm is aligned with your foot. And that's a lot more valuable than watching reruns of your awful day.
Indeed, over time, these practices have been shown to improve our mental health while, simultaneously, assuaging the chronic pain we all suffer.
Unexpected benefits
It's true that these often less traditionally calorie-burning exercises have the power to change more than just your physical fitness and make you look great in that body-con dress you're planning to wear to that upcoming summer wedding. They've also been shown to improve the most unexpected things in one's daily life. Ponder these other, unforeseen advantages for veterinary professionals:
My staff knows when I've missed yoga. They don't like me as much. These kinds of exercise are intrinsically meditative. Which means that your brain will hurt less. Your day will go better. It's not just the fact that you're more relaxed after exerting yourself. You'll also have more compassion for those who behave in ways you don't approve of.
Your family will thank you. Sure, it's time away from your loved ones (furred or otherwise), but your endorphin boost and mental stability will more than compensate.
Any lifting, standing, kneeling, or bending over during procedures will feel less challenging, whatever your age or body type.
All that end-of-day sitting (making phone calls and completing medical records) has a way of working against you more than you know. Just as you're at your most physically drained you have the highest capacity to exacerbate your back pain by hunching over your keyboard. All somatic exercises will find you subconsciously more aware of your posture. Everything will hurt less.
Finally, I can promise that you'll sleep better. You'll know a good kind of tired and a good kind of muscle pain. I won't promise you'll stop thinking about the colleague who accused you of throwing her under the bus or the client who blamed you for her dog's chronic skin condition but refuses to take your advice, but I will promise you that your brain will slow down long enough for you to catch a few more effective z's.
Dr. Patty Khuly owns a small animal practice in Miami and is a passionate blogger at drpattykhuly.com. Columnists' opinions do not necessarily reflect those of Veterinary Practice News.