Following a passion is something most veterinarians can relate to. In fact, it's the passion for animals that drives so many veterinarians to the profession. But what if an individual has more than one passion?
Joshua Louis Lachowicz, DVM, Dipl. ACVIM, an oncologist at BluePearl Veterinary Partners in New York City, integrated his two passions. He didn't want his love of singing and songwriting to take a back seat to his other great love, veterinary medicine, any longer.
So in October, he formally combined the two by launching the Joshua Louis Animal Cancer Foundation, a nonprofit group that assists owners in financial need by helping pay for their animals' cancer treatments. Money is raised through fundraising and profits generated from the sales of Dr. Lachowicz's original music.
The foundation's motto: "Helping Animals Fight Cancer…One Song at a Time."
Although the music industry would categorize his work as adult contemporary, Lachowicz, who performs under the name Joshua Louis, says he likes to call it "pop and soul."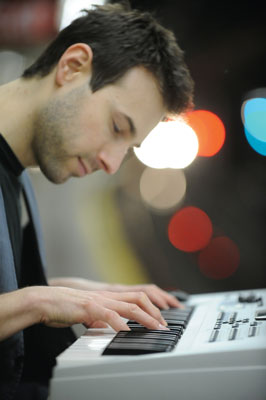 Joshua Louis Lachowicz, DVM, Dipl. ACVIM, has dedicated his life to both veterinary medicine and music.
Merging the two allows Lachowicz to keep both interests equally piqued, he says.
"Music and medicine define who I am as a person," Lachowicz said, adding that people often ask if he would ever just concentrate on music. His reply: "I need both." The passions are interconnected, he explains.
"Very much what I write in my music is inspired by my day-to-day work as an oncologist and just as a person," Lachowicz says. "Playing the piano has always been a natural balance and something to offset the daily grind of my career. … [Music] provides me not only a creative outlet and a release but something that other people can connect with and relate to."
For instance, the song "Jealousy" was inspired by Lachowicz's 101/2-year-old Pekingese, Gucci. Lachowicz said he discovered Gucci's envy when trying to pay attention to his cat.
Lachowicz adopted Gucci in September 2009 after the dog's previous owners decided they could no longer care for him. Gucci had been diagnosed with stage five lymphoma. After two rounds of chemotherapy (and lots of love and care) Gucci is now in remission and doing well, Lachowicz says. Gucci's been quite a blessing in my life, he adds.
Passionate Beginnings
Lachowicz, one of five children, grew up in Virginia where his family had a lot of animals. Horses, cows, dogs, cats, ducks, peacocks, you name it, he says.
Although science-driven even at a young age, he wasn't sure whether he wanted to be a medical doctor or a veterinarian. It wasn't until his college freshman year when he volunteered at a veterinary school and helped deliver a calf that he knew which road to take.
"Life was happening right before my eyes," he says. "I remember walking back to my dorm room and calling my mom right away and I'm like, 'I'm going to be a veterinarian!' That sealed the deal."
Lachowicz went on to graduate from the Virginia-Maryland Regional College of Veterinary Medicine in 2002 and later completed an internship in small animal medicine and surgery in New York, followed by a residency in oncology in Connecticut. Lachowicz became a diplomate of the American College of Veterinary Internal Medicine in 2006.
Finding a Place
Oncology is a rewarding specialty, Lachowicz says.
"You get so intricately involved with the [clients and their pets]," he says. "Plus, it's an evolving field."
There's always something new and exciting with oncology, a frontier that has unexplored places, he said. "I wanted to be part of that."
Throughout his veterinary schooling and later as a practitioner, Lachowicz has incorporated music into his life. In college, Lachowicz performed at local bars, sometimes playing cover tunes and other times his own songs.
Lachowicz's college friends, Alison and Scott Neviaser, both DVMs, remember attending his gigs during veterinary school.
"We used to go see him all the time," says Dr. Scott Neviaser, who with his wife owns Montpelier Veterinary Hospital in Montpelier, Va. "It was always kind of this big event going with the vet class. We've really seen him grow up musically. Last May we had a chance to see him play in Manhattan, so it's really come full circle."
Lachowicz says it's important that he still make time for gigs. About once a month he performs his original material at music venues in New York City. Playing his own music is key, he says, something he realized when he was a teenager.
Lachowicz began playing the piano at age 8 but it wasn't until he joined his church's music group at 14 that he really had the creative freedom to develop his own melodies.
Lachowicz began composing music at 16.
"They are two completely different fields and he loves them both, and to be able to put them together is pretty amazing," Dr. Alison Neviaser says.
Launching the Joshua Louis Animal Cancer Foundation is not just about fulfilling two passions, it's also a way for him to give back, Lachowicz says.
"I wanted to give back more than just being a doctor," he says.
Lachowicz has helped other animal organizations in the past by raising money through CD sales, but he wanted something more specific toward cancer.
"It seemed a shame that there are financial roadblocks to cancer care," he said. "I wanted to break this barrier down."
Tuning Ahead
Although the foundation just recently launched, the project has been in the works for several years. It took 11/2 to two years to get the organization ready for launch, including filling out the required paperwork to make the group an official nonprofit, printing brochures and preparing a website, he says.
It's still too early to predict how many families will be assisted per year, Lachowicz says. The number will depend on how much money the foundation can raise. Still, Lachowicz says he hopes the foundation will be able to help at least one, if not up to five, families a month.
"If we can provide, we want to provide," he says.
He hopes the foundation can begin accepting applications for financial assistance early this year.
Consideration for assistance will be based on financial need, the treatment recommendations of a veterinary oncologist and other factors, which can be found at JoshuaLouis.org.
If there's one message Lachowicz wants to get out there, it's, "I can't do it on my own." He would like his colleagues to let others know about the foundation.
"This is something that has grown from who I am as part of this larger community, and I need that community to help," he says.
The Neviasers say their clinic has begun making memorial donations to the foundation for patients that lost their battle with cancer.