Suggested Veterinary Products
The University of Illinois College of Veterinary Medicine has given the OK for a young bobcat to return to its home state of Indiana for pre-release physical therapy.
The bobcat suffered a fractured pelvis in late November after being hit by a car when crossing a road with her mother and sibling. (Both the other animals escaped injury.) The injured bobcat was transferred to Illinois from WildCare Inc., a Bloomington, Ind., wildlife rehabilitation center, which was unable to cover the cost of the orthopedic surgery. Orthopedic surgeons at the Veterinary Teaching Hospital agreed to perform the procedure at a discounted price.
Treatment has included a four-hour surgery at the university's Veterinary Teaching Hospital and six weeks of postoperative care by the volunteers in the Wildlife Medical Clinic.
"Rarely do members of the Wildlife Medical Clinic have the chance to impact an ecosystem in such a significant way with one animal," Nicki Rosenhagen, DVM, said at the time the bobcat was admitted.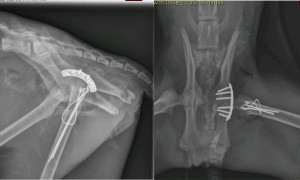 UNIVERSITY OF ILLINOIS COLLEGE OF VETERINARY MEDICINE
These X-rays show the repair made to the bobcat's pelvis during surgery in early December.
Bobcats play a crucial role as an apex predator, contributing to a healthy diversity of species by controlling the rodent and rabbit population to numbers manageable for the environment, according to the university. Bobcats were listed as an endangered species in Indiana for nearly 40 years. Though the bobcat population is finally expanding there, this animal and her mother were the first female bobcats reported in the Bloomington area in the past three years, the university further noted.
The bobcat will now be transferred back to Indiana for some pre-release physical therapy at WildCare Inc. to rebuild her strength and learn to be a bobcat again, according to the university.
The university hopes that the bobcat will be back in the wild in time for spring.
Donations toward the care of the bobcat are still being solicited. Donations can be made by visiting go.illinois.edu/givetovetmed and selecting the Wildlife Medical Clinic fund.