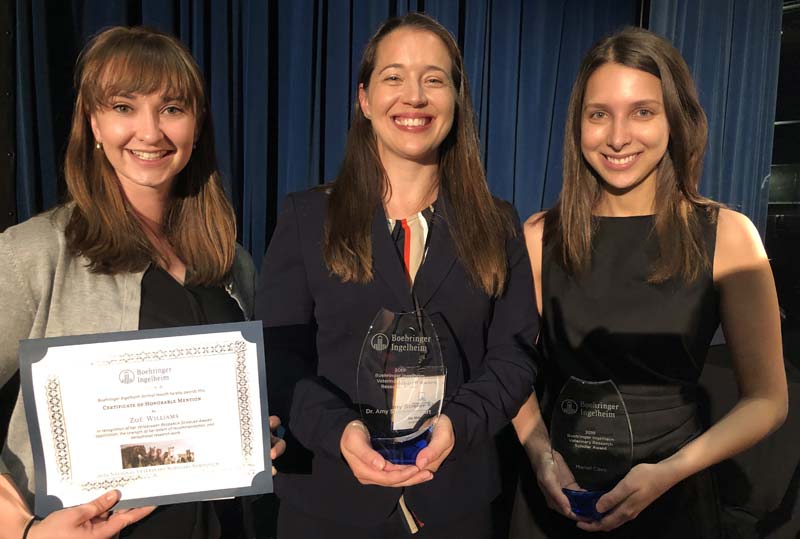 Three veterinary students from across the U.S. are being celebrated for their research and the potential impact it may have on the future of the animal health industry.
Presented by Boehringer Ingelheim as part of its Veterinary Scholar Program, the annual awards were given out at the National Veterinary Scholars Symposium in Boston. Students from 42 veterinary schools participating in the program were considered for the recognition, which includes a monetary prize and a stipend to attend the event and present their research.
Amy Stieler Stewart, DVM, DACVIM, a graduate student at North Carolina State University pursuing her PhD, received this year's Boehringer Ingelheim Veterinary Graduate Award. An alumnus of the University of Florida (UF), Stewart completed a one-year internship in large-animal medicine and surgery at the University of Georgia before returning to UF to do a three-year residency in large-animal medicine. Her research focuses on the study and use of intestinal stem cells in repair following ischemic injury, with hope of developing new therapies for patients with intestinal injuries.
Mariel Covo from the University of Pennsylvania's School of Veterinary Medicine received the 2019 Boehringer Ingelheim Veterinary Research Scholar Award for her work involving delivery of vectors to generate chimeric antigen receptor (CAR) T cells in canine patients with B cell lymphoma. According to Boehringer, Covo's work represents scientific advancement in veterinary medicine, and has clinical implications for the delivery of therapeutic retroviral vectors for use in medical treatment.
Finally, Zoë J. Williams, a combined DVM and PhD degree student at Michigan State University, received an honorable mention for the Veterinary Research Scholar Award. A multidisciplinary equestrian, Williams is interested in equine neuromuscular disorders and protein aggregate diseases, and has investigated the clinical characteristics, etiopathology, and possible treatments of Myofibrillar myopathy (MFM) in horses.
"The pace of change and innovation in health care for animals and humans continues to accelerate, though there remain many needs to be addressed, emerging and future diseases to be combat, and opportunities to prevent instead of treat chronic conditions," says Everett Hoekstra, president of Boehringer Ingelheim Animal Health USA.
"Veterinarians are uniquely placed to contribute in all of these areas and lead innovation in both animal and human health. That's why it is so important to encourage and showcase emerging talent in veterinary science through awards and programs such as this."