Suggested Veterinary Products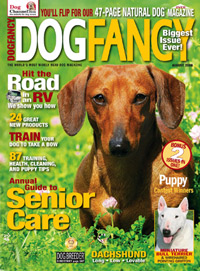 Internet message boards lit up July 16  after an animal-rights organization issued a press release saying it had placed a "crafty" ad in Dog Fancy magazine, which is published by the parent company of DogChannel.com. Veterinary Practice News is a sister publication of both.
Lumina Media, LLC does not accept advertising from this animal-rights organization because of its agenda to halt all dog breeding in the U.S.
The classified ad was placed by a private party on behalf of the organization using a fake business name.
"Dog Fancy does not knowingly accept advertising from PETA and does not agree with its extremist views," the company said in a statement. "Unfortunately, the organization resorted to guerrilla tactics by placing an ad in Dog Fancy under a pseudonym to deceive readers with a free gift bag offer, opting to use shock tactics to try to get its message heard.
"Now in its 37th year, Dog Fancy promotes responsible dog ownership, including the responsible breeding and sale of purebred dogs, and apologizes to anyone who has been offended by this organization's distasteful and misleading stunt."