Suggested Veterinary Products
Bravo of Vernon, Conn., is voluntarily recalling one lot of its pig ear chews because the product may be contaminated with salmonella.
The company has recalled its Bravo Pig Ears with the product code 75-121 and lot number 12-06-10. The lot number is printed on the side of the shipping container delivered to distributors and retailers. The pig ears themselves are not individually labeled.
The recalled chews were shipped to distributors between Jan. 1 and Feb. 28, 2011, and distributed to retailers on both the East and West coasts. Consumers who bought Bravo Pig Ears during this time frame should return the product to the place of purchase for a full refund.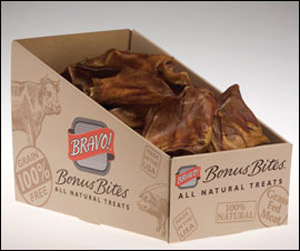 Bravo has recalled one lot of its pig ear chews.
A routine sample test performed by the Washington State Department of Agriculture detected salmonella in a batch of Bravo's pig ears, prompting the recall. Bravo reported that it doesn't have any pig ears from this batch left in inventory.
No reports of illness in either people or animals have been reported, according to Bravo.
Pets with salmonella infections may be lethargic and have diarrhea or bloody diarrhea, fever and vomiting. Some pets may have decreased appetite, fever and abdominal pain. Infected but otherwise healthy pets can be carriers and infect other animals or humans, according to the company. Cat owners are urged to contact their veterinarian if their pet has consumed the recalled product and is exhibiting these symptoms.
Humans can also become infected, especially if they have not thoroughly washed their hands after having contact with the cat food or surfaces exposed to the recalled product. Symptoms in humans may include nausea, vomiting, diarrhea, abdominal cramping and fever. Children, the elderly and people with compromised immune systems are particularly susceptible to infection.
Consumers who have questions should visit BravoDiet.com or call 1-866-922-9222.
Recently, pig ear supplier Keys Manufacturing Co. Inc. of Paris, Ill., issued a recall due to salmonella concerns. A couple other companies supplied by Keys have followed suit. Bravo's recall is not related to Keys Manufacturing's recall, said Bravo owner David Bogner.